NFC East Free Agency: Predicting Future for Each Team's Top Remaining Free Agent
March 23, 2012
Tom Szczerbowski/Getty Images
London Fletcher and Vince Young headline the list of NFC East free agents whose futures remain undecided. They are joined by important system fits like New York Giants linebacker Jonathan Goff.
They represent difficult and important decisions for the remainder of free agency. Here is a prediction of where each NFC East team's most important remaining free agent will be playing in 2012:
Montrae Holland, G, Dallas Cowboys
Holland's status with the Cowboys may appear in jeopardy following the free agency acquisitions of Nate Livings and Mackenzy Bernadeau. Yet Livings' credentials as a legitimate starter can be questioned, and Bernadeau has made only 20 starts in four seasons.
That makes Holland still a valuable part of the Cowboys front five. He was one of the team's better linemen in 2011 and the 31 year old can play a key role in helping Tyron Smith transition to left tackle.
Holland has not yet generated much interest on the market, and the Cowboys should quickly take advantage and bring him back.
Prediction: Holland re-signs on a short-term deal to stay in Dallas.
Jonathan Goff, MLB, New York Giants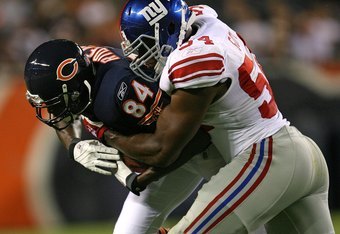 Jonathan Daniel/Getty Images
Goff is an underrated middle linebacker with good size and smarts for the position. The Giants have a glaring weakness in the middle of their linebacking corps and bringing back the player who started 16 games in 2010 is the best way to solve it.
However, Goff recently visited the Cleveland Browns, which implies that a new deal has yet to be offered by Big Blue. There's also the matter of the Giants' salary cap issues and their inability to offer enticing terms.
Prediction: After turning down a meagre offer from the Giants, Goff signs with the Browns.
Vince Young, QB, Philadelphia Eagles
The benefit of having Young on the roster is that the Eagles' offense doesn't have to change to accommodate him, if he has to sub for Michael Vick. The 28 year old offers a similar style to Vick.
Young did appear in six games in 2011, making three starts. However, a four touchdown to nine interception ratio and meagre 1-2 record, haven't done much too improve Young's stock on the free-agent market.
The Eagles echoed this sentiment by acquiring Trent Edwards. Yet, Edwards doesn't inspire a great deal of confidence, and Mike Kafka has yet to sufficiently impress. Andy Reid might be best served again putting a certain amount of cautious faith in Young.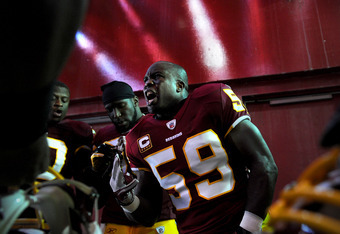 Patrick Smith/Getty Images
Prediction: Young will re-sign on a one-year deal.
London Fletcher, ILB, Washington Redskins
Perhaps the most intriguing situation in the division—London Fletcher's future with the Washington Redskins remains in doubt. Fletcher has made the last three Pro Bowls and retaining him should be an easy choice.
However, the Redskins are still reeling from the salary cap penalty levelled against them by the NFL and have been particularly quiet after a fast start to free agency. Espn.com has reported that this could be preventing a new deal being struck.
Yet the Redskin have still managed to re-sign players like Adam Carriker, Will Montgomery and Kory Lichtensteiger, but still no deal has been handed to Fletcher.
His age could be an issue and the Redskins could be looking at a one-year contract at the veteran minimum, which the 36 year old would surely resent. Washington's front office may feel they have leverage, given the apparent lack of interest in Fletcher on the open market.
That could be a dangerous game to play. There aren't many teams in the league who couldn't use a player like Fletcher and the longer the Redskins leave it, the more likely they are to lose their defensive captain.
Prediction: Fletcher stays on the market a while longer, but eventually will re-sign.