March 24, 2012
When the Undertaker and Triple H square off in a Hell in the Cell match at WrestleMania 28, it will undoubtedly be a match for the ages. With the history and experience between these two future Hall of Famers, especially when it comes to a Hell in the Cell match, there should be no reason to expect anything less than perfection. But regardless of how good this match ends up being, does it really symbolize the end of an era?
Here are some things to consider before deciding for yourselves:
The Attitude Era Has Already Ended
The Attitude Era has been gone for awhile now, and while we can debate when it ended, there is no question that the WWE has shifted more toward a family-friendly product. Both the Undertaker and Triple H were dominate during the years of the Attitude Era (late 1990s to early 2000s), especially when it came to matches like Hell in a Cell.
The WWE, however, has clearly been in this PG era long before WrestleMania 28, so how can this match end an era that has already ended on its own?
These two men may be all that is left that symbolize the attitude era, but their match at WrestleMania 28 should not be looked at as something that will end the era they represent.
Instead, this match will come to remind us just why these two future legends were so dominate during the Attitude Era.
The Undertaker and Triple H Are No Longer Constantly in the Spotlight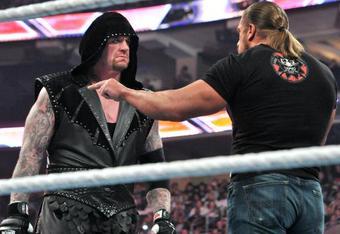 The last time the Undertaker wrestled was at last year's WrestleMania. He has been off of TV for nearly a whole year. This, of course, should not come as a surprise, as the Undertaker is getting older and did need some time to recover after his last match with Triple H.
Triple H himself has also moved on from the spotlight. Besides feuds with CM Punk and Kevin Nash, we haven't seen Triple H in much of a wrestling role, though he has been on TV more than the Undertaker. Triple H has moved onto aspects of the WWE that are behind the scenes instead of in front of the camera.
It should not really be a surprise to anyone that these two superstars have already begun moving away from the spotlight of the WWE. Their time on the main roster is over, and now we are entertained by other wrestlers such as John Cena and Randy Orton.
This match will be more like a battle of legends—two wrestlers who are masters at their craft and are giving the fans another amazing match to add to the history books. Could they disappear come April 2nd? Possibly, but we now have other wrestlers who entertain us weekly.
The Undertaker Will Not Lose
The only real era that is on the line in this match is the streak of the Undertaker. It took an era to build it, and will more than likely add one more number to the victory column by the time WrestleMania 28 is over.
Besides, 20 is a much nicer number then 19.
But putting the simple argument of 20 being a better number, there is the issue of everything that will come with ending the Undertaker's streak. The wrestler who ends the Undertaker's streak will be known forever as just that, and does Triple H really need that?
Triple H himself has a long list of accomplishments, so what good would it do if he broke the streak? That accomplishment should be saved for a younger superstar; one who is going to stick around longer and one who will obviously get a major push.
Having the Undertaker go 20-0 at WrestleMania 28 and then losing to a main-roster wrestler such as CM Punk or even John Cena seems to make much more sense than having him lose to Triple H. As mentioned before, Triple H is becoming less and less involved in the ring, so why would he need the major push that comes with ending the streak?
Who will win this match should not be the question we ask ourselves, but rather how far will the Undertaker go to preserve his streak?
In the end, whether you believe this will decide the fate of an era or not, or if you believe that Triple H could be the one to break the streak, one thing is clear: At WrestleMania 28, the Undertaker vs. Triple H in a Hell in the Cell will be a match for the record books.
Like the new article format? Send us feedback!