Louisville vs. Florida: Gators Under Most Pressure to Keep Surprising Run Alive
March 24, 2012

Christian Petersen/Getty Images
Not many people expected Florida to reach the Elite Eight when they were filling out their brackets. After all, the Gators' opening game against a top-notch Virginia defense was worrisome and Missouri was supposed to be lurking in the next round.
They made easy work of the Cavaliers and Norfolk State's shocking victory over the Tigers cleared Florida's path to this point. Here are three players who will be feeling the most heat to keep the team's Final Four hopes alive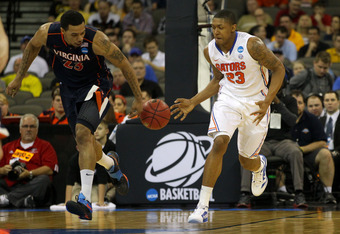 Doug Pensinger/Getty Images
Bradley Beal
Florida fans have known about Beal all season, but the national audience is finally starting to see what the freshman guard has to offer. He's one of the best all-around players in the big dance, averaging 16 points, nine rebounds and three assists in the first three games.
However, with big results come even bigger expectations. He was able to produce in clutch moments against Marquette, so now he'll be called upon to do the same moving forward. Nothing has phased him so far, though. He just keeps playing hard and the results speak for themselves.
Louisville's guards, most notably Peyton Siva, have really raised their games lately. That means Beal will have to bring his 'A' game on both ends of the court.
Patric Young
One thing nobody will ever be able to question is Young's will to win. He's a very emotional player, which does get the better of him from time to time, but the sophomore forward will never be caught giving anything less than 100 percent.
Every contending team needs a player like that. When other players see him working so hard on every possession, they are compelled to match his intensity and the entire team plays better. It's a major reason the Gators have survived this long.
Gorgui Dieng blocked seven shots for the Cardinals in their upset of Michigan State, so Young has his work cut out for him in the post. He needs to raise his game once again.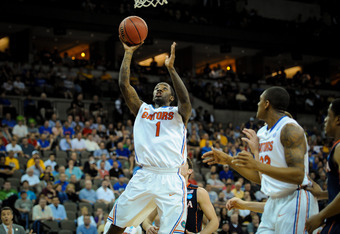 Eric Francis/Getty Images
Kenny Boynton
On a team without much senior leadership, Boynton has stepped up to the plate to play the role of one. He's really the heart and soul of the Gators, and they likely wouldn't have advanced this far without his various contributions.
Not only does Boynton lead the team in scoring and three-point shooting, but whenever things start to get sketchy, he's the guy who steps up to right the ship. That's an invaluable resource for a young team with players still coming into their own.
Florida relies heavily on jump shots, which is always dangerous. If they don't heat up early from beyond the arc, it will be up to Boynton to find different ways to create offense.