MLB Spring Training 2012 Schedule: Friday Pitchers to Watch Closely
March 23, 2012

Jeff Gross/Getty Images
As spring training progresses, pitching numbers become more relevant. The arms get in better shape, so what they do is more relevant.
These pitchers are all throwing on Friday and are going to be vital to their team's success. You would do well to keep a close eye on how they do when taking the hill.
Madison Bumgarner: San Francisco Giants
Bumgarner is going to be an important part of the Giants' rotation, as it seems likely that he'll go right between power righties Tim Lincecum and Matt Cain. If he comes out and has a stable season, the Giants will be very hard to beat, as their top three pitchers would stand up to any. 
This is an important start because of how good the Rangers' offense is. With the exception of Josh Hamilton, the top hitters for Texas are right handed, which does not tend to work in favor of lefties like Bumgarner. 
If he goes out there in Arizona and gets through the lineup a few times this late in the spring, it's hard to imagine him struggling when the team goes up north into much more pitcher friendly environments. Think of this as a nice preview for the early part of the season.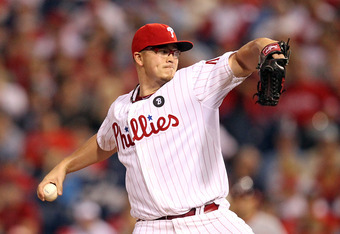 Hunter Martin/Getty Images
Vance Worley: Philadelphia Phillies
A big question surrounding Worley is whether he will be figured out. He set the league on fire last season, but now it's time to see how the league adjusts. If any team is going to expose him, it's the Yankees, who still boast one of the more dangerous top to bottom lineups in the game. 
Particularly in the warm air of Florida, the balls tend to fly. Doing well against the Yankees would be a strong sign that the season will start well, which the Phillies will need.
This is an aging offense. With Ryan Howard and possibly Chase Utley missing some time at the beginning of the year, the pitching will need to carry them early. Worley staying strong, particularly in the early season, will be a big boost for Philly in what promises to be a tough National League East. The way he throws in this one will be highly indicative of what to expect when the season begins. 
Clay Buchholz: Boston Red Sox
The Red Sox didn't collapse last year because of beer and chicken. They collapsed because their pitching rotation had no depth, which wore the bullpen out. That was their ultimate undoing, and a strong Buchholz will go a long way in offsetting that.
They are facing the Orioles today, but the more important thing to watch is how his stuff is. Is it breaking well? Is his fastball up to speed? For Buchholz, staying healthy right now is far more important than the numbers. If the stuff isn't quite on point, it's not a good sign.
Conversely, if it is, the rotation has another reliable arm. Remember that Buchholz has been highly successful in the past (17 wins, 2.33 ERA in 2010), so if he is healthy, this team is going to be a lot better. Still, that is something to keep an eye on every time he toes the rubber. 
Friday's Spring Training Schedule
| | | |
| --- | --- | --- |
| Away    | Home    | Time (ET)   |
| Boston Red Sox   | Baltimore Orioles   | 1:05 p.m. |
| Minnesota Twins | New York Yankees (ss)  | 1:05 p.m. |
| New York Mets | Atlanta Braves | 1:05 p.m. |
| Washington Nationals | Houston Astros | 1:05 p.m. |
| New York Yankees | Philadelphia Phillies | 1:05 p.m. |
| St. Louis Cardinals | Miami Marlins | 1:05 p.m. |
| Detroit Tigers | Pittsburgh Pirates | 1:05 p.m. |
| Los Angeles Angels (ss)  | Milwaukee Brewers | 4:05 p.m. |
| Los Angeles Dodgers (ss)  | Chicago White Sox | 4:05 p.m. |
| Los Angeles Dodgers (ss) | Kansas City Royals | 4:05 p.m. |
| Chicago Cubs | Colorado Rockies | 4:10 p.m. |
| Toronto Blue Jays | Tampa Bay Rays | 7:05 p.m. |
| Los Angeles Angels (ss) | Cleveland Indians  | 10:05 p.m. |
| Arizona Diamondbacks | Chicago White Sox (ss) | 10:05 p.m. |
| Cincinnati Reds | San Diego Padres | 10:05 p.m. |
| Texas Rangers | San Francisco Giants | 10:05 p.m. |