Real Madrid vs. Real Sociedad: Preview, Live Stream, Start Time and More
March 23, 2012

Denis Doyle/Getty Images
Real Madrid will be shorthanded in their La Liga matchup against Real Sociedad, as they will be without Sergio Ramos and Mesut Ozil
Ramos and Ozil were suspended after being sent off against Villarreal on Wednesday, but Real Madrid still boasts a roster that includes dynamic goal-scorers Cristiano Ronaldo and Karim Benzema.
As for Real Sociedad, Carlos Martinez and Markel Bergara are out due to injury. They need all the firepower they can get, as they have dropped six out of their last ten games in La Liga. That includes a four-game losing streak away from home.
Despite recent struggles, Real Madrid sits atop La Liga, while Real Sociedad has faltered this season, finding themselves in 14th place.
Both teams are coming off of sub-par performances on Wednesday, and will be looking to right the ship in this matchup.
Here is all of the information you will need about the matchup:
Where: Estadio Santiago Bernabeu, Madrid, Spain
When: Saturday, March 24th, 3:00 pm
Live Stream: ESPN 3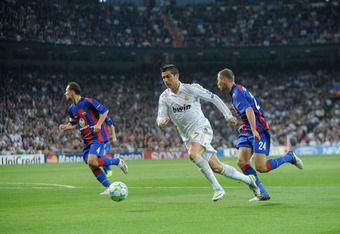 Denis Doyle/Getty Images
Key Player: Cristiano Ronaldo
Besides Lionel Messi, is there a more talented player in the world than Cristiano Ronaldo?
Ronaldo leads Real Madrid into a key matchup for the club, as they look to get back on track after a shaky few games.
Ronaldo has 33 goals for Real Madrid during his 28 games in La Liga this season, and will set the tone offensively for the club.
His speed is a game-changer. It allows him to blow past defenders and either make a cross in front of the net or take a blistering shot himself.
Headline Heading Into Matchup
After their game against Villarreal, Real Madrid will boycott and not hold a press conference before Saturday's matchup against Real Sociedad after what they believe was poor officiating.
"Referees hurt us too much sometimes, but we must hold our heads high and move on," Marcelo said, adding: "You saw what happened and how many of us were sent off."
Prediction
3-0 to Real Madrid.
Madrid will put the controversy of the Villarreal game behind them and dominate from wire to wire against Real Sociedad.
Madrid has too much talent and depth, even without Ramos and Ozil, for Sociedad to handle.
Sociedad hasn't won on the road versus Madrid since 2004, and has a four-game losing streak on the road. Those facts, coupled with a less-talented roster, point to a Sociedad defeat.