Joel Dreessen to Denver Broncos: Deal Analysis, Grade and Twitter Reaction
March 23, 2012

Bob Levey/Getty Images
Given the chance to play with a future Hall of Fame quarterback in his home state, free-agent tight end Joel Dreessen jumped at the opportunity.
On Friday, Dreessen agreed to terms with the Denver Broncos, who play just a hop, skip and a jump away from Fort Morgan, Colo.—Dreessen's home town—and also have a new quarterback you may have heard of: Peyton Manning.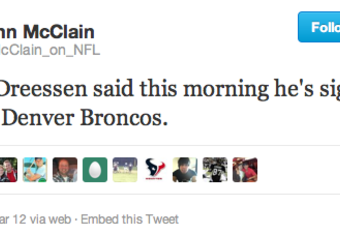 As a member of the Houston Texans last season, Dreessen caught 28 passes for 353 yards and six touchdowns. He was contemplating returning to Houston but ultimately couldn't pass up the opportunity Denver offered. 
As a member of the Broncos, Dreessen's role should increase substantially.
Given Manning's reliance on the tight end position, finding an upgrade or two became a need for the Broncos immediately after they signed him earlier this week. Daniel Fells, who led the Broncos tight ends with 19 catches last season, signed with the New England Patriots. 
Dreessen represents part of the solution at tight end, and he should be given every chance to see a chunk of targets next season.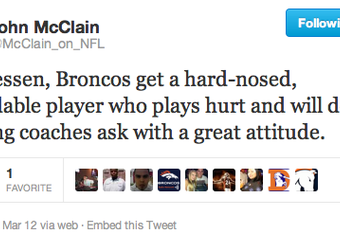 In a more limited role with the Texans, Dreessen has been highly productive.
The 29-year-old has caught at least 25 passes in three consecutive season while mostly playing in a backup role behind Owen Daniels in Houston. He has 11 touchdown receptions and over 1,200 receiving yards during that three-year span. 
According to Pro Football Focus, Dreessen has been a top-15 NFL tight end in each of the last two seasons. His highest-rated season was a No. 6 finish in 2011. Dreessen received high grades in both receiving and blocking, although he did commit six penalties.  
The Broncos may still sign another tight end, such as former Manning teammates Dallas Clark or Jacob Tamme, to complete the overhaul at the position. The team still has Julius Thomas, an athletic but raw prospect, on the roster, but he may need more time until he's ready to be a big contributor.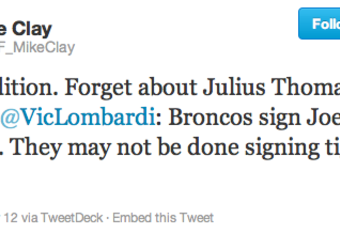 Given Dreessen's upside and the security blanket he may become for Manning right away, this move makes a ton of sense for the Broncos. Expect him to catch 50 or more passes next season, just as long as Manning stays healthy. 
Overall, Dreessen-to-Denver is a smart move. They may still add Tamme or Clark, but Dreessen is the guy who should see the majority of targets for the Broncos at tight end next season.
Grade: A-