Miami Dolphins 2012 Preview: Miami Should Be Fine at Quarterback
March 23, 2012

Ronald Martinez/Getty Images
Talk about a rough few weeks for Miami.
It's been a tough offseason for the Dolphins, who have unsuccessfully been in the mix of almost every free-agent quarterback on the market.
The offseason quarterback struggles began when the Redskins jumped over everyone to grab the No. 2 pick and Baylor's Robert Griffin III. Next came Aaron Rodger's backup Matt Flynn, who only started two games in his career but blew everyone away with his performances. Miami and Seattle were the two legit contenders remaining, and Flynn signed with Pete Carroll and the 'Hawks because he felt they were the "right type of people".
Ah, Peyton Manning. Miami was part of the soap opera all the way through. It was predicted that Manning would enjoy Miami because he already had a home on location and the weather was unbeatable. When Manning officially said no, the team started looking at Alex Smith.
Smith had been having troubles agreeing to a contract with San Francisco, and he was looking at other options. Just like in Matt Flynn's case, it came down to Miami and another team as the possible suitors. Once Manning was gone, Smith signed with San Francisco quicker that you could say "Sorry Miami."
Is Miami in trouble for next season at quarterback?
No.
Let's rewind to last season. By the way, the only season in the past decade that Miami kept with one starter for all 16 games was in 2008, when Chad Pennington led them to a 11-5 finish.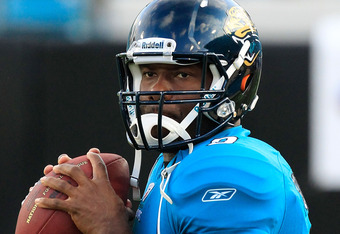 Sam Greenwood/Getty Images
Chad Henne plays 3 full games and fails to prove himself as a starter, completing only 57% of his passes with four touchdowns and four interceptions. Miami's record during those three games: 0-3.
In comes Matt Moore, who replaces Henne in game four. Moore continues the slide, helming four straight losses before the Dolphins break the streak and win their first game of the season. Over those five games, Moore throws only one touchdown to four interceptions, averaging just 176 yards per game.
But as the second half of the season begins, Moore becomes a whole new player. He leads Miami to three straight wins tossing six touchdowns to just one pick.
Moore finishes the year with an 87.1 quarterback rating after completing over 60% of his passes.
The Dolphins record with Moore under center: 6-6.
So what does this mean for Miami? 
People should stop anxiously biting their nails and look at the facts. If Moore can go out and play to the best of his ability every game, he gives the Dolphins a chance. It should me mentioned as well that Moore is only 27 years old.
Signing former Jacksonville starter David Garrard was a smart move because Moore will now have competition to push him to improve. Although he's currently 34 years old and missed all last season, he provides experience - something Miami currently lacks.   
Miami is currently sitting pretty with the eighth overall pick in the upcoming draft. Texas A&M quarterback Ryan Tannehill has been widely speculated at the third best at his position in the draft. Brandon Weeden from Oklahoma State and Michigan State's Kirk Cousins have seen their draft stocks rise over the past few weeks as well.
Why not sign a prospect who can develop into the franchise quarterback Jeff Ireland always wanted?