Cleveland Browns 2012 Outlook: 10 Reasons the Browns Will Improve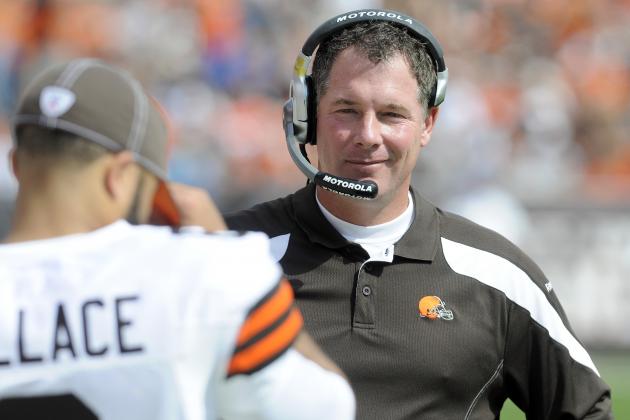 Jason Miller/Getty Images
Pat Shurmur: 7 wins will be the minimum expectation for the sophomore coach.
"A man who carries a cat by the tail learns something he can learn in no other way."
— Mark Twain
If the Cleveland Browns anticipate winning enough football games to appease their tortured, voracious fanbase in 2012, they must learn from their mistakes while considering their divisional opponents as they prepare.

In a city notorious for its hard luck on and off the field, hope still springs eternal on the shores of Lake Erie. For a generation, Clevelanders have suffered through an excruciating litany of fresh professional sports wounds.

Over a week in 2007, Cleveland fans watched in disbelief as the Tribe dropped a 3-1 ALCS lead to the eventual World Series champion Boston Red Sox. After two years of suspense, LeBron James notoriously spurned the town on national television in 2010.
But no shortcoming agonizes Cleveland fans like the unrecognizable NFL organization donning their favorite team's colors since 1999.

Mired in over a decade of NFL insignificance founded on dismal drafting combined with detrimental foolishness in free agency, particularly a penchant for mortgaging their future on geriatric quarterbacks, Cleveland's reputation has significantly declined from its once-pround NFL beginnings.

Robert Griffin III and various unidentified agents are rumored to have expressed doubt as to whether the Browns even try to win.
Despite their recent troubles, contrary to frustrated fans' laments that the Browns haven't shown any free agency cajones in years and in defiance of the city of Cleveland's championship drought spanning nearly a half-century, as of late, the Cleveland Browns look like they have learned some lessons and stand poised to build a consistently competitive franchise in 2012 and beyond.

You can follow me on Twitter: @StepanekButton


Begin Slideshow

»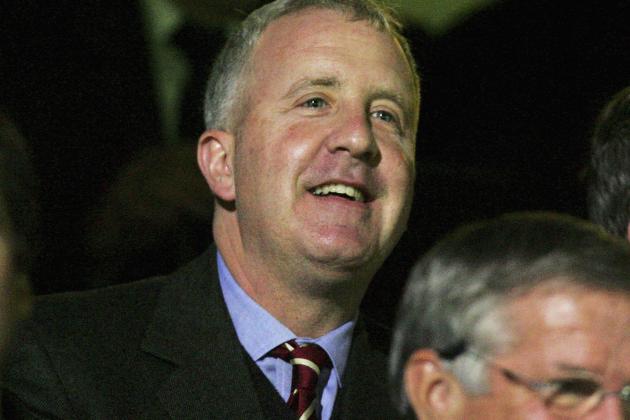 Matthew Lewis/Getty Images
Randy Lerner recently displayed some encouraging signs of passion.
Seventeen days after the Browns lost to the Steelers for the 23rd time in 28 games since their return in 1999, Randy Lerner took to the most public sports media platform in northeast Ohio and answered his critics. Admittedly through the filter of family friend Mike Trivisonno on WTAM 1100's Mike Trivisonno Show, Lerner told the troops: I'm there with you.

Charges like "absentee owner" and that Lerner may not even viscerally support the team his father purchased for $530 million in 1999— the highest price tag ever paid for a sports franchise at the time— drew Randy Lerner from his customary silence.

The Browns' billionaire owner flexed some more surprising credibility when he avoided claiming his enthusiasm for the Browns could match that of Joe Six-Pack. Lerner ingratiated himself with Browns backers when he hinted he may have thrown a chair or two in frustration himself. Finally, Lerner assured his haters he didn't take their criticisms personally, as they originated from their passion for the Browns, a passion he ardently claims to share.
More privately, Lerner enrolled his son Max at St. Ignatius in 2011. With numerous options for private schooling in Cleveland or elsewhere, the Lerners selected the flagship program of a high school football-crazed city, ensuring his most informed critics would share the bleachers with Randy at Max's games.

Randy Lerner may have endured a learning curve, but his heart's clearly in the fight.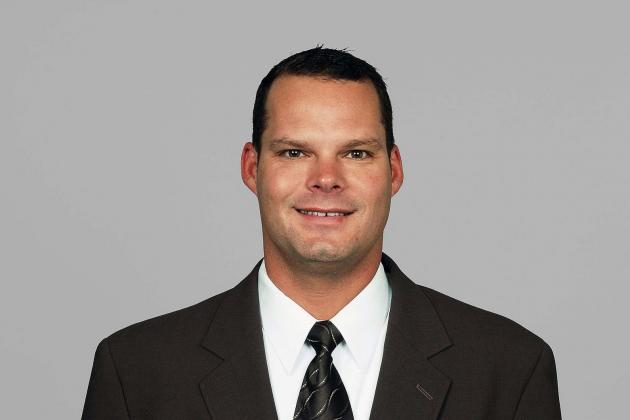 Getty Images/Getty Images
Tom Heckert: Second Round Specialist.
Drafting has long been the lifeblood of an NFL franchise. While poor picks have compounded to doom the Browns in recent years, sound draft fundamentals have propelled the Browns' rivals, Pittsburgh and Baltimore over the eight-win mark on an annual basis.
Tom Heckert's career as a GM started with a dubious first round pick; with the fourteenth selection in the 2006 NFL draft, the Philadelphia Eagles selected defensive tackle Broderick Bunkley out of Florida State. Heckert then attempted to hedge his bet on Bunkley once in Cleveland, offering to exchange a Browns fifth round pick for Bunkley last winter, according to the Plain Dealer.

Fortunately Heckert developed drafting savvy, but in the second and later rounds as the Eagles would not draft again in the first round until 2009. On his second chance, at nineteenth overall Heckert took wide receiver Jeremy Maclin.

Though Maclin has yet to grace the NFC Pro Bowl roster, his 2,500 total yards in three years under three different quarterbacks and across from the outspoken, ball-demanding DeSean Jackson speaks to Maclin's quality. Pro Bowlers Jackson and LeSean McCoy bolster Heckert's second round record and even second round QB Kevin Kolb fetched a first round pick for the Eagles on the open market.

With the Browns, Heckert's quiet accuracy in the first round continued as he added cornerback Joe Haden and defensive tackle Phil Taylor in 2010 and 2011.

While his record in Cleveland is not spotless, (critics quickly mention drafting fullback Owen Marecic and releasing 2008 Pro Bowl alternate Lawrence Vickers) Heckert's personnel moves came to fruition quickly on the defensive side of the ball.

Now Heckert will enjoy the benefit of his patience, with three picks stockpiled in the top 37 with which to jump start the construction of the Browns' Tabula Rasa of an offense.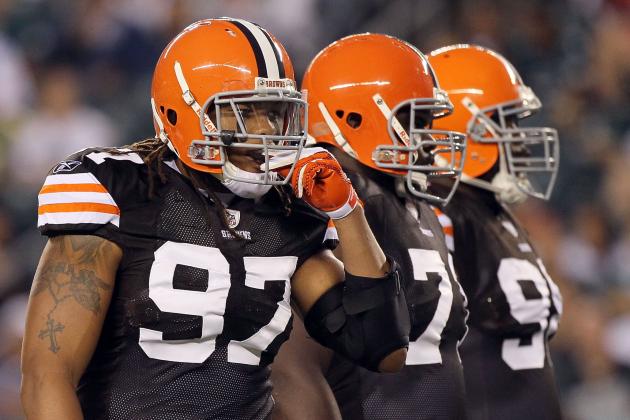 Jim McIsaac/Getty Images
Strong up front: Jabaal Sheard, Ahtyba Rubin and Phil Taylor.
To complement a stingy pass defense led by young standout cornerback Joe Haden and veteran Sheldon Brown, the Browns added defensive linemen Phil Taylor and Jabaal Sheard to the mix in the first two rounds in 2011.

Throughout the doldrums of the Browns' 4-12 2011 campaign, the defense encouraged the fanbase for the future, often while keeping present games within reach despite an abysmal offense.
In 2009, the Browns defense ranked 21st under a supposedly defensive-minded coach in Eric Mangini. After two years of straight-to-starter Tom Heckert draft picks in the first and second round, the Browns ranked fifth in the NFL in total defense in 2011.
The fact that the Browns defense managed to perform so well in 2011 despite spending the 10th-most time on the field of any NFL defense further demonstrates the quality of a unit dependent on grey-haired linebackers only two years ago.
In two years, Heckert managed to load the D through the draft with potential long-term starters like Jabaal Sheard at defensive end and T.J. Ward at strong safety in addition to Haden and Taylor. Better yet, the Browns retained their existing quality pieces (DT Ahtyba Rubin, LB D'Qwell Jackson) while adequately filling in around them with competent (CB Sheldon Brown, LB's Scott Fujita and Chris Gocong), reasonable free agents.
After filling in holes (DE's Frostee Rucker, Juqua Parker) in free agency, keeping important veterans (Jackson and Rubin) and potentially through the 2012 draft, the Browns defense should improve on their impressive 2011 campaign with the support of a few new players and an offense much improved at keeping them off the field.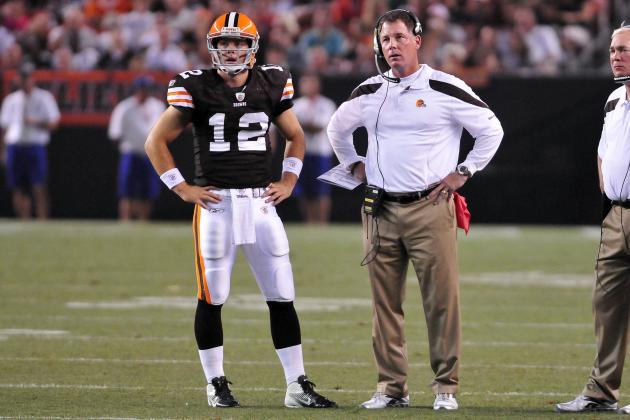 Jason Miller/Getty Images
Fates intertwined? The Browns have high expectations of Shurmur and McCoy.
Throughout the Browns' quasi-annual media-inspired quarterback saga in 2012, we've persistently reiterated two fundamental truths of the realm in which the Browns live, all but rendering the debate moot: The quarterback position requires adequate protection, weapons and organizational commitment to develop, which the Browns have yet to provide since 1999.

Additionally, despite insecurity with the Browns' struggles at quarterback, the AFC North simply cannot be won without a dominant ground game and a stifling defense.

While disciples of RGIII pointed to McCoy's allegedly deficient arm strength and Matt Flynn supporters smugly cited McCoy's modest quarterback rating, even some of the greatest quarterbacks of all time would have likely faltered in the rickety cockpit McCoy worked with in 2011.

The right guard and right tackle spots emerged as the Browns' primary weaknesses, and Colt McCoy spent the entire season sprinting (for his life) to his left and throwing against his body as a result.
Coach Pat Shurmur's successful management of Sam Bradford's debut in St. Louis played no small part in the Browns' selection of Shurmur for the position. An avowed quarterback guru himself, Mike Holmgren no doubt believed Shurmur could either develop McCoy or any other potential suitor.

After a difficult 2011 season serving double-duty as the play-caller and head coach, Shurmur will enjoy the support of long-time pro Brad Childress at offensive coordinator and his first full offseason with the team after last year's lockout.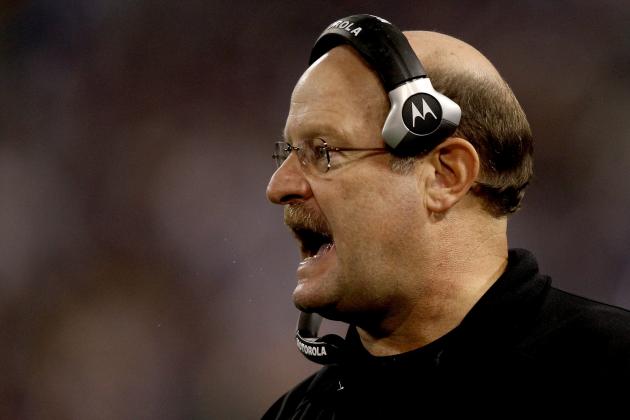 Matthew Stockman/Getty Images
Brad Childress: a man with unfinished business.
Last season, rookie skipper Pat Shurmur bit off more than he could chew when he took on play-calling duties in addition to his position as the head coach.

When the Browns hired former Minnesota Vikings head coach and Philadelphia Eagles offensive coordinator Brad Childress to lead the offense, it not only continued the team's odd affinity for guys who coached Brett Favre, (Holmgren, Mangini, Childress, Ray Rhodes), but also inserted a third former NFL head coach into the Browns staff.

Former Bears coach Dick Jauron at defensive coordinator, assisted by former Packers HC Rhodes will combine with Childress to form a staff that appears to deliberately cocoon the young Pat Shurmur with coaches who have big game and playoff experience.

While some question if Childress was yet another coat-tail head coach—the Vikings finished 6-10 in his only year of play-calling experience—Childress arrives in Cleveland with a great deal to prove and many scores to settle.

Both Shurmur and Childress stumbled in their attempts at assuming duties as both head coach and play-caller. Though neither could master that delicate balance their mentor Andy Reid had in Philadelphia, together they stand before an opportunity to carve out their own reputations within the canon of the West Coast offense here in Cleveland.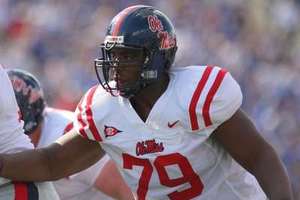 Bobby Massie: the Browns' next right tackle?
The Plain Dealer revealed that recently-waived right tackle Tony Pashos played his 2011 season on a badly-injured foot. In a division predicated on running superiority, Pashos' lackluster run-blocking skills and inability to finish a season healthy sealed his long-term fate in the Browns' plans.

As they look to replace Pashos, investing in the point of attack augurs well for a franchise whose path to legitimacy lies in the rushing game by nature of their opponents.

When former Houston Texan right tackle Eric Winston claimed a four-year, $22 million contract from the Kansas City Chiefs in free agency, the Chiefs complemented Winston's acquisition with another curious addition: Peyton Hillis for a mere $3 million over one year. In pursuing Winston and Hillis to work alongside Jammal Charles, the Chiefs demonstrably want to invest in their running game, won't rely exclusively on the recently-recovered Charles and spent more on their new right tackle than their new running back.

The Browns must look to draft their own Winston. Though the "Pro Bowler," title persistently eludes NFL right tackles, several NFL offenses featured recently-drafted first round tackles on the right side in 2011: notably Baltimore's Michael Oher, (2009-23rd overall) Green Bay's Bryan Bulaga, (2010-23rd overall) Dallas' Tyron Smith, (2011-9th overall) New England's Nate Solder (2011, 17th overall) and Chicago's Gabe Carimi. (2011-29th overall)

The depth at tackle in this draft class appears promising. Fans shouldn't let the "left tackle," label fool them: by nature of their status as the best tackle on their respective teams, most NFL tackle prospects play left tackle in college. Oher, Mr. "Blind Side" himself made the switch, playing on the right side opposite fellow first round pick Bryant McKinnie in Baltimore. The Browns could wisely install another first round pick opposite 2007 first-rounder Joe Thomas, the best player in modern-Browns history. Who better than Thomas, who essentially committed his career to the Browns via an 8-year, $92 million contract in 2011, to mentor a rookie tackle with high expectations?

Some pundits insist the Browns should trade down given an opportunity to draft USC's Matt Kalil, but failing to leave the 2012 draft without a promising guard candidate and a bona-fide potential starter at right tackle would constitute a massive failure for the Browns' draft agenda.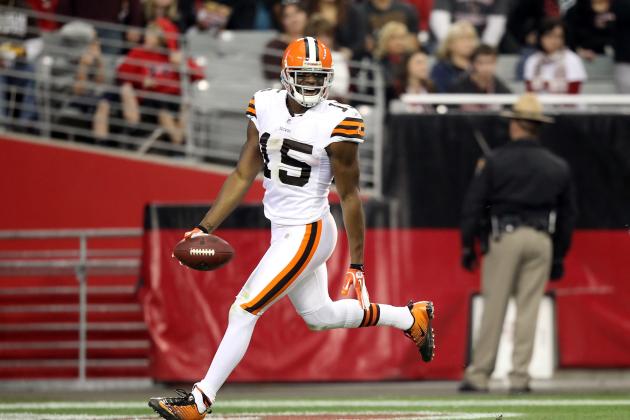 Christian Petersen/Getty Images
Greg Little: How good can he be in the right setting?
Greg Little compiled a tenth of his 2011 receiving yard total on one glorious touchdown in the Arizona desert late in the season.

Seneca Wallace, pestered by the ever present opposing pass-rush, eluded defenders and hit Little for a beautiful 76-yard TD strike.

Imagine a Browns offense in which Little can threaten the defense downfield every play, because he's paired in tandem with a dangerous partner in crime. Picture Greg Little lined up across from Justin Blackmon.
Tom Heckert already filled out the entire receiving corps of the Philadelphia Eagles' ninth-ranked passing offense—DeSean Jackson, Jason Avant, Jeremy Maclin and even tight end Brent Celek were all Heckert selections.

As one of the team's most glaring needs, the question will be not if the Browns select a receiver in April's draft, but when?

Even aside from the fourth pick, Tom Heckert's record with drafting receivers should excite Browns fans, especially given that at 22nd or 37th, the Browns could steal a potential Pro Bowler in Georgia Tech's Stephen Hill, Rutgers' Mohamed Sanu or Baylor's Kendall Wright.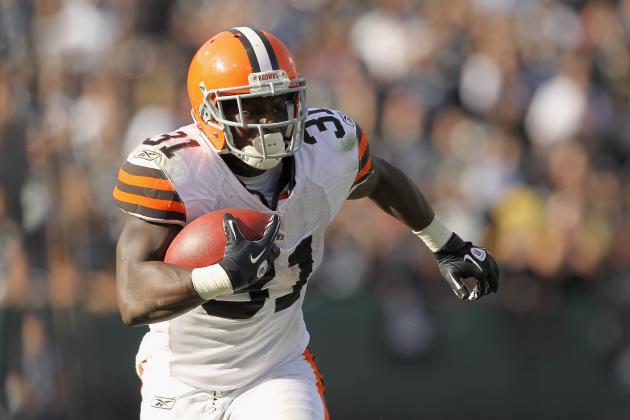 Ezra Shaw/Getty Images
Will 2012 make or break Montario Hardesty's career?
The Browns emerged from the lockout with a running back stable comprised of one Pro Bowler apparent (Peyton Hillis) and two (Montario Hardesty, Brandon Jackson) interesting alternatives. Injuries, contract dispute and various other distractions quickly deteriorated the group to Chris Ogbonnaya, a practice squad pickup from the Texans.

Ogbonnaya performed surprisingly well, but the Browns still enter 2012 with an obvious question mark at running back.

Whether the Browns opt to utilize the fourth pick or a later selection to find a candidate for the full-time running back job, heading into training camp with a corps featuring exclusively of the oft-injured Hardesty, recently recovered Jackson and practice-squad signee Ogbannaya simply isn't an option.

Any or all of those three could emerge as starting quality running backs, but Cleveland simply can't afford to risk another lost season in the running game.

Fans and pundits alike anticipate the Browns selecting Alabama's Trent Richardson with the fourth-overall pick. Comparisons to Adrian Peterson project Richardson as not just the best running back in his class, but over the last several years.

Miami's Lamar Miller, Virginia Tech's David Wilson, Boise State's Doug Martin and Cincinnati's Isaiah Pead rank highest among Browns backers' Trent Richardson alternatives.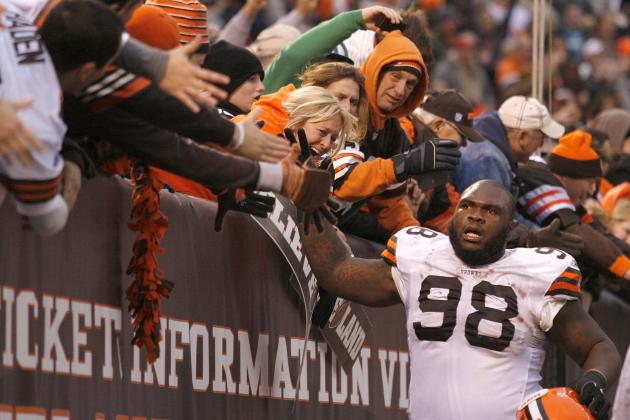 Matt Sullivan/Getty Images
How many of these fans groaned when the Browns traded down for Phil Taylor in 2011?
After 10 years of poor drafting and overpaying aging, past-their-prime free agents, the Cleveland Browns front office appears to have altered their course. Aside from their aggressive pursuit of Robert Griffin III, the Browns have subtly and frugally addressed their needs thus far this offseason.

The Browns managed to upgrade from the sieve-like Jayme Mitchell to Frostee Rucker, the NFL's 15th-ranked run-stopping DE, according to a a ProFootballFocus study. Rather than trying to hit a home run by signing a big-splash prospect like Mario Williams, the Browns made solid contact when they added Rucker and pass-rush specialist Juqua Parker at defensive end.
The Browns correctly avoided settling on Matt Flynn in free agency, refraining from offering Flynn the three-year, $20 million contract the two-time starter commanded on the open market.

Back in spring 2011, Browns fans wondered, "A.J. Green or Julio Jones?"
The answer may have been both, but Cleveland traded down and selected neither. The Browns disappointed fans eager to see the team use their top-10 pick add a "playmaker;" a series of trades with Kansas City and Atlanta eventually landed them at 21st.

The Browns drafted defensive tackle Phil Taylor, who combined with second-round pick Jabaal Sheard and incumbent DT Ahtyba Rubin to form a nice young nucleus on the defensive line, which Rucker may complete. Not to mention the Browns picked up Greg Little with a pick from Atlanta in 2011 and could very well use Atlanta's first-round pick on yet another wide receiver in 2012.

President Mike Holmgen and GM Tom Heckert have largely avoided the mistakes haunting the Browns franchise to this day. Where the Browns traded up for Brady Quinn in 2007, they traded down for a defensive tackle and more picks in 2011. Rather than risk another fall of distraction by re-signing Peyton Hillis, the Browns focused on completing their defense.

After replacing quarterback after quarterback for over a decade, the Browns have a front office cognizant that Super Bowls are won and lost on draft day and in the trenches, not in free agency or exclusively at quarterback.
Founded in 1946, for the first 20 years of their existence, the Cleveland Browns enjoyed a pedestal rivaling baseball's New York Yankees or basketball's Boston Celtics as they compiled an astounding eight championships under the venerable Coach Paul Brown, winning the AAFC in their first four years of existence.

The Browns' AAFC surpassed the NFL in attendance for the 1947 season as the nascent NFL struggled to break even.

In 1950, the NFL absorbed the San Francisco 49ers and Baltimore Colts along with the Browns. NFL commissioner, native Philadelphian and former Eagle Bert Bell arranged the most high-profile professional football event in history at the time, a showdown between the NFL champion Philadelphia Eagles and the AAFC's flagship franchise, the Cleveland Browns.

Public consensus considered the Browns lucky; were they able to keep the game close as they played the Durham Bulls to the Eagles' New York Yankees.

The Browns annihilated the Eagles in front of a stunned record crowd of 71,000, eviscerating the Philadelphia defense for nearly 500 yards of offense in a 35-10 rout.

Philadelphia Eagles coach Greasy Neale lamented, "Brown would have made a better basketball coach because all they do is put the ball in the air."
When the Browns left town, the air traffic controller reportedly grumbled, "You're clear for takeoff— get those #&*%$@ Browns outta town."

When the Eagles came to Cleveland that December, in a delicious display of spite and audacity Paul Brown's offense humiliated the defending NFL champions, defeating them, 13-7, without completing a single pass.

Cleveland would capture four NFL titles, including their inaugural season in the league in 1950 and the last season before the advent of the Super Bowl in 1965.

The Browns' second entrance into the NFL followed the absolute inverse trajectory, as the team stumbled to a 73-151 record in their first 13 NFL seasons since returning in 1999.

Comedian Mike Polk's ironic jersey selection of two-time Pro Bowl long snapper Ryan Pontbriand declared humorously: "We may stink but the guy who gets in for six or seven plays a game max, is an All-Star!"

In 2011, for the first time in his career, Pontbriand began to struggle snapping the ball, and within a month of Polk's viral video, the Browns waived Pontbriand in an eerie life-art imitation.

In his hilarious rant, Polk stumbles across a solid argument: The Browns simply cannot be this bad forever; the odds dictate they should improve at some point, even if it's unintentional.

The 2011 playoffs featured the Detroit Lions, Houston Texans, Cincinnati Bengals and San Francisco 49ers; all four teams built playoff contenders over varying lengths of time. The Texans hovered around .500 for years before finally breaking through, while the Bengals and 49ers launched themselves from humbling 2010 finishes into playoff contention. Three years previous, the Lions finished 0-16.

Should the Browns indeed win enough games to please their rabid fans in 2012, the key pieces will be young, homegrown talent. As a result of a new-found institutional frugality, Cleveland will be able to keep those new fan favorites around and compete sustainably within the AFC North.

Sooner or later, opportunity will knock for the Cleveland Browns. Approaching half a century since their last title and without a Super Bowl appearance, the Dawg Pound is desperate to answer.