Elite 8 2012: 10 Grittiest Performances so Far in March Madness 2012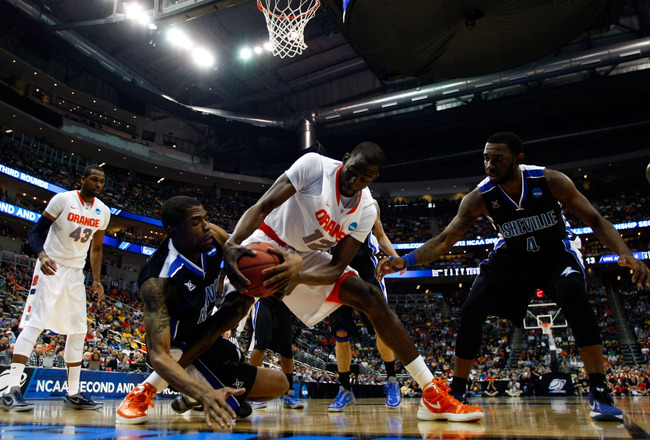 Gregory Shamus/Getty Images
March Madness 2012 has delivered great moments.
Underdogs have triumphed and favorites have had to reach down, at times, to draw courage from within to avoid being a historical footnote from the 2012 NCAA tournament.
We've seen gritty performances that showed the strength and character of some special players.
Here is a list of the 10 grittiest performances so far in March Madness.
These contests were "survive and advance."
Let's go!
Western Kentucky's Come-from-Behind Victory in Front of President Obama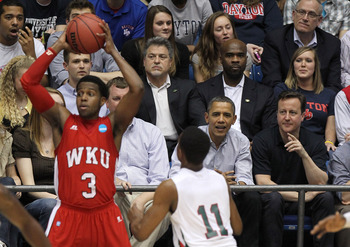 Gregory Shamus/Getty Images
In one of the "First Four" games, Western Kentucky trailed Mississippi Valley State by 16 points (53-37) with 4:51 left.
The Hilltoppers, in front of President Obama and British Prime Minister David Cameron, outscored MVSU 22-5 to pull off the largest comeback with less than 5 minutes left in an NCAA tournament game.
This was as gritty as it gets.
Western Kentucky had to overcome their own poor play. For the game, they committed 28 turnovers, shot 30 percent (19-for-62) from the floor, 57.6 percent (19-for-33) from the line and 12.5 percent (2-for-16) from beyond the arc.
WKU's Derrick Gordon led his team in scoring (11 points), rebounding (11 rebounds) and 3 assists.
Brigham Young Rallies from 25 to Defeat Iona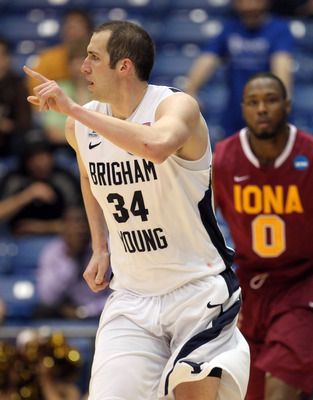 Gregory Shamus/Getty Images
Something must have been in the water of the Dayton Arena on the opening night of the "First Four" games.
Immediately following the Western Kentucky vs. Mississippi Valley State head-spinner, BYU and Iona took the court for another bizarre basketball game.
Iona came in as the nation's top-scoring team at 83.2 points per game.
For the first half, the Gaels looked like world-beaters, scoring 55 points by intermission with holding a 25-point lead during the first half.
Unfortunately, as good as Iona was in the first 16 minutes of the game, they were that bad in the final 24 minutes.
BYU held them scoreless for over nine minutes and to 17 points during the second half.
UNC-Ashville Almost Became the First 16-Seed to Beat a 1-Seed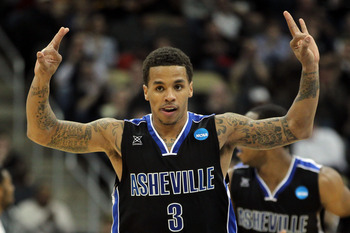 Gregory Shamus/Getty Images
UNC-Asheville gave Syracuse a huge scare in their second round match up.
The Bulldogs led the Orangemen by 4 points at the half.
The game was tied 54-all with 6:42 left.
With 25 seconds left in the game, UNC-A's J.P. Primm (pictured) converted two free throws to pull within 3 points.
But the Bulldogs never moved any closer, and Syracuse dodged a bullet to do what they had to do...survive and advance.
15-Seed Norfolk State Eliminates 2-Seed Missouri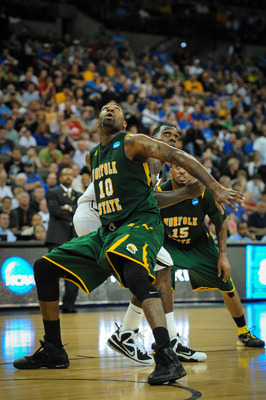 Eric Francis/Getty Images
Before this year's tournament, only four 15-seeds had beaten their 2-seed opponents.
Norfolk State, on paper, didn't have much hope against Missouri.
But, fortunately for the Spartans, the game isn't played on paper.
After the game was tied at the half, Norfolk State shot 62.5 percent in the second half on their way to beating the Tigers 86-84.
NSU shot 10-for-19 from beyond the arc.
Kyle O'Quinn (pictured) led the Spartans, scoring 26 points and 14 rebounds.
Another 15-Seed (Lehigh) Takes out Another 2-Seed (Duke)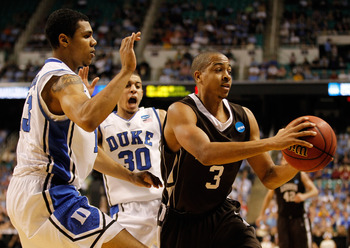 Streeter Lecka/Getty Images
David leveled Goliath for the second time in the same day.
Lehigh took Duke out of their game from the very beginning.
Inexplicably, the Blue Devils shot three-pointer after three-pointer throughout the contest, only hitting 6-of-26.
C.J. McCollum (pictured) was brilliant, scoring 30 points, grabbing 6 rebounds and dishing out 6 assists.
Because of the pedigree of the Duke program, this may be the biggest upset in tournament history.
Ohio Beat Michigan in the Most Basic Part of the Game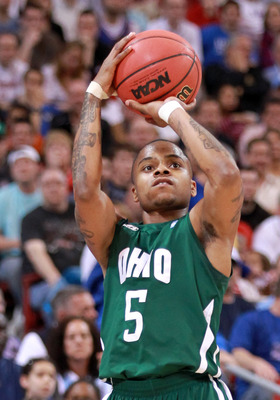 Andy Lyons/Getty Images
Most of the time when a big upset happens, it is because the higher seed team is scorching hot from outside or that they press-and-run effectively.
Surprisingly, Ohio beat Michigan in the half-court. They just lined up and punched the Wolverines in the mouth, over and over again.
Ohio scored 63 of its 65 points in the half court Friday, shooting 15 percentage points higher than Michigan in half-court sets.
Michigan tried to stay in the game through shooting 3's. But, when you only hit 7-of-23 from beyond the arc, that's not going to help you against just about any team.
Indiana Comes from Behind to Beat VCU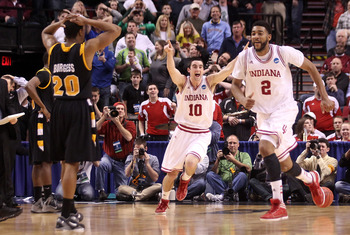 Jed Jacobsohn/Getty Images
Will Sheehey (pictured) hit a 15-footer with less than 15 seconds on the clock to help the Hoosiers come back against Shaka Smart and the VCU Rams.
Neither team played great from an offensive standpoint in the second half. Indiana outscored Virginia Commonwealth 13-4 in the final 12 minutes of the game.
But Tom Crean's crew found a way to scratch and claw their way back into this one.
Ohio Levels South Florida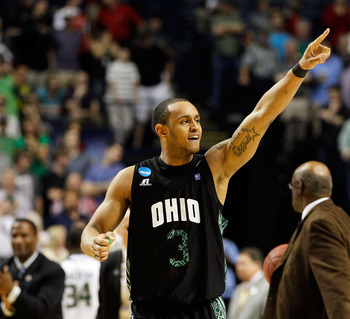 Kevin C. Cox/Getty Images
Ohio found a different way to beat South Florida (62-56).
Instead of pounding it into the paint like they did against Michigan, the Bobcats won this one because of their perimeter shooting.
Ohio was 9-of-18 from beyond the arc, including Walter Offutt's (pictured) perfect 4-for-4 from downtown.
USF, on the other hand, made only 2 of their 15 three-point attempts.
The Bobcats outscored USF 41-29 in the second half.
Cincinnati out-Muscled Florida State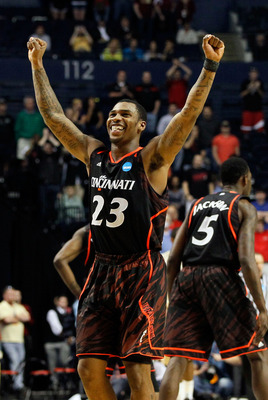 Kevin C. Cox/Getty Images
Talk about smash-mouth basketball.
When the Bearcats and Seminoles squared off, you knew this was going to be a battle...and it was.
This game featured 19 lead changes and 11 ties
Both teams were effective at challenging every shot. Both teams shot an identical 18-for-50 (38 percent) from the field.
But Cincy got to the line a few more times, and made Florida State pay when they got there.
The Bearcats made 6 more free throws than the Seminoles and won the game 62-56.
Syracuse Outlasts Wisconsin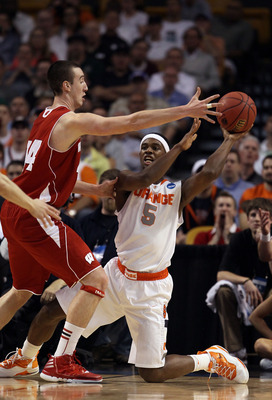 Elsa/Getty Images
You don't get much closer than this one.
Nothing was easy about this victory for Jim Boeheim and his Orangemen.
Syracuse beat Wisconsin 64-63, largely because they controlled the paint.
The Orange outscored the Badgers 30-10 in the lane.
Wisconsin only scored two paint points in the second half and did not attempt a shot in the paint in the final 14 minutes of the game.
Wisconsin made 14-of-27 (51.9 percent) shots from beyond the arc, but only made 31 percent of their two-point attempts.
Keep Reading