March Madness 2012 TV Schedule: Updated Live Stream Info for Sweet 16 Action
March 23, 2012

Andy Lyons/Getty Images
The 2012 NCAA tournament's Sweet 16 started crazy and you can be damn sure it's going to finish that way too.
There were two upsets last night, with the No. 4 Louisville Cardinals knocking out the No. 1 seeded Michigan State Spartans and the No. 7 Florida Gators tearing apart the No. 3 Marquette Golden Eagles, and it looks like we are in store for some more tonight.
Cinderella teams like No. 11 NC State and No. 13 Ohio are hoping they can put on the glass slipper one more time and knock some powerhouses out of the running to make the Elite Eight.
Keep reading to find out when and how to watch and live stream Friday's four Sweet 16 matchups.
Live Stream: NCAA.com
TV Schedule
No. 10 Xavier vs. No. 3 Baylor – Friday, March 23 at 7:15 p.m. EST (CBS)
No. 13 Ohio vs. No. 1 UNC – Friday, March 23 at 7:47 p.m. EST (TBS)
No. 4 Indiana vs. No. 1 Kentucky – Friday, March 23 at 9:45 p.m. EST (CBS)
No. 11 NC State vs. No. 2 Kansas – Friday, March 23 at 10:17 p.m. EST (TBS)
Upset to Watch For: North Carolina
The Tar Heels are in trouble if Kendall Marshall cannot suit up and start for them tonight.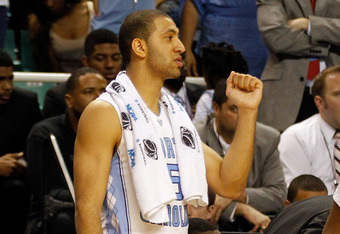 Streeter Lecka/Getty Images
According to the Seattle Times, it's not likely the star PG and nation's leading assist man will be ready to go.
They found that head coach Roy Williams as a "strong, strong inclination" that the sophomore will be inactive.
"I just know the kid tells me he can't brush his teeth yet. How the dickens can he play a basketball game if he can't brush his teeth?" Williams said Thursday.
Game of the Night: Indiana vs. Kentucky
This game is going to be awesome. Indiana was the only team during the regular season to beat the Wildcats, but that was back on Dec. 10 and John Calipari's mostly freshmen team has done a lot of maturing since.
Do the Hoosiers have what it takes to pull off another huge upset? Will Kentucky extract revenge and destroy IU?
Find out tonight at 9:45 p.m. EST on CBS.