Syracuse vs. Ohio State: Game Time, TV Schedule, Spread Info and Predictions
March 23, 2012

Elsa/Getty Images
While plenty of things have gone haywire during this year's NCAA tournament, the East region has largely been chalk as the No. 1 Syracuse Orange and No. 2 Ohio State Buckeyes will meet in the Elite Eight on Saturday for a chance to play in the prestigious Final Four.
It hasn't been an easy road for either team, but that is especially true for Syracuse.
The Orange learned before the tourney that they would be without stud defensive center Fab Melo due to eligibility issues, and they proceeded to barely slip past No. 16 UNC-Asheville in the round of 64. The Orange recovered to beat Kansas State in the round of 32 and survived Wisconsin by one point in the Sweet 16.
Ohio State hasn't faced quite as much adversity, but the Buckeyes have been trying to conquer their tournament demons as they hadn't advanced past the Sweet 16 since 2007. OSU had little trouble with Loyola in the round of 64, outlasted Gonzaga in the next round and blew out Cincinnati late in the second half in the Sweet 16, setting up a huge matchup with Cuse.
Here is everything you need to know for the mammoth Elite Eight showdown between Jim Boeheim's Orange and Thad Matta's Buckeyes.
Where: TD Garden in Boston
When: Saturday, March 24 at 7:05 p.m. ET
Watch: CBS
Listen: WTKW 99.5 FM (Syracuse) and The Fan 97.1 FM (Ohio State)
Betting Line: Ohio State (-2.5)
Syracuse Key Injuries (According to USA Today)
Out: C Fab Melo (eligibility)
Ohio State Key Injuries (According to USA Today)
No Injuries to Report
What's at Stake?
Every college basketball player dreams of playing in a Final Four at some point, and that is precisely what Saturday's winning team will go on to do.
Syracuse lost just two games all season long despite multiple scandals such as child molestation accusations against former assistant coach Bernie Fine, as well as Fab Melo being suspended on two occasions. Despite that, the Orange have a chance to have the best season in the program's storied history.
Ohio State entered the season as one of the favorites to win it all and were ranked No. 1 in the polls during the early part of the season.
The Buckeyes dealt with some bumps in the road as they lost seven games over the course of the season, but Ohio State has persevered after facing a tough Big Ten schedule. A Final Four appearance is very much within reach and would help re-establish the Buckeyes as a college basketball power.
What They're Saying
Despite the fact that Cincinnati held a lead in the second half and Ohio State had bowed out in the Sweet 16 in consecutive years, the Buckeyes dug down deep and were able to run Cincinnati out of the building late in the game. Forward Jared Sullinger said they will try to carry that blue-collar basketball into the Elite Eight, according to Bob Baptist of the Columbus Dispatch.
We've got two types of basketball teams. We've got the 'cool guys' and then the 'blue-collar guys. I thought to start the second half we got into the 'cool guy' mode and we kind of let our guard down.

Coach Matta basically told us before we started the second half that they were going to come at us with everything they had because Cincinnati is the type of team that does not give up. (But) we just came out and decided to be cool guys, and they came out and they stung us, and then we got ourselves back into another basketball game.
Most Important Player to Watch: Jared Sullinger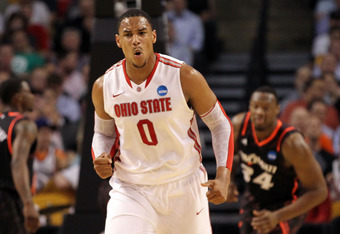 Jim Rogash/Getty Images
Forward Deshaun Thomas has been the go-to guy for the Buckeyes over the first three games of the tournament, but there is no question that Ohio State's biggest advantage lies in the paint with big man Jared Sullinger.
The 6'9", 265-pound monster finally had a dominant game in the Sweet 16 as he decimated Cincinnati for 23 points, 11 rebounds and three assists. He will need to keep that momentum rolling against Syracuse.
Sullinger dealt with some injuries during the season, but he was always the focus of the opposition as he paced Ohio State with 17.6 points, 9.2 rebounds and one block per contest. Every team has good guards and wing players, but there are very few squads in the nation with a great big man like Sullinger. The Buckeyes will need to take advantage of that against Syracuse.
Key Matchup: Jared Sullinger vs. Syracuse Interior Defense
Heading into the tournament it looked as if this game had the potential for one of the best big-man matchups in recent memory with Ohio State's Jared Sullinger and Syracuse's Fab Melo going head to head.
Sullinger could very well be the best offensive post player in the nation, while Melo may be the best on defense. We'll never know how it might have played out, though, because of the eligibility issues with Melo.
With that said, Sullinger will have the benefit of going against an inexperienced and overmatched front line. Syracuse's zone defense makes it difficult to gain entry into the paint, but Sullinger is so skilled and powerful that he will find ways to get the ball down low. Once he does, the Orange will have to find a way to stop him.
Syracuse has size, but nobody with the defensive acumen of Melo. If Sullinger has his way, Ohio State will cruise to victory.
Prediction
Ohio State 73, Syracuse 67