NBA Power Rankings: How New-Look Lakers Reshape Top 10 Teams
March 23, 2012

  10. Philadelphia 76ers (26-21)
The Sixers have struggled to produce offensively of late, and the team's record has taken a hit as a result.
Philadelphia has lost four of its last five games, and the sole victory has come against a lowly Charlotte Bobcats squad that has just seven wins all season.
There is still time for the Sixers to turn it around, but both the Boston Celtics and New York Knicks are coming on strong in the Atlantic Division, and the Sixers could be in a bath of water quickly if the trend isn't reversed in the very near future.
9. Memphis Grizzlies (25-20)
Zach Randolph's return has come with mixed results, as the Grizzlies are another team that had been surging but have cooled down of late.
Memphis has lost four of its last five games, including disparaging defeats to teams like the Toronto Raptors, Sacramento Kings and Portland Trail Blazers, and the Grizzlies are going to have to play an improved brand of basketball if they're going to turn it around.
8. Denver Nuggets (26-21)
Despite the injuries the Nuggets have to currently deal with, this is one team that could surprise a lot of people over the remainder of the regular season.
Danilo Gallinari's absence is really going to hurt, but fortunately for Denver, Wilson Chandler was re-signed just before Gallo once again went down with an injury.
JaVale McGee's play will be a critical X-factor for determining what the Nuggets are capable of doing moving forward.
7. Indiana Pacers (27-18) 
There were a lot of people quick to write off the Pacers, but this is a team that has a lot of talent and improved before the trade deadline passed.
The addition of Leandro Barbosa off the bench will certainly help, but it's the play from the point guard position (George Hill, Darren Collison) and what the team gets from Roy Hibbert inside that will determine how high the Pacers can soar.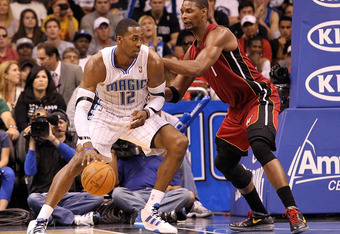 Sam Greenwood/Getty Images
6. Orlando Magic (30-18)
It's tough to buy into the Magic as a legitimate contender because Orlando is always a solid regular season team, and this season is no different in that regard.
The record is certainly impressive, but it's hard to imagine a scenario where this club is capable of beating some top-tier Eastern Conference teams in a seven-game series.
5. Los Angeles Lakers (29-18)
The Lakers look a lot better with Ramon Sessions in the fold, and he's had an instant impact on improving an offense that was really struggling.
Los Angeles needs to play the stout defense we saw from the team earlier this season to stay near the top of the rankings, but as always the Lakers will be a tough out when the playoffs arrive.
4. San Antonio Spurs (30-14)
Despite the injuries Manu Ginobili has been dealing with all season, the Spurs have managed to find a way to be successful all season long.
This San Antonio team has far more depth than it gets credit for, and the contributions from the second unit will continue to be critical in maintaining long-term success.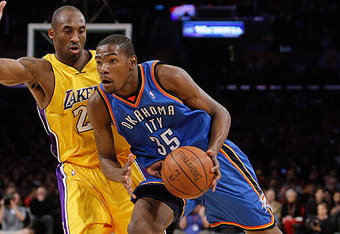 3. Oklahoma City Thunder (35-12)
Derek Fisher's addition should help Russell Westbrook, but it's a move that will have very little on-court impact in terms of making the Thunder a more dangerous club.
We know that this team is capable of stepping up and beating the best, but the biggest issue for Oklahoma City is remaining consistent when facing other talented teams.
2. Miami Heat (34-11)
The Heat have been white hot for the majority of the season, and there is little reason to think that will change as long as everyone remains healthy.
Miami got to the NBA Finals last season, and this is a better Heat team than the one that found postseason success in 2011.
1. Chicago Bulls (39-10)
How good can the Bulls be? Despite injuries to Derrick Rose and Richard Hamilton, Chicago has the best record in the entire league.
The level Tom Thibodeau has this Bulls team playing at is scary for the rest of the league, and this is a group of guys who play well both at home and on the road.