Tim Tebow Should Be the New York Jets Starting QB To Open the 2012 NFL Season
June 20, 2016
Al Bello/Getty Images
The New York Jets shocked the entire football world when they announced that they had completed a deal for then Denver Broncos quarterback Tim Tebow.
This is probably slightly a PR move to try and steal some thunder away from the World Champion New York Giants. Jets coach Rex Ryan is always talking about how the Jets are the dominant team in New York.
Well, we know how last season finished.
The Giants destroyed the Jets in a game that catapulted the Giants to a World Championship and sent the Jets into a collapse that revealed how fractured and broken that team was.
When the 2012 NFL season starts, the top headlines won't be about the Giants looking to defend their title, they will be about Tim Tebow and his transition to New York.
A great move by the Jets to steal the Giants thunder, but from a football standpoint, how does this trade help the Jets?
Well, first off it was only a matter of time before Tebow left the Rocky Mountains. Peyton Manning only helped to speed up the inevitable.
The Florida teams were strongly linked, but then the Jets emerged as a wild card and won the derby. This comes right off the heels of giving Mark Sanchez a $58.25 million contract extension with $20 million guaranteed, which at that time was a huge shock.
Where do the Jets go from now?
The answer is that the Jets need to forget about those Wildcat packages and make Tebow the starting quarterback for the New York Jets.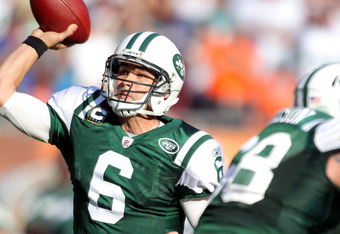 Marc Serota/Getty Images
Here's Why:
That would eliminate inevitable QB controversy
The Jets wanted to bring in a quarterback that they believed would be able to push Sanchez to play better.
The team has done that, but they possibly may have made Sanchez even more fragile.
Tebow is bringing his legions and legions and legions of fans with him to the Big Apple, and if Sanchez struggles with inconsistency, Tebow will start hearing his name chanted. Eventually, if Sanchez keeps playing bad football, Tebow will get his shot to produce.
Let's say that Sanchez keeps playing at his regular level: mostly average with a great game sandwiched between stinkers. Will that be enough to quiet Tebow's fan base?
Probably not.
The Jets can win 11 games next year, but unless Sanchez plays at a Pro Bowl level, Tebow's fans are going to want to see him play.
Remember what happened to Kyle Orton and Brady Quinn last season?
Consider Tebow himself, a factor in the madness.
Even though Orton was the best quarterback the Broncos had going into last season, Tebow never said anything despite being outperformed during training camp. Maybe it's his competitiveness, but Tebow never said I'm not ready. Perhaps it was because Orton and Tebow weren't that close, and Tebow won't mind saying Sanchez is the guy becuase he claims to have a friendship with Sanchez, according to The New York Daily News.
Sanchez didn't deserve the contract extension
Sanchez regressed last season. He threw seven interceptions down the stretch when his team needed him. Play calling probably didn't help Sanchez out, but the NFL is a passing league now, and quarterbacks are expected to throw at least 30 times a game. Sanchez still hasn't had a completion percentage of at least 60% and his yards per attempt was a career low at 6.40 Tebow was awful last year as a passer, but he was clutch, which is something Sanchez isn't right now.
Tebow brings new excitement
Jets fans in general have a negative view of Sanchez. Yes, he has come close to leading the Jets to the Super Bowl, but he has been the weak link for the Jets. The disrespect that Santonio Holmes and other Jets players showed toward him speaks of Sanchez's leadership. Tom Brady and Peyton Manning would not have stories come out questioning them. Sanchez just has that reputation of being a Southern California golden boy who just can't handle New York and that reputation will stick with him until he shows otherwise.
Tebow is even more polarizing than Sanchez, but he shows that fire, that passion that makes players believe in him. Tebow plays the game with a toughness that Sanchez has never shown, and he is the type of player that Rex Ryan loves. Tebow plays with an edge, a chip on his shoulder, which is how Ryan coaches. Tebow and Ryan seem like complete opposites, but it could be a great match.
Sanchez probably is the better quarterback, but Tebow deserves a chance to see if he can replicate the success that he had in Denver. Tebow could get the Jets to the playoffs as a starter. When you look at the rest of the AFC East besides New England, nothing is certain. Miami has quarterback issues since they missed on Peyton Manning, Matt Flynn, Andrew Luck, and Robert Griffin. Buffalo signed Mario Williams, but he can't replace the streaky Ryan Fitzpatrick.