Why LeBron James Is Foolish to Play Versus Detroit Pistons
March 23, 2012

Sam Greenwood/Getty Images
LeBron James gave a troubling response following a 99-95 win against the Phoenix Suns when asked if he had ever sustained a concussion.
"No, I'm too tough for that," James said (via Chris Tomasson of FOX Sports Florida).
Too tough for what, exactly?
Is James too tough to admit he might be hurting from his collision with Phoenix's Grant Hill? Is James too tough to say that he might have sustained a concussion? Too tough to acknowledge that he, LeBron James, could have been injured by another player in this league?
Whatever his intended message was, it's the wrong one to send.
LeBron and Hill collided Tuesday night, and James hit the ground hard. He was down on the court for a couple minutes before finally getting up and playing the remainder of the game.
It was a scary moment, and one that many believed James didn't even remember happening.
After the game, James admitted to having "a little headache" but brushed it off as nothing major. And the Heat training staff did not administer any concussion tests when he was attended to on the court, and James is set to play on Friday against the Detroit Pistons.
That's the wrong move, LeBron.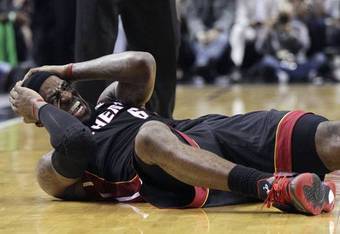 The idea of being the the "tough guy" is vastly overstated, but it's completely overblown when it comes to someone of James' stature.
On an evening where James could have very easily suffered a concussion, the message he sent to his fans around the world and the children watching him on the court was that he was "too tough" to sustain a concussion. That's downright frightening because nobody should be "too tough" when it comes to ensuring the health of the brain.
Concussions have become an increasingly large area of focus in professional sports. The NBA instituted a new policy before this season that a player has to pass a series of baseline tests after sustaining a concussion in order to be cleared to return to the court—a step in the right direction.
With the world watching and his fans listening, James had the perfect stage to send the right message about taking head injuries seriously.
Instead, James said he was "too tough" for a concussion, and that's what his young supporters will take away and believe as the truth going forward.
That's terrifying.
Eric Freeman of Yahoo!'s "Ball Don't Lie" articulated brilliantly what the trouble is with James' comment:
But his comments do help underscore how sports leagues can't just reverse common conceptions of concussions with a new policy or strict rules against blows to the head. More than anything, it's a cultural issue, with players being told to play through pain from a young age.
James is supporting the wrong narrative in this case. He's providing credence to the case that head injuries are something that should just be played through without any questions being asked.
Again, that is just the wrong message to send.
James was likely half-kidding with his response that he was "too tough," but it wasn't the time to be funny. Even if he was making a joke, it was one made in poor taste.
Whether or not he wants to be, James is a poster child for the league. He is a role model for young players around the world who want to grow up to be just like him and will imitate what he does on the court in order to do so.
Will that mean others will think they're "too tough" for a concussion? I certainly hope not.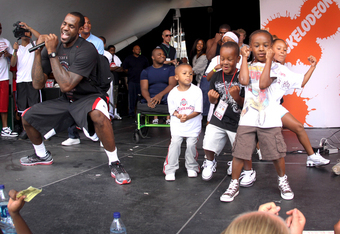 ESPN's Tom Haberstroh highlights why James' comments shouldn't sit well with anybody:
A league that stresses increased caution for possible head injuries just watched its biggest star player joke that he was "too tough" to suffer a concussion, as if he had power over such a thing and other athletes do not.

Also worrisome is that James' comments generated a rumble of laughter from the reporters. Not only was James' response comical to the small audience, but his teammates applauded his gladiatorial toughness after the game.
This is not a laughing matter, and nobody should find it funny.
James' teammates lauded his toughness, but was there anybody questioning it before he hit the floor?
All Miami had to do was give administer a concussion test after the game in order to quell concerns that James might be playing through something he shouldn't be.
Instead, deafening silence from Miami and James saying that he was simply "too tough" to sustain a concussion.
James might go out against the Pistons on Friday and have a phenomenal game, but that doesn't make what happened on Tuesday night any less concerning.
Rather than taking a game off in a compact regular season in order to make sure he's healthy for the future and the playoffs, James will take the court on Friday night.
If James hits the floor again this season like we saw happen in his collision with Hill on Tuesday night, hopefully he won't be "too tough" to acknowledge he might be a little banged up.
It's okay to be human, LeBron. We all are.