Cincinnati Bengals Full 7-Round Mock Draft: Free Agency Edition
Joe Robbins/Getty Images

After a restrained approach to the free agent market, pieces are beginning to fall into place for Marvin Lewis and the 2012 Cincinnati Bengals.
With some significant moves made in the last week, we are starting to get a better idea of how the Bengals will approach the draft in April.
With some noticeable holes still remaining, and following an impressive draft in 2011, Cincy will be hoping for a strong performance once again when they roll into Radio City.
Begin Slideshow

»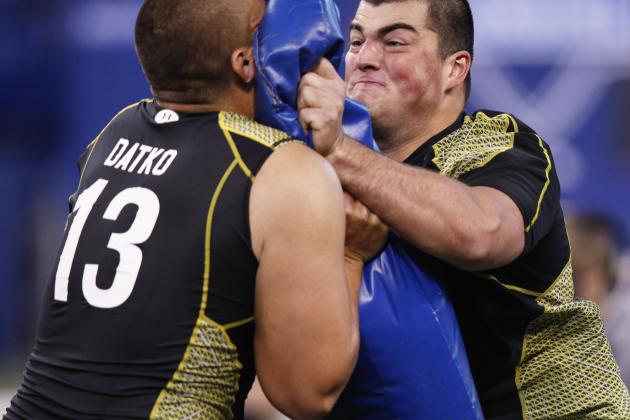 Joe Robbins/Getty Images

While Andrew Luck may have drawn all of the media attention at Stanford's Pro-day, his supporting cast quietly made their own cases for why they deserve a shot at an NFL gig.
OG David DeCastro has long been touted as a first-round pick, and is the best offensive guard in the draft.
According to Rob Rang of NFLDraftScout.com, while DeCastro's teammates ran the 40 at the Pro Day, he spent a significant amount of time talking to Bengals offensive line coach Paul Alexander.
Alexander's interest in DeCastro suggests the Bengals are prepared to address the offensive line high in this year's draft, but DeCastro falling as far as 17 is seen as a long-shot by many. Don't be surprised if Cincy pull the trigger on him if he's still available.
DeCastro packs a lot of athleticism into his 6'5", 316-pound frame, and his impressive run-blocking ability would make him an asset to a struggling Bengals backfield.
He would almost certainly start right away, replacing Bobbie Williams who is likely close to retirement after an ankle break. It is an injury that will be tough to return from at the age of 35.
If DeCastro is off the board, the Bengals could address their secondary at 17, and try to snag Cordy Glenn at 21.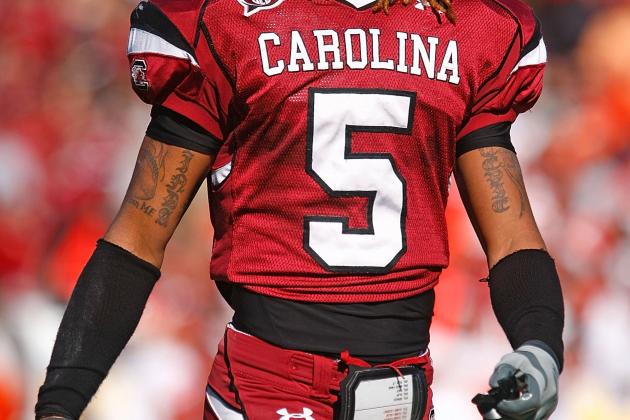 Scott Halleran/Getty Images

With the recent news that the Bengals have re-signed Adam Jones, they are beginning to run out of available space on their depth chart for cornerbacks.
With Leon Hall, Nate Clements, Jason Allen, Brandon Ghee and Rico Murray all under contract, there will likely be only one remaining space for a corner this year.
That spot could well go to Stephon Gilmore. The former South Carolina Gamecock is the third best corner available in the draft after Morris Claiborne and Dre Kirkpatrick, but you could make an argument for similarly talented Janoris Jenkins at this spot also.
Gilmore gets the nod in this mock because of his solid attitude and strong character. He is a studious player who is no stranger to the film room, and it shows in his game.
He has started every game for the last three years in South Carolina, a great stat considering the Bengals injury woes in 2011. He had 46 tackles in 2011 and led the team with four interceptions.
With Leon Hall's injury status up in the air, and the always present danger that he might not regain his prior form, Gilmore would provide a solid insurance policy. Nate Clements is entering the second season of his two-year deal and at 33 years-old, the Bengals might be ready to replace him with a fresher pair of legs.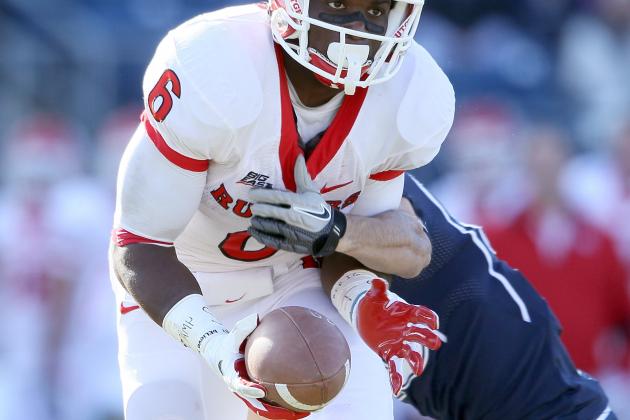 Elsa/Getty Images

WR Mohamed Sanu of the Rutgers Scarlet Knights saw his draft stock tumble after running a 4.67 40-yard dash at the NFL scouting combine.
However, he turned things around at his pro-day on Wednesday with an impressive all-around performance and a better 40 time of 4.47.
Sanu revealed in an interview with WalterFootball.com that he has an upcoming visit scheduled with the Bengals, which could be a good sign for the Bengals passing game come draft day.
At 6'2", 218 pounds, Sanu is a decent size and weight for an NFL receiver, and he is tough enough to do what it takes to make a catch or get the extra yards.
Sanu caught 115 passes for 1,206 yards and seven scores in 2011, and started in 37 of his 38 games at Rutgers.
His strength and durability are impressive and he used his physicality to dominate defensive backs in college. The size advantage and the confidence that Sanu has built up could serve him well when he lines up against bigger and better corners in the NFL.
His main drawback is his lack of elite speed, but with A.J. Green filling that role, Sanu can use his soft hands and toughness to become a dependable target in Cincinnati.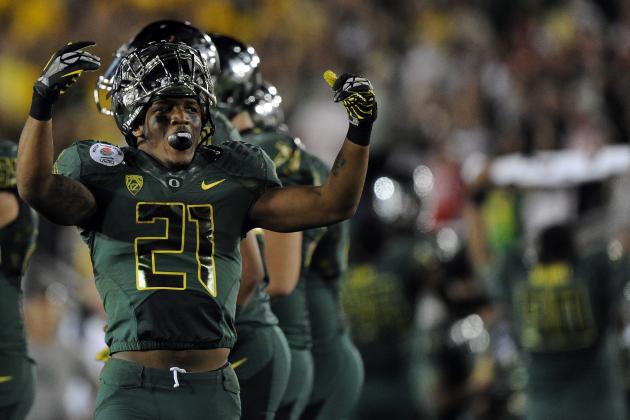 Harry How/Getty Images

With the recent addition of BenJarvus Green-Ellis, the Bengals are likely to be out of the market for a RB in the first and second rounds.
However, Bernard Scott, Aaron Brown and Brian Leonard do not provide enough talent/depth to warrant a "running back by committee" approach, as been talked about by the Bengals coaching staff.
So enter LaMichael James. Projected as a third round pick, James would be a great addition to the Bengals' backfield. He may deserve to be picked in the second round but with a wealth of RB talent available this year, he will likely slip into the third.
He ran a lightning fast 4.45 at the combine, tying for second place among RBs. At 5'9", 195 pounds, James has in the past been labeled too small to play in the NFL, but following the re-emergence of Darren Sproles with the Saints, smaller backs with good receiving skills and elite speed are sought after.
He is extremely dangerous in the open field and uses his agility and vision to side-step defenders, becoming increasingly able to make the big play on the outside. He is not afraid of taking contact, and does head up the middle on occasion, but he remains more of a Sproles than an Maurice Jones-Drew.
The Bengals could have something special in James if they develop his receiving skills and have him play in a committee, but if he is not available at this juncture, Robert Turbin of Utah State could be an alternative.
Marvin Lewis was at Oregon's Pro-day, so read into that what you will.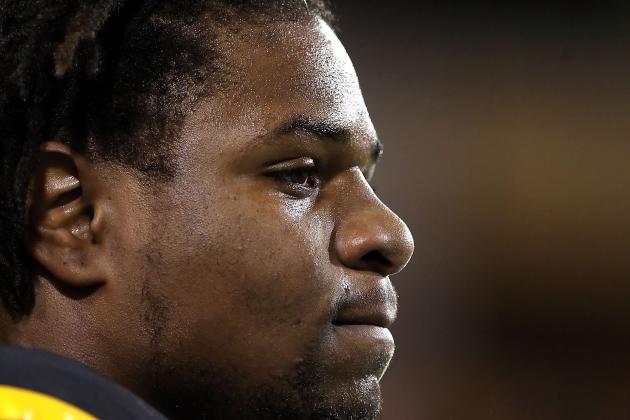 Christian Petersen/Getty Images

Sun Devils LB Vontaze Burfict continues to barrel roll down draft boards after a number of red flag-worthy performances.
With a poor showing at the NFL combine, followed by his open criticism of his coaching staff for his poor play and a lackluster pro-day, Burfict could find himself going as late as the fourth round.
This could be a disaster of a pick, but lets look at why it might happen. Marvin Lewis flew out to the ASU pro day after visiting Oregon and flying back to Cincinnati for contract negotiations in the course of the day. That grueling journey gives the impression that he really wanted to be there.
Aaron Wilson of the National Football Post also reported Marvin Lewis spent some time chatting to the controversial LB during proceedings.
The Bengals are no strangers to taking a flier on a player with a bad attitude. Adam Jones has stayed out of trouble for the most part under the watchful eye of Mike Zimmer, and Burfict could do the same given the strong camaraderie that the Bengals defense has built.
Burfict is an athletic freak and has been a victim of his own hype in recent times. He has good size and speed and an uncanny ability to lay the wood, but he can be sloppy and is prone to making flat-out stupid decisions from time to time.
A safer option, but with less upside, would be Cincinnati Bearcat Derek Wolfe.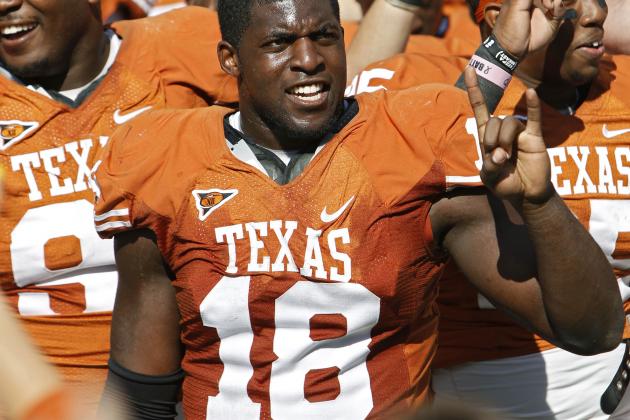 Erich Schlegel/Getty Images

With the Bengals free agency defensive exodus still unresolved, the fifth round begins with some more attention to the D-line.
Emmanuel Acho is the antithesis of previous pick Vontaze Burfict, in that he is a smart, level-headed and savvy defensive player.
He may not have the athletic ability Burfict possesses, but he works hard and is versatile in his coverage abilities. He is a good decision-maker and tackles well in open spaces.
He may not have the size to play on the inside in the NFL at 6'2", 245 pounds, but should be able to make a shift given the chance from Mike Zimmer.
Following Texas' pro-day, Bengals defensive coordinator Mike Zimmer commended Acho, who he believes has "good size, good workout numbers and is a smart guy."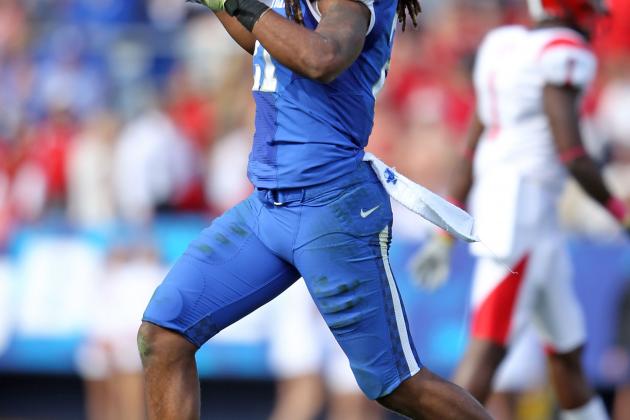 Andy Lyons/Getty Images

In earlier mocks, I had Guy going higher than the fifth round, but he is yet to catch the attention of teams and the media.
At 6'1" and 216 pounds, Guy is the perfect size to play the position in the NFL and packs a variety of skills into that large frame.
Guy is a versatile player, having started at corner and safety during his time at Kentucky, as well as adopting a hybrid safety-linebacker role in 2011.
He's a smart player who is wise to the technicalities of defending the aerial game, as well as having the ability to lay the wood when needed. He excels against the run, yet his ability in coverage is also impressive due to his time playing corner. He is good at wrapping up tackles and tries to do so on every down. He is a guy of solid character and was a locker room leader in Kentucky.
In the SEC this year, Guy clocked 120 tackles (14 for a loss), two passes broken up, two interceptions as well as one forced fumble. This is particularly impressive considering the Wildcats play in one of the toughest divisions in college football.
The Bengals have three young safeties waiting in the wings in Jeromy Miles, Taylor Mays and Robert Sands, but Guy has significant upside at the bargain price of a fifth round pick.
He cannot and should not be overlooked.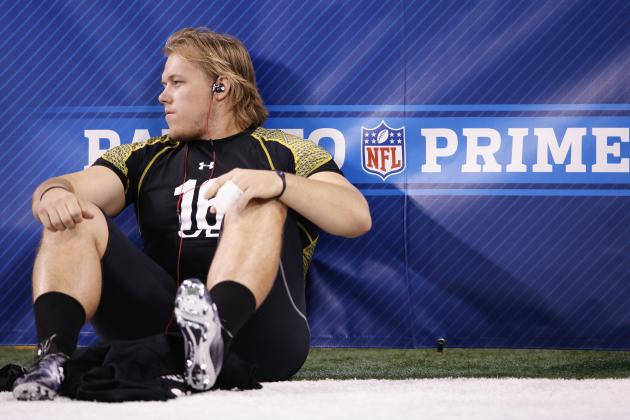 Joe Robbins/Getty Images

Current Bengals center Kyle Cook may be little more than a serviceable member of the Cincinnati offensive line, but he gets the job done and for now the spot is his.
The Bengals aren't in desperate need to replace him so will likely just add depth behind him in this year's draft. The man they choose to do it could be Sun Devil Garth Gerhart.
My fellow Bengals Featured Columnist Chris Roling selected Gerhart in this spot in a previous draft and I have to agree with his argument.
Like his brother [Toby], he is a smart player with a great attitude and work ethic. While a bit small, Gerhart's ability overcomes that by the way he fights in the trenches. He won't be asked to start for a while, if ever, and that's fine because Cincinnati needs him for depth and nothing more.
2011 draft pick Clint Boling has taken snaps at center in the past but after his struggles last year he might be better off trying to focus on and improve his tentative attempt at playing guard in the NFL.
Similarly, Gerhart would be best suited focusing on backing up Kyle Cook, and would provide a steady if not magnificent insurance if anything were to happen to the former.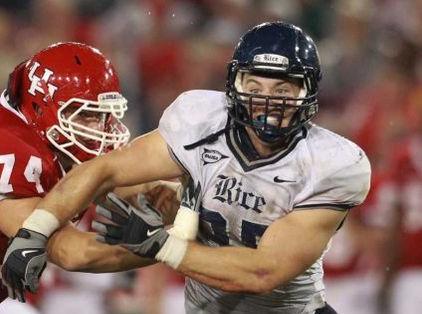 Photo: Anthony Vasser / SA
Scott Solomon was an emotive and intense leader of the Owls defensive line in 2011, one year after missing the entire 2010 season with a foot injury.
He completed his career at Rice tied for the school record for sacks (24) and ranked second in career tackles for loss. He had at least one TFL in eight of his last nine games and four sacks in the last five. He finished with a career-high 8.5 sacks in 2011, which ties for second in Rice history.
Injury concerns can be thrown out the window when you are talking about a seventh-round pick. At this stage in the day, a little bit of upside is worth the risk, and Solomon certainly has it.