Serena Williams vs. Andre Agassi: March Madness Tennis (Part 4 of 4)
March 23, 2012
Theo Wargo/Getty Images
Serena Williams and Andre Agassi are American tennis superstars and two of the most popular players of all time. Though their careers coincided for a time, they obviously never played against each other in a Grand Slam match.
The following dream match will not involve a time machine. It could have actually been put to the test, had it been arranged. It will also be a test of technology.
This article is the final feature of four dream match-ups in tennis' version of March Madness. You can still read Roger Federer vs. Pete Sampras for dream match no. 1, Rafael Nadal vs. Bjorn Borg for dream match no. 2  and Novak Djokovic vs. Ivan Lendl for dream match no. 3.
Serena will be at her very peak, and Agassi still a Grand Slam winner.
This match would be a major media circus, perhaps more so than Bobby Riggs vs. Billie Jean King, and Jimmy Connors vs. Martina Navratilova.
The reader is encouraged to vote for the winner in the poll question and to provide any comments, perspectives or other angles that will add to the conversation.
The Conditions
Time: 2003 for a best-of-three sets match.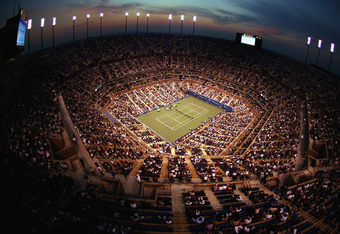 Al Bello/Getty Images
Court: Arthur Ashe Stadium, USTA Billie Jean King National Tennis Center, featuring hardcourt surface.
Rackets: Williams gets to use her own 2003 racket.
Key Variable
Agassi's one handicap will be to take away his famed Head oversized 107 square inch racket. This will be replaced by the wooden Jack Kramer Pro Staff with head size at 65". He will not be permitted to use modern polyester strings either.
This will be the variable that changes the match and allows for more comparable pace of strokes and serves. This will be discussed throughout this preview.
Tale of the Tape: Serena Williams
Serena Williams, holder of 13 Grand Slam titles, peaked with her Serena Slam from the 2002 French Open through the 2003 Australian Open.
She will be playing Agassi in September of this year. Serena may not be historically rated as high as Steffi Graf or Martina Navratilova, but she is perhaps the greatest athlete in WTA history.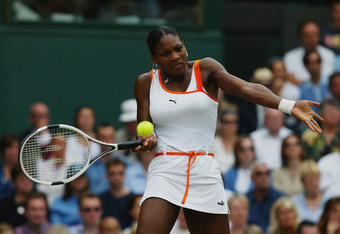 Phil Cole/Getty Images
Combined with her modern racket and string technology, we can see her strokes and power without guessing or projecting.
She has a powerful baseline game and perhaps the most powerful woman's forehand ever. She looks to control the tempo and strike for winners.
Her footwork is remarkable in that she plays very good defense, and so is rarely pushed around in a match. She can scramble well and finish points off at the net.
Serena's serve is perhaps the best ever for the WTA and would rank with many of the men on tour. She could crank it into the 120-mph range at times. She backs this up with good volley touch when needed.
Tale of the Tape: Andre Agassi
Andre Agassi, winner of eight Grand Slams is past his peak, but still seeded No. 1 for the U.S. Open in September 2003. We will give him the summer to train with his Jack Kramer racket.
He is perhaps the greatest ball-striker of all time, hitting the ball on the rise and cleanly. At this stage in his career, he is willing to work a rally with a thinking man's approach. His speed and footwork are underrated, but he is rarely out of position, unless he guesses wrong on an opponent's serve.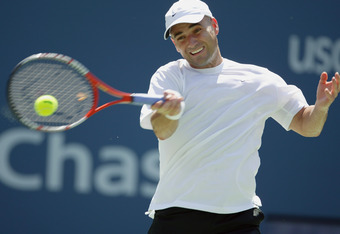 Al Bello/Getty Images
Agassi is also a patient tactician in 2003 and will look to force his opponent into difficult shots, short shots and errors. He must hit the ball cleanly in the middle of the Kramer racket's small sweet spot, or he will leave short, easy balls for Serena to put away.
How Serena Might Attack Andre
Serena's serve often overpowers many of the women on tour, so her placement does not have to be as important. In this match, she knows that Agassi can handle her speed, so she will need to move her serve around, which could mean taking some speed off for a higher percentage.
She will probably not serve and volley unless she finds herself struggling with unforced errors from the baseline. Agassi's wooden racket may or may not be able to keep her off the net, but it's not in Serena's game to play like Martina Navratilova. 
Serena does not play passive tennis, and she will look to hit harder if the match is not going her way. She hits a lot of winners, but will produce several unforced errors. She will look to take risks, even if it costs her, and she may dictate play for good or bad.
How Andre Might Attack Serena
The key to the match is how well Agassi can play with the Kramer racket. He will have to hit with perfect technique because anything outside of the sweet spot will open up shots for Williams. He may not be able to take huge cuts at the ball just for the sake of accuracy and control, even if he is the greatest ball-striker of all time.
From the baseline, Agassi will try and be creative by moving Serena all over the court. He may try more drop shots and surprise approach shots at the net. He is underrated with his net play, but this might be the time to try, as it will be tough to hit outright winners.
Agassi will likely have fewer unforced errors, and part of his strategy will be to force Serena out of her comfort zone, to try for too much. If she is on, it will be troublesome because his racket simply cannot turn into a weapon. He must rely on guile, foot speed, stamina and skill.
For comparison, we might look at Bjorn Borg from the late '70s with a wooden racket. His strokes were the best of his time, but his pace and power were limited by the technology.
Or to put another way, could Serena take her 2003 game to the late '70s and beat the men on tour with her astonishing power and athleticism?
Intangibles
Two of three sets will eliminate the fatigue and stamina factor often discussed for men's Grand Slams. For both players, this will allow them to concentrate on tennis rather than outlasting the other.
Composure could be a major factor in this match. Will Agassi feel the pressure of playing the opposite gender? One asset will be his hitting sessions with his wife, Steffi Graf.
Agassi has generally had a sporting attitude and disposition. He will not try and pull cheap John McEnroe stunts of distraction or intimidation. He will just play.
Serena is also mentally tough, but will she feel the burden of representing the women's game? She has been known to get upset with calls (though her blowups in 2009 and 2011 are yet to happen at this time).
Who will get the greater fan support? Will this be influenced by race or gender?
Who should call this match? McEnroe and Mary Carillo? Chris Fowler and Chris Evert?
What will each player wear? Should Agassi go retro with the outfit or will he be business-like as he was in 2003?
The Winner
It would be a fascinating match, both in terms of their personalities and genders. It would also be an awesome test of technology evolution.
Who would start off quicker in the match? Who will make the proper adjustments?
Who would win?
Cast your vote and your comments.