Kobe Bryant Gives Valuable Advice to Dallas Mavericks About Lamar Odom
March 23, 2012

Stephen Dunn/Getty Images
During the Dallas Mavericks' ugly loss to the Los Angeles Lakers Wednesday, the boo birds weren't merely chirping at Lamar Odom; they were squawking a chorus to him. 
After all, Odom played half the game and only tallied one point (0-of-3 from the field), one rebound, one assist and one steal. That screams "lack of production." Unfortunately for Mavs fans, Odom's game has screamed "lack of production" all season.
When Kobe Bryant, Odom's former teammate with the Lakers, was asked about the boisterous boo birds, he adamantly declared his opinion on the matter. "That's just stupidity," Bryant said, according to ESPN's Tim McMahon.
What's more, Bryant appeared to give Odom some motivational encouragement in their interaction after the game, but wouldn't specify to reporters what he specifically said. He did, however, share his thoughts on what he perceives to be the reason for Odom's struggles. He communicated how the Mavs' roster had pretty much been set when Odom arrived and how he simply hasn't been able to find a niche.
He also emphasized how Odom is a player who needs to be featured, which certainly hasn't been the case in Dallas.
Kobe's thoughts may stem from his personal loyalty to Odom, but they should actually be taken by the Mavs as a hint of what could unlock Odom's talents.
Odom isn't far removed from being a major contributor on two Laker title teams, and even just last year he tallied impressive numbers across the board.
Let's compare Odom's stats from last season to this season.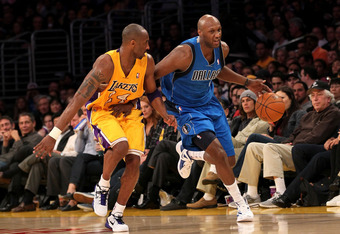 Stephen Dunn/Getty Images
Last Year: 14.4 PPG, 8.6 RPG, 3.0 APG, 53.5 percent field-goal percentage, 32.2 minutes per game
This Season: 7.0 PPG, 4.4 RPG, 1.8 APG, 34.5 percent field-goal percentage, 21.4 minutes per game
How does this happen? How does a 32-year-old suddenly look like a shell of the player he was just one year ago?
At this point in the season, Odom's given the Mavs every reason to give up on him, but that would be absolutely foolish. They must continue to search for the right way to use him, and Kobe's thoughts on them featuring him more need to be strongly considered by Dallas coach Rick Carlisle.
Odom's averaging 10 minutes fewer this season than last year and his confidence has obviously been shaken (indicated by his atrocious field-goal percentage).
How can the Mavs restore him? There's only one way, and that's letting him play more and placing him in situations that highlight what's in his arsenal. It's seeking to do exactly what Kobe advised: helping Odom find his niche and allowing him to be a featured player.
Quite frankly, after Dirk Nowitzki and Jason Terry, Odom is the next most gifted all-around player on the ballclub, but Dallas is using him like a washed-up scrub. As a result, he's begun playing like a washed-up scrub because there's clearly a lack of confidence in him.
The Mavs can keep hoping Odom bids farewells to this slump and suddenly starts producing with more consistency, but their current way of using him has yet to show promise and it's now almost April.
It's time for something new, and if the Mavs hope to soon see the Odom they knew as an opponent when he was with the Lakers, they better start using him how he was used just a year ago with L.A.
Frankly, they better listen to Kobe. Is there a player whose advice should be heeded more than Kobe's, who's arguably the fiercest and wisest competitor in the league? Kobe surely knows what he's talking about and grasps that Odom is a superb talent.
The outlook on the rest of the Mavs' season is bleak, but if they can find life in Lamar Odom, perhaps their chances of repeating as champions remain. But the key word is "if."