Sweet 16 Bracket 2012: Indiana in for a World of Hurt vs. Kentucky
March 23, 2012

Jonathan Daniel/Getty Images
This is most certainly the season for upsets and underdogs—unless you are playing Kentucky, in which case there is no hope for you. Period. 
I understand who Kentucky is playing on Friday as they enter the Sweet 16 against the Indiana Hoosiers. The only team that was able to best the mighty Wildcats will again meet the No. 1 seed in a much-hyped affair. 
Indiana matches up well with Kentucky and will again go to the long ball with their staff of sharpshooters. 
The most important thing to consider is that Anthony Davis picked up a couple of quick fouls and was relegated to 24 minutes on the floor in the eventual biggest upset of the season. 
Davis has played far better with each game since that ill-fated day. He has matured and knows full well how much he means to this team on the court. Do not expect round two to feature Davis gambling on tenuous blocks or rebounds as he has had no more than three fouls in a game since then. 
A mature Davis will spend the majority of his time on the floor, wreaking havoc in the paint against Indiana. The obvious interior edge goes to Kentucky.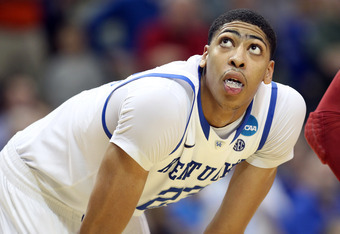 Andy Lyons/Getty Images
Jordan Hulls and Christian Watford will again be shooting from deep and will again hit their fair share for Indiana, but Kentucky has been closing out better on shooters in the first couple rounds and will be a different defense than the Hoosiers remember. 
Iowa State was just 3-for-22 from beyond the arc in Kentucky's second-round win. You simply can't guarantee success from distance against this deep and balanced Kentucky team. 
The last nail in Indiana's coffin is Kentucky's hunger, because they have seen what exuberance looks like on another team's face. 
This team knows full well what it takes to beat them, and how they feel when they are upended, specifically by Indiana. 
The Wildcats are versatile and immensely talented, but most importantly they are focused. That all means Indiana is playing their last game in March.