Ring of Honor Review (3/17/12): ROH Continues Build to Showdown in the Sun
March 23, 2012

Last week, Ring of Honor aired their penultimate episode on the path to Showdown in the Sun, scheduled to take place the evening of March 30 and the afternoon of March 31.
Despite featuring just two matches, ROH successfully raised the stakes and the tempo for the event.

Adam Cole def. Alex Silva
Adam Cole pinned Silva in a match that was short, but not particularly sweet. It was not that long, but it did seem like it.
In addition, we were treated to Kyle O'Reilly, who joined Kevin Kelly and Nigel McGuinness on commentary.
Despite the match's many shortcomings, it served its purpose, setting up O'Reilly and Cole at Showdown in the Sun.
O'Reilly is playing a fantastic heel right now. His character is complex and nuanced, defying normal heel categorization. Everything about him is slimy and sleazy, but he clearly believes that his moral compass is the only one pointing north.
I don't know what to say about it, other than that I want him to get punched in the face every time he appears on television.
That's the sign of an effective heel.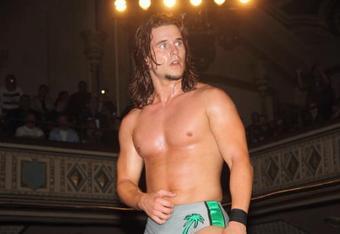 Verdict: Thumbs Up
Worst Moment: I know lots of indy fans rag on WWE, including myself from time to time. However, I hope everyone knows talent when they see it. This match made me realize why cocky, showoff heels bore me to death. It's because Dolph Ziggler is that good. He is such a great showoff that he has completely ruined showing off for everyone else.

Kevin Steen Promo
The toughest character in professional wrestling to portray is that of the anti-establishment crusader. It seems simple, but it's almost impossible to walk the line between nonchalance and invincibility.
These characters need to take their opposition seriously. That's not to say that they cannot make fun of or insult the establishment, but they do need to treat it like a credible threat.
If not, we have a terrible story. After all, what use is a crusader if they are not challenging something more powerful than themselves? Their victory becomes a forgone, meaningless conclusion.
I think what I'm trying to say is that this is the part of the recap where I say that Kevin Steen is awesome.
He threads this needle, whereas his WWE cohorts Triple H and CM Punk drag their stories down by acting like they are the coolest kid in the room.
By the end of the segment, Jim Cornette tells us the Kevin Steen will wrestle El Generico at Showdown in the Sun.
Verdict: Thumbs Up
Worst Moment: Kevin Kelly has to get flashbacks every time he steps in the ring with Kevin Steen. Steen's abuse of Kelly is oddly reminiscent of that of The Rock during Kelly's stint in WWE. Given that The Rock couldn't make it past "hermaphrodite," I probably shouldn't be surprised that he can't muster more than implications of femininity and homosexuality these days. Has The Rock changed or did I just grow up?

Promo Time Quick Notes
-Cole has to be trolling us with his wardrobe. He knows where he is being interviewed, right? And there is no possible way he just happened to wear a shirt the EXACT same color as the ROH lockers.
-Lance Storm wants a match with Mike Bennett because Bennett doesn't have a passion for wrestling. I know that Bennett's victory is inevitable, but I am looking forward to this match anyway.
-Davey Richards says he's been perfect since winning the ROH championship, conveniently forgetting that time several days ago when he was pinned by Cole.
-Briscoes Promo Checklist: Call opponents a term typically reserved for women? Check. Mention the chicken farm? Check. Mention being 7-time ROH tag team champions? Check. Assert that someone is leaving on a stretcher? Check. Remind opponents to "Man up?" Missing this week.
Verdict: Thumbs Up
Best Moment: I get the feeling Charlie Haas is auditioning for CSI: Miami every week. Haas loves his melodramatic shades removal.

Jay Lethal def. Roderick Strong
This was the first match in Ring of Honor's March Mayhem tournament. Four singles matches determine the finalists, who will face off in a four-way elimination match to determine the winner of the $24,000 prize.
I can't be the only person less than captivated by monetary prizes in a scripted sport, right?
Despite my inability to suspend belief, Lethal and Strong gave us an incredible match.
I love matches with catch-as-catch-can starts and slow builds. Two minutes of armbars and holds is just good storytelling. Establish that anyone can win and I can't predict who will.
Congratulations. You have successfully created suspense.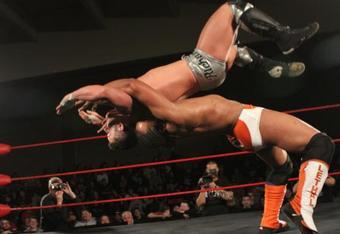 Of course, this might only prove that I started watching wrestling during WWE's Ruthless Aggression Era. Fifteen-minute televised matches between some combination of Kurt Angle, Eddie Guerrero, Brock Lesnar, Chris Jericho, William Regal, and (Name Redacted)? Don't mind if I do.
Several false finishes kept me on the edge of my seat. I could have sworn Lethal was going to lose after Truth Martini's distraction led to a second rope roll-up. I was even more certain after Michael Elgin came out to distract Lethal.
However, Lethal overcame the numbers game and picked up the win, continuing his climb to main-event status.
Verdict: Thumbs Up
Best Moment: Realizing that I was marking out for Lethal. This is a testament to Lethal and his incredible skills, as well as House of Truth for being convincing heels. 

Show Verdict: Thumbs Up
You can typically predict the quality of a ROH episode by the number of matches televised. Three matches means a good episode. Two means filler. This episode broke that mold, delivering solid action that succeeded in promoting their next pay-per-view. I am more excited for Showdown in the Sun than I have been for any ROH event.

All photos courtesy of rohwrestling.com