UFC: Will MMA Ever Have a Huge Crossover Star?
March 23, 2012

Chris Graythen/Getty Images
If you are an avid sports fan, or even someone who appreciates the history of a certain sport, you could possibly rattle off the names of at least 50 star athletes in your chosen sport. Sports are built on stars. 
However, in a given generation, only a chosen few actually transcend their sport to become household names and gain notoriety from those who do not watch that athlete's sport of choice. 
Having grown up in the '80s, the first two true crossover stars that I can remember are Mike Tyson and Michael Jordan. You would probably have to go to the depths of Elbonia to find anyone who did not know who Michael Jordan was. 
He was on everything from Hanes, to McDonald's to Nike. I remember skipping…err…umm…friends of mine skipping school to get the latest pair of Air Jordan sneakers the day they were released. 
Tyson was a part of the last decent era in heavyweight boxing. Believe it or not, there was a time when even the most non-interested person knew who the heavyweight champion was, unlike the "alphabet soup" of champions and sanctioning bodies now.   
I digress. That story is for another time, and I have ranted about that more than enough.
As mixed martial arts grows more in popularity, the sport has had its share of stars. Guys like Tito Ortiz, Randy Couture and Chuck Liddell are legends of the sport. However, none of them had the mainstream appeal outside of hardcore fans. 
While it is true that Liddell has done some small acting bits here and there, he's still largely unknown to the vast majority. Nowadays, we have guys like Jon Jones and Georges St-Pierre.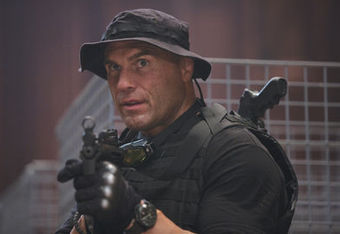 GSP was thought to be the MMA's first huge crossover athlete. He inked an endorsement deal with Under Armour and was one of the Ultimate Fighting Championship's most dominant fighters.  Unfortunately, it just never quite happened. 
Anderson Silva, one of the most dominant and longest reigning champions in MMA history, was thought to have the potential to be that polarizing figure to bring MMA to the forefront of pop culture. Prior to UFC 134 in Brazil, Silva was barely a star in his native country, or at least not a mainstream one.
Now steps in Jon Jones, the UFC light heavyweight champion. Jones has rocketed to the top of the UFC world at age 24. 
He's done commercials with Bud Light and has been a guest on the Tonight Show. Could he be the Hollywood face of MMA? There's potential, but I believe there is a key element missing from MMA, especially the UFC, which prevents it from having a true crossover star.
Las Vegas is hurting MMA's marketability. The UFC is the face of MMA. If there is to be a mega-star in the sport, as of this moment they will only come from the UFC. 
The UFC has hosted 165 events in the U.S. Of those 165 events, 69 were held in Las Vegas—42 percent. The next city on the list is Atlantic City, NJ with six. 
Here's a look at some of the major metropolitan areas in the U.S. and the number of UFC events they have held:
New York City: 0
Los Angeles: 2 (Although there have been 5 in Anaheim)
Chicago: 1
Philadelphia: 2
Dallas-Ft. Worth: 1
San Francisco-Oakland-San Jose: 2
Boston: 1
Atlanta: 1 (Jones vs. Evans will be No. 2)
Washington, DC: 1
Houston: 2
How often have we watched UFC events and seen the number of celebrities littering the crowd? They love this sport. If done correctly, a UFC event could be a star-studded occasion. In boxing's better days, you could count all of the famous faces at ringside watching the fights. 
For Los Angeles, Hollywood, the place where stars are made, to have hosted only two fight cards is insane. There needs to be something done regarding the East Coast as well.
MMA must be legalized in New York. Everything from corporate conglomerates to fashion goes through New York. 
As much as it pains me to say—Philadelphia native, born and bred—New York City is the mecca for entertainment and all things marketed globally for the U.S.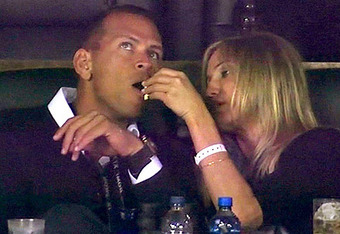 The Yankees could go 62-100 for the next five seasons—God willing—but ESPN would still bombard us with endless Wednesday night Yankees baseball. If A-Rod still played for the Rangers or Mariners, would we be talking about him and Cameron Diaz or him and Kate Hudson? 
Now that Tim Tebow is a member of the New York Jets, we will be ENDLESSLY inundated with everything from what he eats to which translation of the Bible he prefers. Could you imagine what fighting at Madison Square Garden could do for this sport? 
In a recent interview, Rashad Evans and Jon Jones spoke about their wish for their upcoming fight to have been held in their home state of New York. 
Las Vegas is great and all, but people from all over the world are not traveling to the United States of America to stop traffic while they point their cameras in the sky to take pictures of the Bellagio. They do that in New York. In addition, there's a reason the huge cinema market in India is referred to informally as "Bollywood."
Bottom line, no matter who MMA has as their top star, they won't have that true crossover appeal until the major markets take notice. It's one of the reasons the NBA has only about four really good teams. 
The players know that they can expand their "brand" if they play in New York or Los Angeles instead of Oklahoma City. 
Would Jeremy Lin have gotten the same amount of press if he played for the Bobcats? Jones could be the rising star, but first his home state needs to welcome him home.
Follow Walt J. as he gives his no-holds-barred opinions on the NFL, MMA and other sports topics on his blog, "Live From AREA 49." You can also follow him on Twitter @area49sports.