NCAA Tournament 2012: Biggest Storylines in Friday's Sweet 16 Games
March 23, 2012
Streeter Lecka/Getty Images
By the end of the day, the road to the Final Four will be through to the Elite Eight. All that remain are four Sweet 16 games.
There are going to be some pretty solid teams in action on Friday, including two No. 1 seeds, a No. 2 seed and a No. 3 seed. The day will also feature the only three potential Cinderella teams remaining in the tournament in Xavier, Ohio and NC State.
Beyond a simple trip to the Elite Eight, there are other things at stake in these games. Here's a rundown of the key storylines in each of Friday's four Sweet 16 games.
No. 10 Xavier vs. No. 3 Baylor (7:15 p.m. ET)
Key Storyline: Does Xavier stand a chance against Baylor's length and athleticism?
Xavier has gotten this far, but the Musketeers haven't faced a test as tough as Baylor yet. They beat a mediocre Notre Dame team and a Lehigh squad that was just plain lucky to be there.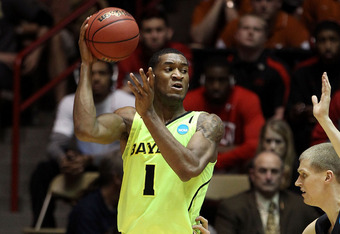 Christian Petersen/Getty Images
The Bears are legit, and the threat they pose to Xavier is their ability to use their frontcourt to dominate around the basket. The Musketeers play guard-oriented basketball, so they'll be at a huge disadvantage if Baylor is able to repeatedly get the ball in to its bigs for easy buckets.
And of course, Xavier can't afford to lose sight of Brady Heslip, who hasn't been missing from three so far.
This matchup has blowout written all over it. For Xavier to pull off the upset, Tu Holloway, Mark Lyons and Dezmine Wells are all going to have to play the best games of their lives. Anything less will result in a reality-check loss for the Musketeers.
No. 13 Ohio vs. No. 1 North Carolina (7:47 p.m. ET)
Key Storyline: How will the Tar Heels fare without Kendall Marshall?
As of this very instant, Kendall Marshall has yet to be ruled out of Friday night's tilt against the upset-minded Ohio Bobcats.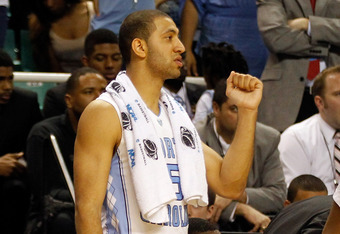 Streeter Lecka/Getty Images
But North Carolina head coach Roy Williams said on Thursday (per ESPN.com) that he's not expecting Marshall to be able to play, which makes sense considering the fact Marshall just had surgery on his wrist on Monday.
Assuming Marshall doesn't play, the Tar Heels will be without one of the best assist artists in the country, not to mention a guy who has recorded a double-double in six of his last nine games. Marshall's absence could very well doom UNC against an Ohio squad that would otherwise be totally overmatched.
Somebody will have to step up for the Tar Heels if Marshall can't go (Harrison Barnes comes to mind). If nobody does, they'll be on upset alert.
No. 4 Indiana vs. No. 1 Kentucky (9:45 p.m. ET)
Key Storyline: Will Kentucky get its revenge?
This game is all about revenge for the Wildcats.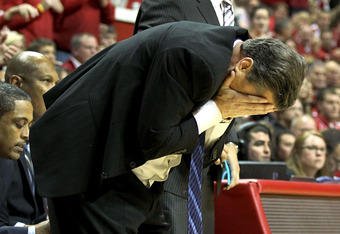 Andy Lyons/Getty Images
Way back in early December, Kentucky rolled into Indiana and got beat on a buzzer-beater by Christian Watford. The Hoosiers were 9-of-15 from three in the game, showing off the kind of efficiency that would make them one of the best three-point shooting teams in the country.
Indiana will have to be just as efficient from three on Friday, as knocking down shots from distance will allow the Hoosiers to stay out of Anthony Davis' vicinity. As they typically do, the Wildcats will look to use their superior frontcourt to gain an edge.
It took a once-in-a-lifetime shot for Indiana to beat Kentucky the first time around. The Hoosiers may need another one to top Kentucky again.
No. 11 NC State vs. No. 2 Kansas (10:17 p.m. ET)
Key Storyline: Can Kansas conjure enough offense to avoid an upset?
The seeding suggests that this is a huge mismatch in Kansas' favor, but it's anything but. The Jayhawks are very much in danger of suffering an upset in this game.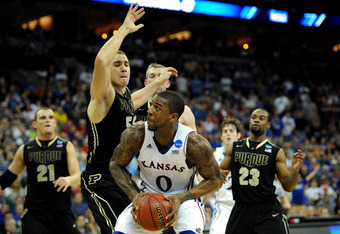 Eric Francis/Getty Images
If NC State can limit Thomas Robinson offensively, the playing field will be leveled significantly. This has been proven time and again, including in the Round of 32 against Purdue. Robinson was just 2-of-12 from the field with 11 points, and the Jayhawks won by just three points.
NC State has the personnel to disrupt Robinson. The Wolfpack also have enough scorers to run up the score and put a lot of pressure on a Jayhawks squad that does not have a wealth of scorers or a wealth of depth.
It's a dangerous matchup for Kansas, and it will be totally doomed if the Wolfpack start running up the score.