2012 Fantasy Baseball: National League-Only Starting Pitcher Rankings
March 23, 2012

Pool/Getty Images
Here's the 2012 LestersLegends Starting Pitcher Rankings for NL-Only Leagues.

1. Roy Halladay, Philadelphia Phillies 
Going 19-6 with a 2.35 ERA, a 1.04 WHIP and 220 Ks is nothing to sneeze at.

2. Cliff Lee, Philadelphia Phillies 
Did not disappoint in his return to Philly, going 17-8 with a 2.40 ERA, 1.03 WHIP and 238 Ks.

3. Clayton Kershaw, Los Angeles Dodgers 
Coming off a brilliant 21-5, 2.28 ERA, 0.98 WHIP, 248 Ks season that resembled Verlander's gem.

4. Tim Lincecum, San Francisco Giants 
He had a sub-.500 winning percentage, but it's hard to argue with his 2.74 ERA, 1.21 WHIP and 220 Ks. Look for him to bounce back.

5. Cole Hamels, Philadelphia Phillies 
Easy to undervalue him because of Halladay and Lee, but his 14-9, 2.79 ERA, 0.99 WHIP and 194 Ks were plain nasty.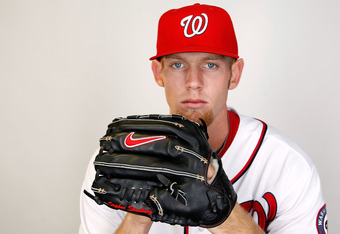 Mike Ehrmann/Getty Images

6. Stephen Strasburg, Washington Nationals 
The Nationals will be cautious, but Strasburg is nearly unhittable.

7. Yovani Gallardo, Milwaukee Brewers 
Nasty stuff led to a 17-10, 3.52 ERA, 1.22 WHIP and 207 Ks season.

8. Matt Cain, San Francisco Giants 
Once again struggled to pick up wins (12) despite a 2.88 ERA, 1.08 WHIP and 179 Ks. It's a crime he can't get better offensive support.

9. Zack Greinke, Milwaukee Brewers 
The Brewers will find it tougher to score runs without Prince Fielder. If Greinke can avoid the early-season ineffectiveness that led to a 5.45 pre-All-Star Game ERA, he should be a force.

10. Ian Kennedy, Arizona Diamondbacks 
Quietly produced a 21-4, 2.88 ERA, 1.09 WHIP and 198 Ks season.

11. Josh Johnson, Miami Marlins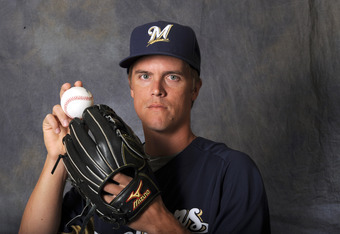 Rich Pilling/Getty Images
You know what he can do when he's healthy. That is the big question mark though.

12. Mat Latos, Cincinnati Reds 
His new park is a far cry from PETCO, but when healthy, Latos can get the job done just about anywhere.

13. Tommy Hanson, Atlanta Braves 
Limited to 22 starts last year, but produced a solid 11-7, 3.60 ERA, 1.17 ERA and 142 Ks season.

14. Madison Bumgarner, San Francisco Giants 
Vogelson was the surprise last year, but Bumgarner has the potential. Finished 13-13 with a 3.21 ERA, 1.21 WHIP and 191 Ks. Posted a 2.52 ERA after the All-Star Break.

15.  Daniel Hudson, Arizona Diamondbacks 
He turned in an impressive 16-12, 3.49 ERA, 1.20 WHIP and 169 Ks season. He'll turn just 25 next week. Definitely reason to believe he can build on his success.

16.  Adam Wainwright, St. Louis Cardinals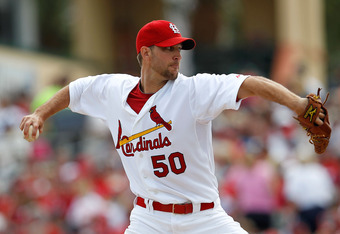 Sarah Glenn/Getty Images
It may take him some time to round into form, but he should still be one of the game's elite pitchers.

17.  Chris Carpenter, St. Louis Cardinals 
His age makes him a risk, but he continually turns in solid performances.

18.  Johnny Cueto, Cincinnati Reds 
He was brilliant (9-5, 2.31, 1.09, 104) in 24 starts. He has improved every year, but I expect he'll be closer to his 2010 numbers (3.64, 1.28).

19.  Brandon Beachy, Atlanta Braves 
He was better than his final numbers indicate (7-3, 3.68, 1.21, 169).

20.  Gio Gonzalez, Washington Nationals 
Gonzalez (16-12, 3.12, 1.32, 197 Ks) forms a nice trio with Stephen Strasburg and Jordan Zimmermann.
Also check out: