2012 NFL Draft: Wake Forest University Strong Safety Cyhl Quarles Is a Tackler
March 23, 2012

Elsa/Getty Images
Cyhl Quarles is a hard-nosed, aggressive safety from Wake Forest University.  At the NFL combine he measured in at a little over 6 feet 1 inches and 213 pounds.  He is a big safety with good speed, and a player that does not shy away from contact.  He led the Wake Forest defense in tackles as a senior.
I talked to him about his time at Wake Forest and about what the future might have in store for him.  I noticed that he had a lot of tackles, finishing second on his team as a sophomore and as a junior, and leading his team as a senior.  I asked if he thought that level of production from the back end was something that could help him.
He said "I applied myself to making tackles and being aggressive on defense" and "as a senior, I just felt like it was my duty to get up and lead the team in tackles and be a force on defense to help us win games."
I asked him if the scheme at Wake Forest called for him to be a strong safety or a free safety.  He explained that the scheme called for the safeties to play "quarters" and that they played "right safety or left safety, and therefore you can be a free safety or a strong safety depending on the formation." 
He mentioned that it worked out great as fellow safety Josh Bush made AP All-American, and that Bush led the team in interceptions, and Quarles led the team in tackles.  He considered them to be a great one-two punch.  He prides himself on his ability to make tackles. 
I asked him what his favorite moment was as a college football player.  He told me "after my senior year when we beat Florida State.  I think half of our team or just a little bit below half of the guys on our team were from the State of Florida."  He said that some of the Wake Forest guys were recruited by Florida State and that it was great to beat them, especially after Florida State was ranked so high in the preseason polls.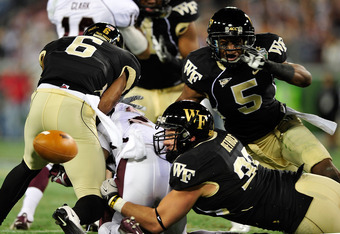 Grant Halverson/Getty Images
Looking to the future, and specifically to the NFL, we talked about what he felt he could offer to an NFL team.  He pointed to his versatility and aggressive nature.  He said "just being aggressive, being a force on the team and I actually played special teams my senior year and all the rest of my years." 
He said that he started three straight years and "I think special teams really helped me out as far as making tackles and showing the team that I really care about special teams."  He told me that he played on punt and kickoff coverage.
He knows that special teams will play a big role going forward for him.  He said that "special teams are how you get your foot in the door and I think that is the one thing I think I can contribute early to the team that drafts me." 
When I asked him if he had been compared to a current NFL player or if he thought he played similar to an NFL player he told me that his favorite player was Antrel Rolle of the New York Giants.  He said that he likes that Rolle is "very aggressive and he doesn't let anything bother him."  He made a point to say just like Rolle, he is going to do whatever it takes to win. 
We talked about going into the NFL and what he wants the the fan base of the team that gets him to know.  He said that he would want them to know they were getting a "smart player and a guy that loves the game of football."  He said he was "a guy that is not going to let them down in the media or in public by doing dumb stuff.  I'm someone that's going to represent their team well and someone that's going to be very productive."
Cyhl Quarles racked up a lot of tackles playing at the safety position in the middle of the Wake Forest secondary, and the numbers speak for themselves.  He wants an opportunity to play in the NFL and he is ready and willing to do whatever a team needs him to do.
Scott Bischoff is a Contributor for Bleacher Report. Unless otherwise noted, all quotes were obtained first-hand or from official interview materials.