NBA Free Agency: 10 Veteran Free Agents Who Could Help a Contending Team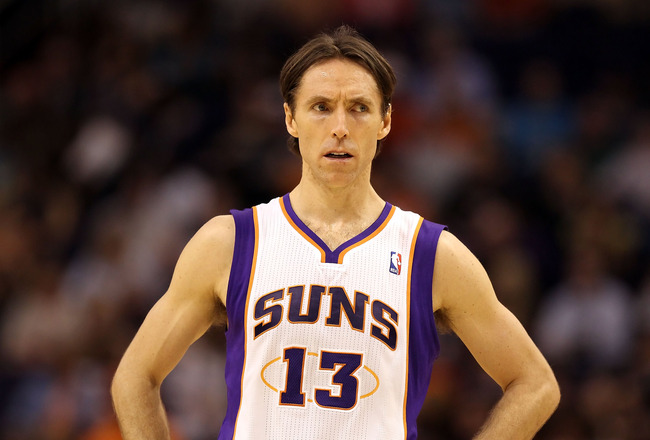 Christian Petersen/Getty Images
The NBA trade deadline has passed, and the NBA season is now winding down to the point where teams are trying to hunt down playoff spots.
But not all teams are just looking for a playoff spot. Many teams are already looking slightly further into the future and GMs may be starting to think about which players their team could sign in the offseason.
Some teams will attempt to build their team by courting top free agents, but many teams that are very close to being contenders will look to add that one last piece that could push them to the top. Adding veterans is important, not only for the skills the player possesses, but also for his leadership in the locker room and ability to mentor younger players. Veterans bring experience to a team and teach younger players how to win. Also, unrestricted free agents on the wrong side of 30 can generally be signed fairly cheap.
They may not be the best of the upcoming free-agent class, but here are 10 veteran free agents who still have a few years left in which they can provide teams with not only talent but also leadership.
Honorable Mention: Grant Hill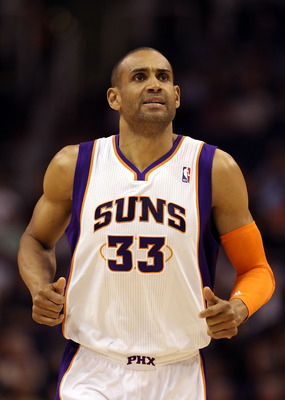 Christian Petersen/Getty Images
Current Team: Phoenix Suns
Age: 39
2011-2012 Stats: 10.5 PPG, 3.7 RPG, 2.4 APG
Hill is an honorable mention because at the age of 39 with a contract about to expire, Hill is a likely candidate to retire from the NBA. However, Hill could still stay in the NBA for another season or two. Hill recently was quoted saying, "I definitely think I can go another year, maybe two."
If that is the case, then Hill could definitely help a contender and Hill could try and get a championship ring before he retires. Hill is down to just 10.5 points a game, and he is shooting a career-low 45 percent field-goal percentage, but he still has a lot to contribute defensively.
Hill is a great defensive player who has shown an ability to consistently lock down prolific scorers, as seen in some of his matchups this year. He held Carmelo Anthony to just 12 points. He held Joe Johnson to six. Paul Pierce scored just 12 points off of him. In fact, the only four players have managed to score 20-plus points off of Hill, and those four were Dorell Wright, Shawn Marion, LeBron James and Kevin Durant. Even if in a bench role, Hill could be an absolutely amazing defender against bench players and could be used as a lockdown defender in key situations.
Honorable Mention: Jason Kidd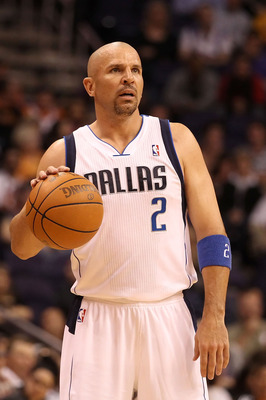 Christian Petersen/Getty Images
Current Team: Dallas Mavericks
Age: 39
2011-2012 Stats: 5.8 PPG, 5.5 APG, 1.8 SPG
The future Hall of Famer Jason Kidd has also contemplated retirement, which is why he finds himself as an honorable mention. Still, the 39-year-old would be useful to a contending team and would be a cheap pickup.
Jason Kidd never had too much of an offensive game, but now that aspect of his game is starting to fade away all together. That efficient three-point shot he developed in the middle of his career is vanishing, as he is connecting on 33 percent of his threes, his worst since 2003. He is shooting a career low 34 percent from the field, and scores just about six points a game in almost 28 minutes.
Still, Kidd has a lot to offer. He has a ton of experience and could definitely become the leader of a locker room, as he just recently got his ring with the Mavericks. He should be used in a bench role, but is capable of mentoring a younger point guard.
Also, even though his offense is gone doesn't mean he wouldn't be useful on the court too. He gets almost two steals a game, and is a great defender. He has given up more than 20 points just a few times, and has held guys such as Tyreke Evans to just six combined points in two different matchups. He'd be cheap, and he would bring defense and leadership. That could definitely help a young team trying to win.
Kenyon Martin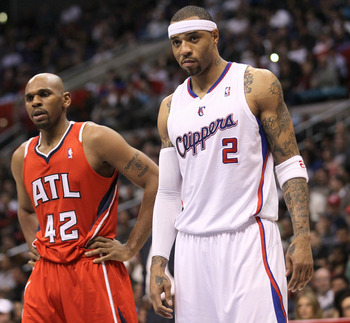 Stephen Dunn/Getty Images
Current Team: Los Angeles Clippers
Age: 34
2011-2012 Stats: 21.9 MPG, 5.4 PPG, 3.9 RPG
The first overall pick of the 2000 NBA draft and former All-Star Kenyon Martin has struggled these past few years. Although he didn't produce amazing numbers, he was able to keep a starting job on the Nuggets the past few years but is now on the bench behind Blake Griffin in L.A.
Martin is only being paid $2.5 million for this season, and the unrestricted free agent will almost definitely test free agency. Martin should easily be able to find a more lucrative contract, but at 34, Kenyon Martin may be signing one- or two-year deals for the rest of his career. At this point, he probably won't be offered any long-terms deals.
He is definitely capable of starting, but even in a limited role, Martin would be a great piece to add to any bench. The 6'9" forward is able to defend, and can block shots as well as get steals. He can still score, but has never been an amazing scorer. He is shooting a career worst 43 percent from the field this year and is an even worse free-throw shooter, and poor shooting has cause Martin to average just five-and-a-half points a game. Still, even if the offense isn't quite there, he'll be fairly cheap and will bring experience, toughness and athleticism to any team that needs him.
Andre Miller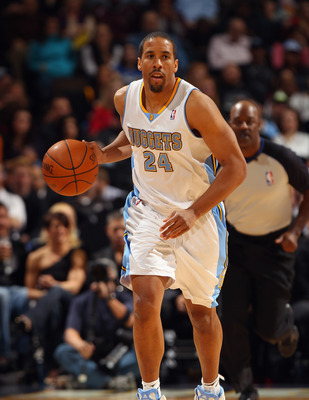 Doug Pensinger/Getty Images
Current Team: Denver Nuggets
Age: 36
2011-2012 Stats: 9.9 PPG, 6.5 APG, 1.0 SPG
Andre Miller is being payed $7.8 million this year to back up Ty Lawson from the bench, but he can expect his salary to go down after this offseason. At age 36, Miller isn't likely to get any offers to start or any long-term deals. And with a deep free-agent point guard class that includes Deron Williams Jeremy Lin, Steve Nash, D.J Augustin and Raymond Felton, he should pretty much be a steal this offseason in terms of money.
He may be taking a pay cut, but he can still be a great piece to have for any team. He hasn't worn down yet, and the lower production from him is mostly due to a cut in minutes. Miller is still going at about the same rate he was three or four years ago.
He may not be the best point guard out there, but he has a few years left in him to put his talent on the court, and he can be a great mentor for young point guards, just as he is a mentor for the young Ty Lawson now. Over the years he has gained a lot of playoff experience and could be a valuable asset to a contending team's bench. He is a good floor general and would successfully lead any bench unit.
Chauncey Billups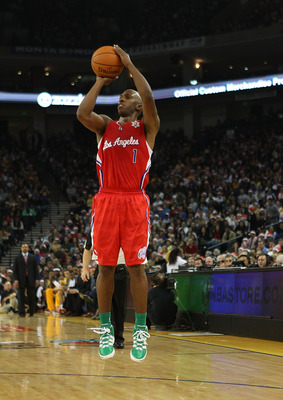 Jed Jacobsohn/Getty Images
Current Team: Los Angeles Clippers
Age: 35
2011-2012 Stats: 15 PPG, 4 APG
Billups' season was cut short due to an injury, but he is a prime example of why young developing teams need veterans. Billups was the starting SG for the Clippers and showed no real signs of aging, as he was hitting threes and distributing the ball well. Though he wasn't the best player on the Clippers, he was a leader both on and off the court and was a big reason as to why the Clippers were succeeding in the beginning of the season.
At the beginning of the season, Chris Paul's arrival did not matter in changing the team's performance. Although many thought the Clippers would need time to adjust, Billups helped the team develop team chemistry and the Clippers were 13-7 in their first 20 games. The team has been just 12-14 ever since that mark, and despite trading for Nick Young, Young cannot provide the leadership and experience they got from Billups.
Billups still has several years in him to play well on the court, and he can mentor young players and help a young team trying to contend to gel. He'll be looking for a bigger contract in the offseason, and he should find multiple offers from teams around the league.
Antawn Jamison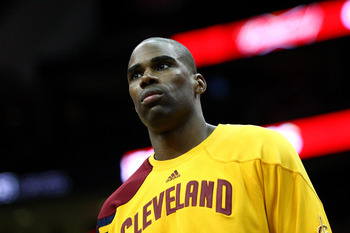 Chris Chambers/Getty Images
Current Team: Cleveland Cavaliers
Age: 35
2011-2012 Stats: 18.4 PPG, 6.7 RPG
Jamison isn't quite the player he was on the Wizards several years ago, but despite being halfway into his 30s, he is putting up great numbers. Jamison is one of the biggest scoring threats on the Cavs, and is also one of the team's most frequent shooters, taking almost 17 shots a game.
Overall, his offense has definitely held up. He is shooting just 42 percent from the field, but still connects on 35 percent of his shots from behind the arc. He still isn't an amazing player defensively, and he grabs just seven rebounds a game, but he is just 6'8", which is undersized for a power forward.
Jamison won't get a team to match the $15 million he is getting from this year, but he can still get a nice contract offer. This guy doesn't just bring experience, but he can still explode for 30 points on any given night. He still has a lot of talent to put on the floor and can be a great perimeter scoring threat for a lot of teams. Given the fact that he is 35, he probably won't find a contract longer than two or three years, but he could help a lot of contenders and could still get a rather lucrative contract offer.
Jason Terry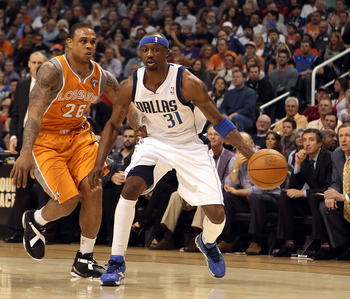 Christian Petersen/Getty Images
Current Team: Dallas Mavericks
Age: 34
2011-2012 Stats: 15 PPG, 3.5 APG, 1.2 SPG
Jason Terry will most likely be exploring the free-agent market, as the Mavericks are rumored to be pursuing Deron Williams and will need to get rid of large veteran contracts of Jason Kidd and Jason Terry to obtain the cap space to pursue Williams.
Terry should still draw a lot of interest. The sharpshooting sixth man is an absolute scoring threat off the bench, as he scores 15 points and hits over two threes a game from the bench. He launches a huge amount of threes and is capable of exploding from three-point range on any given night, which is why he is the second-leading scorer on the Mavericks, behind Nowitzki.
Terry should be in a great position moving forward. He is 34, and still has anywhere between three and six years left in him, so many teams will be willing to sign him. After winning an NBA championship with the Mavs, he can bring useful experience and a winning attitude to a contending team and would help take that team to the top. He has shown no signs of losing his offensive talent, and even approaching the age of 35 he is one of the best sixth men in the league. He can't be signed with an MLE though; it will take a considerable amount of money to sign Terry.
Marcus Camby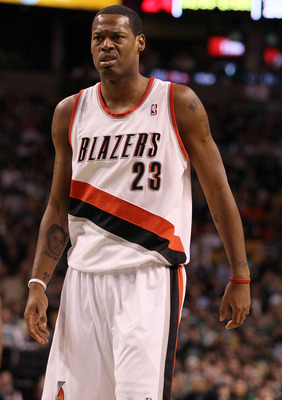 Elsa/Getty Images
Current Team: Houston Rockets
Age: 38
2011-2012 Stats: 3.9 PPG, 8.7 RPG, 1.4 BPG
Camby just switched teams after being traded to the Houston Rockets, but he could be switching teams again over the offseason. The 38-year-old center will most likely stay in the league for another year or two before retiring, and might be looking for his final NBA contract.
Camby is not a good offensive player. He never has been. He is shooting 42 percent from the field, and he will never contribute much on the offensive end. However, he is still an absolutely phenomenal defensive player. He is grabbing almost nine rebounds a game and blocking almost 1.5 shots all in just 22 minutes a game. Remember that this guy has led the league in blocks four times during his career and averages 2.5 blocks over his career. Camby will make people think twice about taking the ball into the post, and you can trust him on defense with the game on the line.
Camby may not have an opportunity to start in the NBA anymore. However, he still has a lot of value and is a commodity. Almost every NBA teams needs a traditional big who can rebound and defend, and Camby will have a lot of suitors to choose from. He is what is keeping most pretenders from being contenders, and could win an NBA championship with a number of teams.
Ray Allen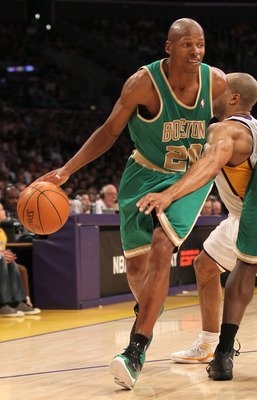 Stephen Dunn/Getty Images
Current Team: Boston Celtics
Age: 36
2011-2012 Stats: 14.8 PPG, 3.0 RPG, 2.5 APG
The Boston Celtics key four players may play their last playoffs together, as sharpshooter Ray Allen is now a free agent. Boston will mostly likely do all that is in their power to re-sign Allen for another one or two years, but some interesting news has come up. Ray Allen could be pursued by the Miami Heat. It isn't too much of a surprise that a contending team is targeting a shooter, as sharpshooters are always in demand and Allen does hit 2.5 threes a game, but it would be interesting to see Allen flock to South Beach.
He would have to take a pay cut, and there is no word from him about the matter, but the point is if the Heat are already planning on targeting him this early on, then there are most likely other contending teams with more money to spend this offseason that will try and pursue Allen.
Allen may be turning 37 soon, but that doesn't mean he won't get a fat contract this offseason. Unless he takes a pay cut to join the Heat, we could see a lot of teams fighting over him.
Kevin Garnett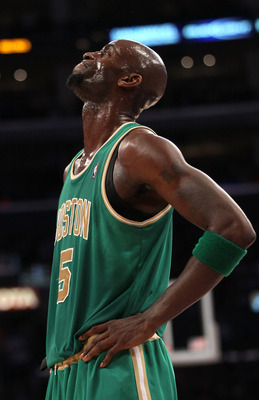 Stephen Dunn/Getty Images
Current Team: Boston Celtics
Age: 35
2011-2012 Stats: 15.2 PPG, 8.2 RPG, 1.1 BPG
The other significant free agent that the Celtics have to deal with this summer is Kevin Garnett. He is making over $21 million this year and his contract will expire, making him an unrestricted free agent. Although he is 35, he is still playing very well and could find himself with a fat contract.
Garnett is playing as well as he always has been on the Celtics. He is shooting almost 52 percent from the field, and gets about 15 points, eight rebounds, a block and a steal a game. Those are great numbers, especially for someone who is 35 and is sharing shots with Pierce and Allen. Garnett has gone from shooting almost 18 shots a game in Minnesota several years ago to attempting 12 shots today, and he is so efficient that he could still be scoring 20 points a game on a team where he is the main scoring target.
Garnett leaving Boston is more unlikely than Allen leaving. Boston will do everything in their power to not break up their core no matter how old they are getting, and they will try and re-sign Garnett. They'll have the money too, so Garnett probably won't reject an offer from them. Still, if a good contract and a starting opportunity comes from a contending team, Garnett very well may be leaving Boston.
Tim Duncan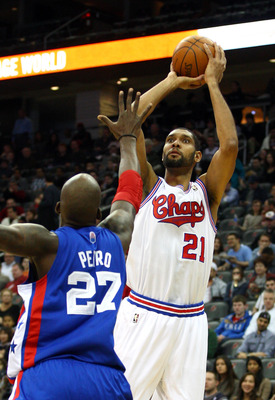 Chris Chambers/Getty Images
Current Team: San Antonio Spurs
Age: 35
2011-2012 Stats: 14.7 PPG, 8.9 RPG, 1.5 BPG
Duncan is in a similar situation to Kevin Garnett. Two future Hall of Famers, both making the same amount of money and both continuing to play well despite getting old. Garnett may leave the Celtics if the team is no longer capable of winning, but if Duncan stays with the Spurs, he still has a good chance at winning. Especially if he signs a much cheaper contract, giving the Spurs some cap room flexibility to go and build a contending team.
Still, Duncan could test free agency to see what he is offered as he continues to play very well. He only plays 28 minutes a game, but gets almost 15 points and nine rebounds a game and continues to be a good shot-blocker. He has struggled a little more on the shooting front this year, but he is even better than last season, and that has to be encouraging to GMs. Although he is 35 right now, if he ends the season on a good note teams will not be afraid to offer him a three-year contract for a good amount of money. Perhaps he can no longer make $21 million, but someone would probably spend between $7 to $10 million a year for an aging veteran like Garnett or Duncan if they truly believe those guys can help them win.
Duncan has a ton of playoff experience and isn't showing signs of wearing down. Wherever he ends up, it should be on a multi-year contract for a nice sum of money.
Steve Nash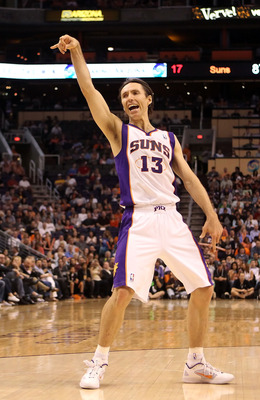 Christian Petersen/Getty Images
Current Team: Phoenix Suns
Age: 38
2011-2012 Stats: 13.3 PPG, 11.0 APG
Steve Nash continues to show that age has not impacted his performance in the least, as he leads the league in assists and is still one of the top point guards in the NBA. He made his eighth All-Star appearance and may be looking for a one- or two-year deal to cap off his NBA career this offseason. He is the second-best point guard available after Deron Williams and will be coveted by many contenders that lack point guards.
This season, Nash has been great. He is getting 11 assists a game and is also one of the most underrated shooters in the league. He shoots an astounding 55 percent from the field and also hits 40 percent of his three-point attempts, making him among the great shooters in the league even though he is known for his passing ability.
Nash has so much to offer an NBA team. He has been deep in the playoffs many times, he is still a great player and I can't name a better veteran point guard to mentor young players.
Plus, everyone wants Nash to win a ring, right? Well, almost everyone. The fans and the media seem to be obsessed with the idea, however, Nash never requested a trade and hasn't expressed a huge amount of interest in winning a ring. I'm sure he wants a ring, but as a 38-year-old man with a wife and two kids, perhaps there is an environmental aspect as to why he wants to stay in Phoenix. Nash can live with never winning a ring more than we can.
Now, that definitely is not to say that Nash will remain in Phoenix. He might, and I'm sure the Phoenix Suns management will try to re-sign Nash, but Nash could definitely leave. It is just that he won't leave and try and win a ring for less money than another team is offering. If he didn't express any interest in a trade, then I doubt he'll take a team like the Lakers and accept their MLE for a slightly improved chance at winning a ring. Nash could leave Phoenix, but whoever signs him may need to prepare to offer him just as much as he is making this year.
Keep Reading

Boston Celtics: Like this team?