10 Reasons the Philadelphia Eagles Will Improve in 2012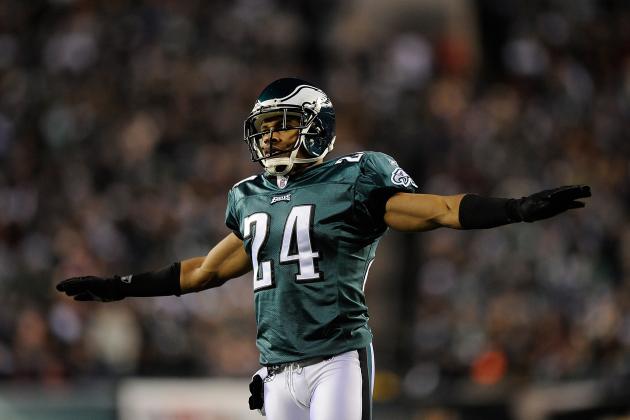 Patrick McDermott/Getty Images

After going 8-8 in 2011-2012, only months after signing a bunch of high-priced, big-name free agents, the Philadelphia Eagles' room for improvement is great.
The Eagles struggled to stop the run, score points in the red zone, and stop turning the ball over. Fluke turnovers by Jeremy Maclin, Jason Avant, and Michael Vick allowed opponents to overtake the Eagles late in games. Contract situations and trade talks put a dark cloud over DeSean Jackson and Asante Samuel, two of Philadelphia's big-play threats on offense and defense respectively.
However, it's a new day in the Eagles organization, as the front office is taking more of a loyal approach, and fans are starting to take a positive view; I am starting to follow that trend. I'd like to explain 10 reasons fans should be optimistic about the 2012-2013 season.
For more of my work, visit this.
Begin Slideshow

»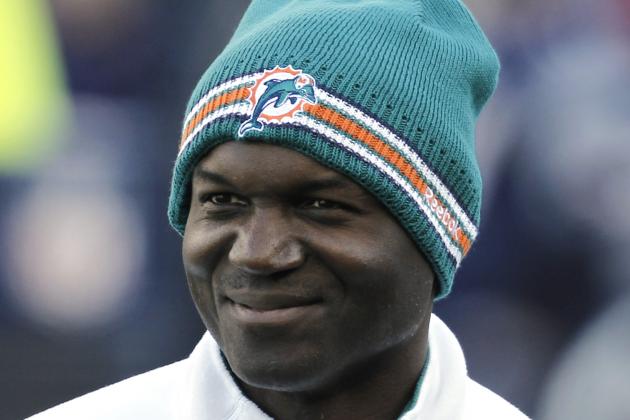 Winslow Townson/Getty Images

In late January, the Eagles hired former Miami Dolphins assistant head coach, defensive backs coach, and three-game interim head coach Todd Bowles to commandeer their underperforming secondary.
What isn't there to love about this move? Last year's cornerbacks coach, Johnnie Lynn, wasn't able develop the Eagles' young safeties, Kurt Coleman and Nate Allen, or help ease the transitions of star cornerbacks Nnamdi Asomugha and Dominique Rodgers-Cromartie. While Juan Castillo's uses of them weren't exactly perfect, Lynn could have done a much better job of simply refining the talent of his defensive backs.
Todd Bowles is a underrated signing, because he did a good job last season with the Dolphins secondary as he developed talented cornerbacks in Sean Smith and Vontae Davis. The 48-year-old has way more defensive coaching experience than Castillo, and will be able to advise the defensive coordinator on how to use Asomugha and DRC correctly.
In addition, his coaching excellence should lead fans to believe that he will do a good job developing Allen and Coleman, which means the Eagles' secondary will be less of a liability and more of a strength next season. In fact, it seems all the facets of the defense are set to improve.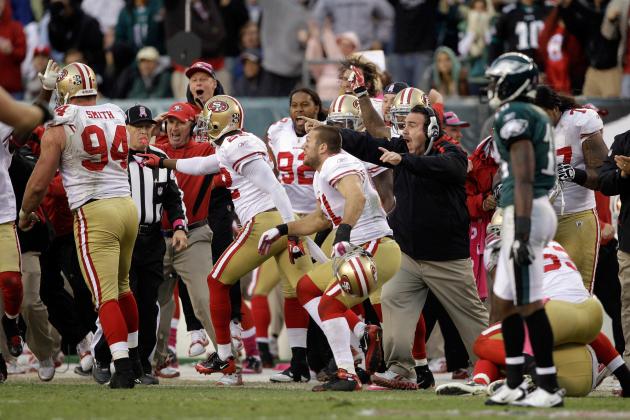 Rob Carr/Getty Images
The loss to San Fran was crushing; Philly led 20-0 at the half.
It may be shallow to say, but the Eagles luck in the fourth quarters of games last season was horrendous. Against the Atlanta Falcons, on a freak accident, Michael Vick suffered a concussion midway through the period, forcing the Eagles to turn to seldom-used backup Mike Kafka. They surrendered a double-digit lead with a sputtering offense. That's bad luck.
Against the 49ers, Ronnie Brown's bonehead play to throw the ball backwards cost Philadelphia three points, which would have won them the game. A very questionable roughing the passer call, coupled with an interception by Michael Vick that bounced off a receiver right to Lance Briggs, led to the Bears fourth-quarter comeback. These are just a couple of examples of bad luck that ruined the Eagles season.
Now, that isn't to say that there are problems that can't be fixed. Not turning the ball over, which involves concentration to the highest degree, is one of those problems. However, the Eagles will get more "bounces to go their way" this season, and hopefully this will lead to a couple more wins as they also tighten up their grips on the football.
It's simply probability: The Eagles fourth-quarter meltdowns can't be as tragic as they were last year. It's nearly impossible.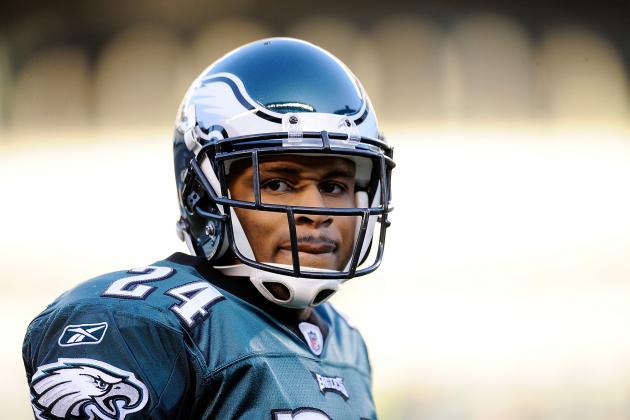 Patrick McDermott/Getty Images

In free agency last year, the Eagles signed the most prized free agent in last year's class, Nnamdi Asomugha, to a megadeal. The contract included $60 million over five years, with $25 million of that guaranteed. It was one of the biggest contracts the Eagles had given to a free agent signing under the Andy Reid-led front office.
Fans were ecstatic. The Eagles had just signed a four-time All-Pro selection and a man who was thought to be the best cover corner in the NFL, if not the best overall cornerback. It was a tight race between him and Jets star Darrelle Revis.
As soon as Asomugha took the field, however, the Eagles realized what they really had: an out of shape veteran who'd been spoiled by a lack of throws his way. Thanks to his reputation, Nnamdi had grown complacent in Oakland with only a handful of balls being thrown his way per season. However, as he soon found out, the other quarterbacks in the NFC weren't scared of gunning the ball in his direction.
The Week 3 game against New York was a perfect example. Giants breakout star Victor Cruz burned Asomugha twice for long touchdowns, as the Giants won by 13. The second one was simply embarrassing, with Cruz literally snatching the ball from Asomugha and manhandling the veteran corner; it was a pathetic display from an overpaid free agent. That was the low point of his season, and he was slightly better later, but he didn't even resemble the First-Team All-Pro member from 2008-2010.
However, I believe Asomugha will return to form following a full offseason and the departure of maligned teammate Asante Samuel. With the aforementioned Bowles taking over in the secondary, Asomugha's strengths, which include man-to-man press coverage, will be utilized and he will be a force once again. The Eagles simply used him the wrong way with Samuel still here, and now that Nnamdi will be back in his old role again, fans will get to see the real Nnamdi Asomugha.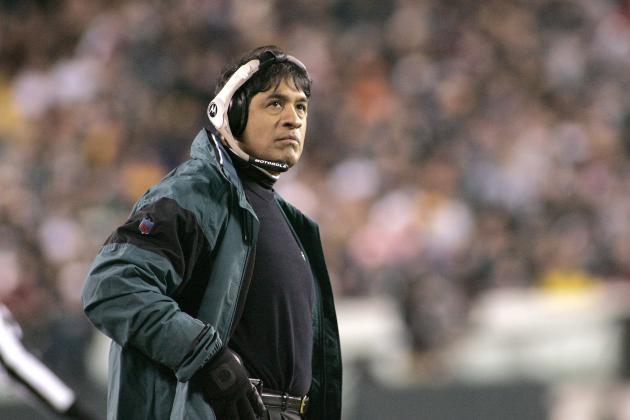 Joseph Labolito/Getty Images

To be honest, Juan Castillo's scheme simply did not work last year. Working under the wide-nine technique brought to Philadelphia by defensive line coach Jim Washburn, Castillo was unable to get the scheme to work as well as it could have, and a lot of that had to do with personnel moves.
In a wide-nine defense, the presence of strong, physical inside rushers (ILBs, DTs) is extremely important. Cullen Jenkins was good in the role of defensive tackle, but his counterpart Antonio Dixon missed 12 games after an impressive 2010-2011 campaign. His absence really hurt the Eagles inside presence, and with Cole and Babin running wild trying to pressure the quarterback, this personnel shortfall really hurt Castillo's ability to execute the scheme. While Derek Landri performed well at times, Castillo never really found a way to replace Dixon or at least work around his injury.
He also lacked a suitable middle linebacker. Neither of his candidates, Jamar Chaney or Casey Matthews, were big enough to get off blocks quickly and make plays in the backfield.
Castillo also misused his cornerbacks. He had the legendary man-press cover corner Asomugha playing in a zone and athletic, outside corner threat Dominique Rodgers-Cromartie playing in the slot. How did those moves work out?
However, his scheme seems to be looking better already. With the addition of DeMeco Ryans and a healthy Antonio Dixon, the run defense should be much better than last season, thus confirming the benefits of a wide-nine defense. In addition, Castillo's experience with the secondary will mean he is doubly prepared for the upcoming season, and he will most likely use his players correctly this time around.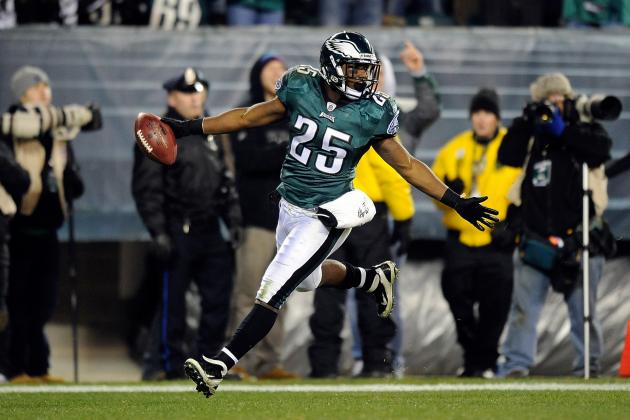 Patrick McDermott/Getty Images

After nearly half a decade of watching the Eagles waste Brian Westbrook's talents, it was a pleasant surprise to see offensive coordinator Marty Mornhinweg lean heavily on the Eagles' most talented offensive weapon, running back LeSean McCoy.
The Eagles' running game was their strong suit last season, as McCoy and Michael Vick combined for just under 2000 yards, and McCoy himself carried the ball 273 times for 1309 yards and 17 touchdowns. On a per game basis (he played 15), that is 18.2 carries, 87.2 yards and 1.13 touchdowns. Those are All Pro-type numbers coming from the second-round pick out of Pittsburgh.
McCoy's strengths are his quickness, his toughness, and his agility. He can make three or four people miss in a row, darting side-to-side as he weaves his way up the field, but he is also able to fight for the extra yard at the end of runs. He's just fantastic.
And he's not even at the peak of his career. At only 23, he has three or four years to develop, and next year should see even more improvement out of Shady. You can be sure that the Eagles coaching staff will be working on new game plans to help keep defenses honest, which will allow McCoy to dictate the pace of the game with his rushing ability.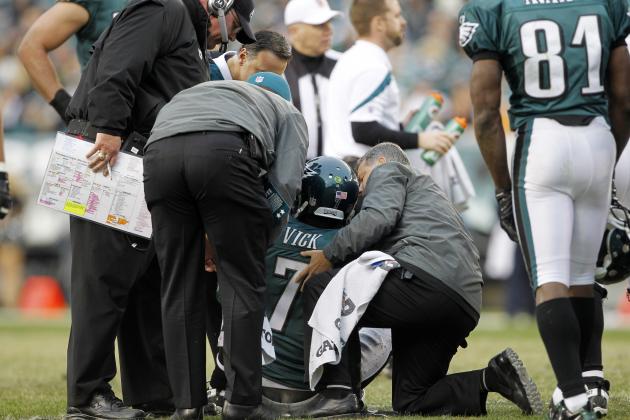 Rich Schultz/Getty Images

Michael Vick is injury-prone. There's no way around it. His nature is to extend plays with his legs and thus take more hits, which is why he suffered injuries ranging from broken hands to concussions last season. These injuries forced him to miss three games.
However, injuries are always inconsistent, and the Eagles are aware of Vick's fragile nature. Andy Reid and quarterbacks coach Doug Pederson will be working with Michael to teach him how to slide instead of taking big hits, avoid pressure by following his tackles and get rid of the ball quickly. In addition, instead of having too many receivers downfield, offensive coordinator Marty Mornhinweg will be incorporating more quick slants and outs to help relieve some of the pressure on Vick.
Secondly, the Eagles offensive line will be even better than last season. They were excellent in run blocking last year, but their pass blocking has some room for improvement, especially between the tackles. Once Kelce, Watkins, and Mathis work on their pass blocking over the summer, Vick will have less people coming his way. In addition, a productive DeSean Jackson will force defenses to decrease the number of blitzers they bring to help protect the deep route.
All of these things correlate with Vick's health, and when he's healthy, the offense is usually clicking.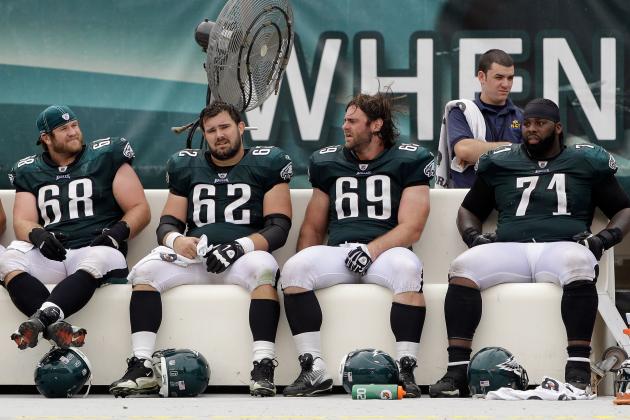 Rob Carr/Getty Images

After a better-than-expected performance last season from the Eagles offensive line, fans can certainly be optimistic about the group's excellence in the upcoming campaign.
The Eagles offensive line is headlined by veteran tackles Jason Peters and Todd Herremans. Peters is a top-three left tackle in the NFL, while Herremans comes in at least top ten at his position. They rarely allow outside pressure to get to Vick and McCoy, and Philadelphia is lucky to have this pair replacing the Jon Runyan-Tra Thomas combo.
The middle of the line is less experienced, but they are very talented all the same. Left guard Evan Mathis had a breakout season, which is why the Eagles recently signed him to a five-year deal. His technique is one of the best in football, and coupled with an emerging sophomore Danny Watkins, forms a very good guard combo as well.
At center the Eagles have another sophomore, Jason Kelce. Kelce did an excellent job replacing Jamaal Jackson last year, and while he is a little smaller than most centers, his athleticism allows him to work down the field and block for Shady McCoy. He could work a little bit on his pass blocking, but that will come with more years in the NFL.
This is the first time in several years that the starting O-Line from Week 17 will be together again on Week 1 of the next season. These guys now have had over a year to gel, and should come out even stronger than they did in 2011-2012. If they do, Philadelphia will have one of the best offensive lines in the game.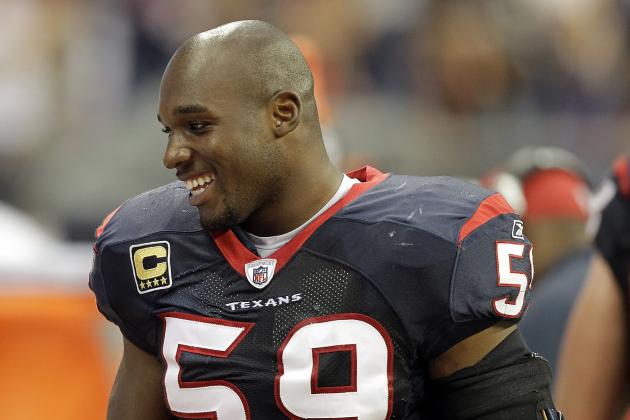 Bob Levey/Getty Images

When the Eagles made the move to acquire Texans' linebacker DeMeco Ryans, I thought one thing: "I love DeMeco, but do Eagles fans grasp the immensity of this deal?" Hopefully, you Eagles fans can answer "Yes!" to that question.
Ryans is the best linebacker, with the exception of long-time Eagle Jeremiah Trotter, Andy Reid has every had at his disposal. Not only does he fill a gaping hole at middle linebacker, but he also has the leadership qualities that the Eagles have lacked in a defensive player since Brian Dawkins' departure after the 2008 season.
The wide-nine scheme, as I've mentioned ad nauseam already in this article, requires a talented, physical middle linebackers to come up and make plays in the running back. That is exactly what Ryans is. He has the strength to get off blocks, the downhill ability to get into the backfield quickly, and the athleticism to make impressive tackles on runners.
Before being injured two years ago, Ryans had four straight 110-plus tackle seasons to start off his NFL career. Four. He would've had similar success last season, but the Texans made the abrupt change from a 4-3 to a 3-4, which left Ryans in somewhat of a no-man's land.
Not only does this move fill the void at middle linebacker, where DeMeco will play, but it also helps solidify the other two linebacker spots.
Brian Rolle, a human pinball who makes nice plays but is somewhat inconsistent, will have the freedom now to be a play-maker on the outside, knowing that Ryans will also be present to make the play.
Jamar Chaney, the Eagles' fastest and best pass-coverage 'backer, will now be able to use those traits to his advantage on the outside as well, covering tight ends and working on outside runs. His size makes him suitable for that position, which is why putting him at middle linebacker last year showed the Eagles' deficiency in linebacker talent.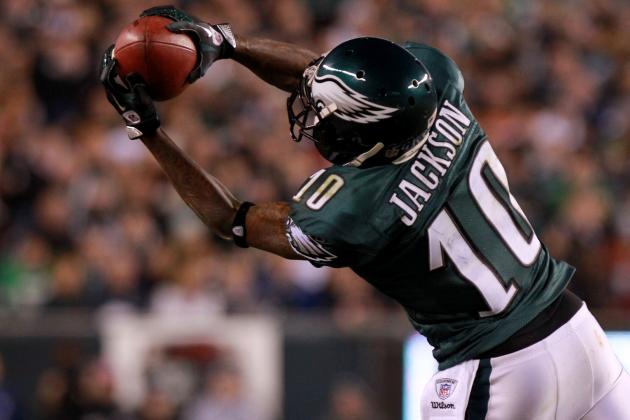 Nick Laham/Getty Images

We can be honest with ourselves. DeSean Jackson was horrific last season.
Even though he had 961 yards receiving, a respectable number, he only caught 3-4 balls per game and scored four touchdowns the entire season. In addition, Jackson alligator-armed several balls throughout the season, costing the Eagles big plays over the middle or even touchdowns late in games.
Many pinned Jackson's struggles to his contract situation; the former 2nd-round pick was only being paid $600,000 per year, even though his numbers made him more of a multi-million dollar man. The $2 million signing of Steve Smith only infuriated Jackson further, as he was being paid three times less than a less productive, first-year-on-the-team guy.
However, with his new, sparkling contract, DeSean Jackson has no reason to disappear for weeks at a time. The rest of the team will be counting on him to make plays over the middle, take hits to score touchdowns, and give it his all on every play.
When this happens, it isn't only his production that rises dramatically. Michael Vick's numbers go up, Jeremy Maclin's numbers go up and the efficiency of the offense is increased exponentially because of Jackson's reputation. He draws a lot of attention, which allows his teammates to make big plays as well.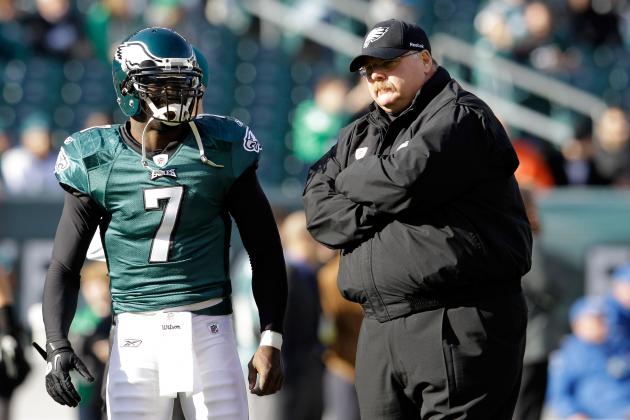 Rob Carr/Getty Images

The biggest shortfall of a free agent-filled offseason last year for the Eagles was a lack of desire. To win the Super Bowl, you need talent. There's no doubting it. But the thing that separates the winners from the "almost"-winners is wanting to win so badly that you'll give it 100 percent on every play. The Eagles simply didn't have that last year, and it showed in lapses of concentrations in late-game plays that cost them wins.
However, this Eagles team will be determined to win it all. DeSean Jackson guaranteed a Super Bowl after being given his contract, and while it may be a shallow promise, the energy surrounding the NovaCare complex is invigorating.
Instead of bringing in a bunch of overpaid, overhyped free agents, the Eagles actually re-signed players they needed, and filled holes that were actually holes. They were able to stabilize a very talented roster, and the chemistry that seemed to building during the Eagles' four-game winning streak will carry over to 2012-2013.
More importantly, it is the "Year of Reckoning" for a couple key people: coach Andy Reid, GM Howie Roseman, and QB Michael Vick. Besides Vick, the rest of the roster is relatively young and locked up for the future, and is simply brimming with talent. From top corners like Asomugha and DRC, to McCoy, to the budding offensive line, the Eagles will have the desire to get the job done this season. While this might not result in a Super Bowl championship immediately, it certainly makes that possibility a much clearer one.
It really is "Sunny in Philadelphia".