Sweet 16 Schedule 2012: Stars Who Will Be Vital to Sweet 16 Upsets on Friday
March 23, 2012

Jed Jacobsohn/Getty Images
The NCAA tournament—it's where stars are born.
In the Sweet 16 especially, Cinderellas of all stripes find their paths impeded by the best of the best that college basketball has to offer. To survive and advance to the Elite Eight requires underdogs to call upon their marquee players to rise to the occasion—just as these four players will be expected to do on Friday.
Cody Zeller, Indiana
Any talk of Indiana's March Madness mission must begin and end with Cody Zeller. The 6'11" freshman has been a stud for Tom Crean all season, a fact that was on full display during his 16-point, 13-rebound performance against VCU in the Round of 32.
Kentucky, though, will be an entirely different animal for Zeller and the Hoosiers to tackle. They were fortunate to top the Wildcats in Bloomington earlier this season, when Zeller managed "just" 11 points and seven rebounds against fellow first-year phenom Anthony Davis.
Stats aside, Zeller's primary responsibility will be occupying Davis not with signs and sit-ins but rather with post moves and activity down low. If Zeller can keep Davis busy and wear him down, IU might just be able to get to the basket from time to time and give the 'Cats a run for their money.
Kenny Frease, Xavier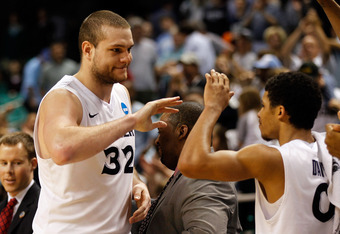 Mike Ehrmann/Getty Images
Elsewhere in the South Region (i.e. later in Atlanta), Xavier will encounter a supremely talented opponent of its own when it takes the floor against Baylor on Friday. Most of the Musketeer talk will focus on star guards Tu Holloway and Mark Lyons, and rightfully so—they combine for 32.5 points per game, which amounts to just under 46 percent of Xavier's offensive production
But the real burden for XU rests on the big, burly shoulders of Kenny Frease. The seven-foot senior posted a career-high 25 points along with 12 rebounds in the Musketeers' 70-58 win over Lehigh in the third round.
Frease will need to play just as big against Baylor, even if his effort isn't quite as well-reflected in the box score. The Bears' advantage rests up front with NBA-caliber bigs Perry Jones III, Quincy Acy and Quincy Miller composing perhaps the most skilled trio of forwards in college hoops. Frease's job will be to make life difficult (or at least less pleasant than usual) for those three while Holloway and Lyons take care of business on the perimeter. 
DJ Cooper, Ohio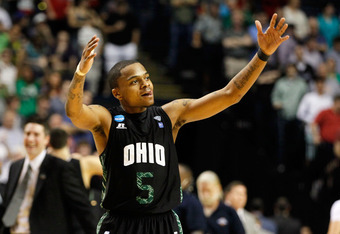 Kevin C. Cox/Getty Images
Speaking of perimeter players, perhaps no guard will bear as big a burden for his team on Friday than DJ Cooper.
Okay, that's not entirely true since Walter Offutt, an Ohio State transfer and Cooper's backcourt buddy, happens to be pretty darn good in his own right.
Still, it'll be up to the 5'11" speedster to disrupt top-seed North Carolina on both sides of the floor. Cooper has demonstrated a penchant for hitting big shots and is the sort of creative force who can and should wreak havoc on the Tar Heels, especially in the absence of star point guard Kendall Marshall.
And if UNC's Stilman White and Justin Watt don't take proper care of the ball, they're liable to find their pockets picked by Cooper, who's averaged better than two steals per game for his entire collegiate career.
C.J. Leslie, North Carolina State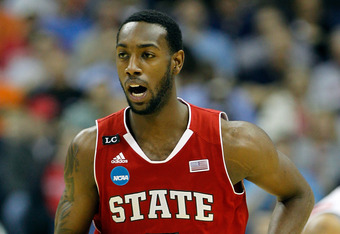 Rob Carr/Getty Images
Guard play will also be crucial in the nightcap between second-seed Kansas and 11th-seed North Carolina State, though for the Wolfpack's sake the difference between victory and defeat will likely come down to matchups in the low post.
N.C. State is a deeper squad all around, but it will still need help to neutralize a frontline force like KU's Thomas Robinson.
That's where C.J. Leslie comes in. The spindly sophomore may not have the bulk or the brute strength to contend with a beast of Robinson's caliber, though his length, agility and athleticism could (and should) pose problems on the block for the National Player of the Year candidate.
Luckily for Leslie, he won't have to do it all on his own—not with the thicker Richard Howell providing support.
That being said, the bigger Leslie plays on both ends of the floor, the better N.C. State's chances of upsetting the overachieving Jayhawks and (potentially) setting up a date with ACC rival North Carolina in the Elite Eight.