Minnesota Vikings 2012: Looking Back at the NFC Championship Game, Bountygate
March 23, 2012

Ronald Martinez/Getty Images
The New Orleans Saints have been punished for installing and participating in a bounty program. Former defensive coordinator Gregg Williams is said to have orchestrated the program, which was later covered up by head coach Sean Payton. With the NFL focusing so much effort and money into preventing in-game injuries, especially head injuries, this was not going to be tolerated.
NFL commissioner Roger Goodell handed down the stiffest penalties in the league's history. Payton is suspended without pay for one year, and Williams gets the same deal, but his suspension length is indefinite and to be reviewed at the conclusion of the 2012 season. The Saints were fined $500,000 and docked a couple of draft picks. 
In this situation, Goodell had no choice. He had to drop the hammer on New Orleans. If he didn't, this might have come up again. League sources claim this type of bounty program is more common than the public would like to think. To think this drama will end with New Orleans is naive. Someone else will start talking again soon and another team will go down. If history has shown us anything, this sounds a lot like just the first domino.
With all of this in mind, I thought it would be interesting to go back and check out some film from the Saints vs. Vikings 2009 NFC Championship Game, a game in which quarterback Brett Favre was knocked around so severely it almost ended his career that night. 
We know Favre had a "bounty" on his head that night, and watching some film it is grossly apparent. According to sources, Saints linebacker Jonathan Vilma put up $10,000 to any Saint who knocked Favre out of the game. One has to wonder how much the illegal hits were on Favre's mind as he threw that costly interception late in regulation. The Saints went on to win the overtime coin toss and kick the game-winning field goal. In today's NFL, the Vikings would have been allowed a chance on offense, but those rules didn't exist in 2009-10.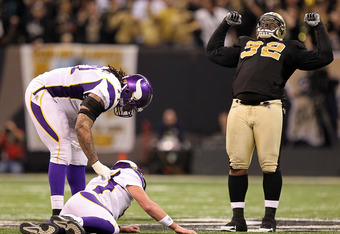 Ronald Martinez/Getty Images
As a lifelong football fan, I was sick to my stomach while I watched this game, and it was worse the second time around with this new information. When something like this happens in sports, there is little recourse to make it right for the teams affected. The NFL can't award the Vikings the win, it can't give them a Super Bowl appearance, and it can't take away the hits that occurred in that game.
The ones who really suffer are the Minnesota Vikings fans. I'm sure they feel cheated out of a Super Bowl in 1998, and then they get stuck with this thing. A cheating team using illegal practices to affect the outcome of a football game. 
New Orleans players and staff couldn't stop talking about how much their Super Bowl win meant to the city of New Orleans. That's all well and good, but now that all seems tarnished. If I were a New Orleans resident or fan, I would be flat-out embarrassed. The idea that your city had residents who were desperate for a clean glass of drinking water and a dry place to sleep while your football team has players willing to give away tens of thousands of dollars in the name of seriously injuring another player is sickening. 
I think Mr. Goodell needs to find out which specific players put up what amounts of money and make those players give that amount tenfold back to their communities. 
In an era where safety is at an all-time premium, this news is devastating. The Vikings had and have every right to be upset about this. The unfortunate part is that the Saints won the 2010 NFC Championship, and nothing the NFL does will take that away. 
Sorry, Vikings fans.