Xavier vs. Baylor: Brady Heslip and Others Who Will Carry Bears to Elite Eight
March 23, 2012

Christian Petersen/Getty Images
The Baylor Bears are a very dangerous team that has enough talent to carry them to the school's first every NCAA college basketball championship. They can shoot lights-out, while being able to play tight defense. 
They will get past the 10th-seeded Xavier Musketeers in the Sweet 16 after getting a huge performance from sophomore, Brady Heslip, and these other players. 
Brady Heslip
Heslip may be only a sophomore, but he's been a big reason why Baylor is in the position they are in right now. He went off in Baylor's opening game in the NCAA tournament, hitting five three-pointers against South Dakota State. He then had an even better game against Colorado, draining nine three-pointers leading the Bears with 27 points.
Helsip enters the Sweet 16 on a five-game double-figures streak. Over those games, Helsip has averaged 17 points per game and 4.8 three-pointers made. 
Heslip will continue to find his shooting stroke against Xavier, which will result in another 20-point game for the talented sophomore. 
Perry Jones III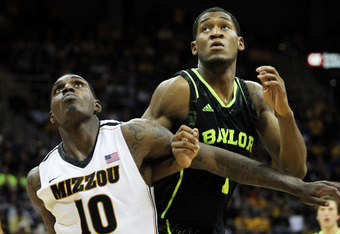 Jamie Squire/Getty Images
Jones III may not be the great scorer like Heslip, but he led the Bears in rebounds averaging 7.7 per game. He averages 14 points per game, so he can score if necessary. 
The sophomore dominated the glass against South Dakota State with 11 rebounds, but only scored two points. Against Colorado, Jones III only grabbed four rebounds and finished with  seven points.
Against Xavier, Jones III will have a game like he did during the Big 12 tournament. During the conference tournament, Jones III went off twice with a double-double performance. 
He is capable of scoring 31 points and grabbing 11 rebounds like he did against a good Kansas State team. 
Pierre Jackson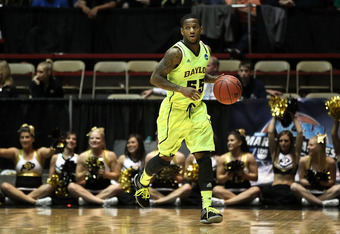 Christian Petersen/Getty Images
Jackson is the player that gets this Bears offense rolling. He led the team in assists averaging 5.8 during the regular season. While he does a great job finding his teammates, he is a force on defense. His 3.5 steals per game led the Bears this year. 
Through Baylor's first two rounds in the NCAA tournament he's averaged 13 points and 7.5 assists. 
He will be difficult to guard in the Sweet 16 and a big reason why Heslip and Jones III get rolling on offense. 
This Baylor club has the talent of being the winner of the South bracket and moving onto the Final Four in New Orleans, LA.