NCAA Tournament 2012: Sullinger vs. Gates Is a Clash Between Old and New Bigs
March 22, 2012

Gregory Shamus/Getty Images
When the Cincinnati Bearcats tip off against the Ohio State Buckeyes in the NCAA tournament tonight, we will be treated to an intriguing big-man battle, as Yancy Gates and Jared Sullinger try to power their respective squads into the Elite Eight.
Sullinger is a more complete player, but deciding which player is better is not what makes this matchup worth watching. What you will witness, as Gates and Sullinger meet in the lane, is a clash of styles that represents the evolution of the big man.
Yancy Gates plays the game of basketball as if he doesn't care about scoring (for the record, he is averaging 12.5 points per game in the tourney). When he posts up, he doesn't demand the ball and, frankly, looks like he doesn't want it. His 23 points against Georgetown in the first round of the Big East tournament was an aberration, an outlier. His 10 points against Florida State was the norm.
If you want to see the best of Yancy Gates, you must watch him defend.
He uses his 6'9", 260-pound frame to body opposing players out of the paint. Behind shoulders as wide as a truck bed, he forces offensive players to fight for every inch of position around the rim, to work for every step, until putting up a contested shot with little chance of falling in the cylinder. That is old-school center play, the kind that would make Robert Parish weep with joy.
Gates is beastly on the boards, as well. In Cincinnati's Big East tournament wins against Georgetown and Syracuse, he cleaned up the glass, snatching eight rebounds against the Hoyas and seven against the Orange. He upped the ante against the Texas Longhorns in the first round of the NCAA tournament, when he brought down 10 boards.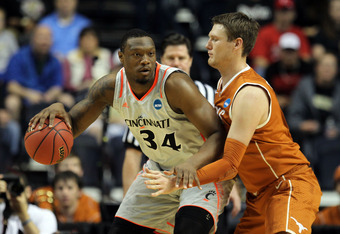 Jamie Squire/Getty Images
Gates' rebounding numbers are great; his rebounding effort is unquantifiable. Other players have not consistently outworked him—if an opponent gets a rebound, he had to wear himself out to get it.
Gates plays with a grit and an edge that hearkens to a bygone era, when men were men and centers were centers. His defense is brutal, but he embraces that brutality, and that is what is refreshing to watch. Conversely, Gates' counterpart tonight against Ohio State is a new-age big man.
The archetypal big man in the style of Patrick Ewing or Shaquille O'Neal is fading, and players like Sullinger are becoming the new normal. He is comparable to Gates in size, but Sullinger's game is more Kevin Love than Kevin McHale. The Buckeyes offense begins with Sullinger, and he wants to put up monster scoring numbers. He expects Aaron Craft and the other OSU guards to get him the rock, and they oblige.
In the Big Ten conference tournament, he averaged 24 points per game against solid defensive teams, including 18 against Michigan State. More important than the number of points, is where they come from.
Sully is no stranger to the jump shot, and doesn't hesitate to shoot against tough defenders. This makes him a nightmare for opposing post players who aren't used to guarding ball-handlers outside of the paint. Sullinger has even expanded his game outside of the three-point arc. He hit over 40 percent of his threes on the season, and most big men are as comfortable playing that far away from the rim as a Duke fan at a North Carolina pep rally.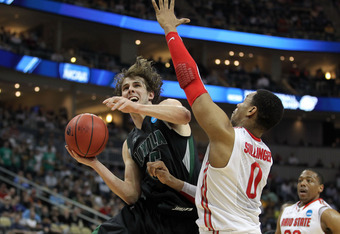 Gregory Shamus/Getty Images
Despite his aptitude for playing away from the rim, Sully has the skills of a classic big as well. He averaged over nine rebounds a game this season and works hard on the defensive end of the floor, as well. A big body who can rebound, defend, score in the paint and shoot jumpers, Sullinger is the total package and will set the model for big men to come.
Yancy Gates is what big men have been, while Jared Sullinger is what big men are becoming.
Evolution is inevitable in sports, but we so rarely have a chance to watch the old style of play go head-to-head with the new style. Tonight, we have that opportunity.