Chipper Jones Retirement: Top Options for Replacing Atlanta Braves Slugger
March 22, 2012
Atlanta Braves third baseman Chipper Jones has made it official that he will retire after this season, according to ESPN. The clock on his mandatory five-year wait before being inducted into the Hall of Fame will begin after the 2012 season.
Of all the stellar numbers Chipper has accumulated in his 18-year career in Atlanta, one of the most impressive is that he is the only switch-hitter with more than 300 home runs and a career batting average over .300.
It goes without saying that there is no replacing a potential first-ballot Hall of Famer. So how will Atlanta attempt to fill the void left in not only in the field, but also in the heart of the lineup?
The immediate reaction will be they can just slide Martin Prado into the opening at third, but the obvious solution is not always the correct one.
Prado has proven he can handle the position defensively, but his bat is unable to carry the offensive expectations of a corner infielder, just as it currently doesn't as a left-fielder.
Prado's value to the team has been lessened since he has been taken out of the super-utility role. As an everyday third baseman, he could hold the position steady as a one-year filler until the Braves can find a long term solution.
Surprising to some, the farm system has talent beyond pitching, and one of the more plentiful positions just so happens to be at third base.
Most of the in-house options are too far away from being big-league ready to consider as legitimate replacements.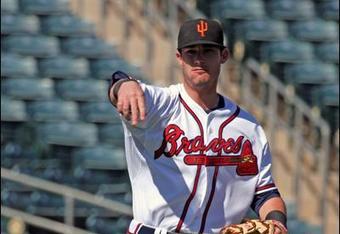 Although, there is one young third baseman that has been in spring camp from day one, that might be a tempting option for next season.
Joe Terdoslavich has spent spring training trying to make the most of his time by learning from the likes of Chipper, as well as former National League MVP Terry Pendleton.
Prior to last season, most prospect evaluators were unsure if Terdoslavich would be much more than a "Four-A" player.
His bat began to turn some heads while hitting .286/.341/.526 with 20 home runs and 82 RBI at High-A Lynchburg.  Among his offensive achievements last season was breaking a 65-year-old Carolina League record with 52 doubles.
Surfacing as a possible legitimate prospect for the Braves, the question now had to be asked.
Could he put up numbers against better competition, or was he just an advanced college hitter taking advantage of undeveloped pitching?
The switch-hitter proved his worth against a higher level of play in the Arizona Fall League by hitting .321 with 11 extra-base hits. One of his three home runs came at the expense of the Gerrit Cole, the No. 1 pick in the 2011 draft, when Terdoslavich took a 99 miles per hour fastball and planted it over the center-field fence.
Terdoslavich is scheduled to play third base at Double-A this season after playing first base at High-A last year. His previous third-base experience came in college and on a part-time basis in 2010 between Rookie League Danville and Low-A Rome.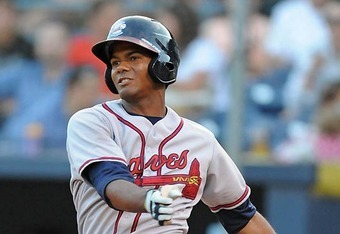 The move back to third was forced after his bat showed signs of possibly being MLB-ready soon. With Freddie Freeman blocking the other corner infield spot, the impending retirement of Chipper Jones was a foreseeable open window for the young slugger.
Another in-house option for Atlanta could come from the raw, yet projectable Edward Salcedo.
More of a long-term solution than an immediate one, the Braves would need a one to two-year filler if they feel Salcedo has the tools to ultimately replace Chipper.
With that in mind, Prado could hold down the position until Salcedo is ready to take over.
Where does that leave Terdoslavich? With his infield defense being the biggest question mark, he might be ticketed for left field regardless. If his bat profiles at a corner infield spot, playing a less stressful defensive position such as left field might allow his offensive to shine even more.
Granted, it's not a given that Salcedo can handle the position, either, but he has shown flashes that he could turn into a major league third baseman with more work.
He still remains all projection at the plate, continually getting exposed by breaking balls and at times the outer half of the plate. Those needed improvements aside, Salcedo did show progress with the bat during last year.
Other third basemen in the farm system like Brandon Drury and Kyle Kubitza are too far away from major league ready to be considered at this point.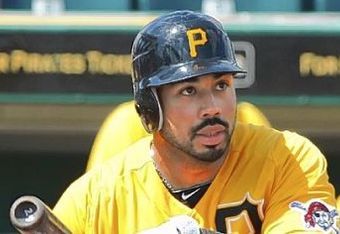 Being a full season away from truly having to concern themselves with finding a replacement won't keep speculation from running rampant in the minds of fans. A lot can change between now and then, but let's take a look at some outside options.
Atlanta has been trying to deal Jair Jurrjens all winter. Could he be a possible trade partner in a deal for Pedro Alvarez?
The Pittsburgh Pirates have a group of talented young arms coming through the system.
A veteran at only 26 years old, Jurrjens could head their rotation for a few years to ease some of the immediate pressure from guys like Cole or Jameson Tallion.
The Texas Rangers are not starving for pitching help, but they do have a third baseman in the minor leagues that is currently blocked by Adrian Beltre.
Mike Olt has plus power and is a strong defender at the hot corner. There has been discussion of moving him to first base or the outfield, but he will start the season at third.
Not knowing what the cost might be to acquire Olt, it might be in the Braves best interest to kick the tires on what the price would be.
As for potential 2013 free agents, David Wright has a $16 million club option that will likely be picked up by the New York Mets. Even if they decide to pick the option up and deal him, the cost in trade along with the inter-division rivalry will keep the Braves out of the running for Wright.
A more intriguing possibility is dealing for Kevin Youklis of the Boston Red Sox. He, too, has a club option that can be expected to be picked up. That $13 million is still more expensive than Atlanta would care to add to their mid-level salary cap.
With the looming arrival of prospect Will Middlebrooks, the Red Sox might be willing to eat some of the contract to move Youklis if they can get back of the rotation help in return.
Baltimore Orioles third baseman Mark Reynolds might also be considered. Like the others, he has one of those pesky club options that will probably keep him from being a true free-agent entering the 2013 offseason.
Atlanta might be able to overlook all the swing-and-miss in Reynolds' bat if he can provide some power in the middle of the order.
Chipper Jones will forever remain in the heart of Braves fans, but the front office must realize soon that to remain competitive in the ever-improving NL East, a replacement plan needs to be formed quickly.
UPDATE: Atlanta Braves traded RHP prospect JJ Hoover to the Cincinnati Reds for 3B Juan Francisco. For further details check out this MLB.com column by Mark Sheldon.
Jim Pratt is a Featured Columnist covering the Atlanta Braves for Bleacher Report, MLB contributor for MLBDepthCharts and BravesWire. Follow Jim on Twitter, @2OutSacBunt