NCAA Tournament 2012: Live Reaction, Scores and Highlights for East Region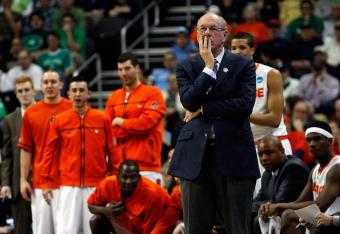 Jared Wickerham/Getty Images
Welcome to the only place for the best live instant updates and analysis for the Sweet 16 games of the East region for the 2012 NCAA Men's Basketball Tournament.
I hope you enjoyed the updates and analysis as both the top seeds advanced to the Elite Eight tonight.
The No. 1 seeded Syracuse Orange will take on the No. 2 seeded Ohio State Buckeyes on Saturday for a spot in the Final Four.
Schedule:
No. 1 Syracuse: 64 No. 4 Wisconsin: 63
No. 2 Ohio State: 81 No. 6 Cincinnati: 66
Both games will took place at the TD Garden in Boston and were televised on CBS.
Feel free to give your opinion on these games in the comments section below, or you can chat with me on Twitter: @adam_graham
Alright. That does it for the East region tonight. We had two very good games, with one going right down to the wire.
The top seeds have clearly dominated this region so far. We'll find out on Saturday if the No. 1 seeded Syracuse Orange can continue that trend, or if the Ohio State Buckeyes can knock them off on their way to the Final Four.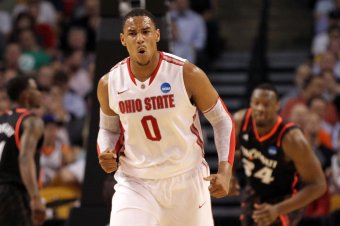 Jim Rogash/Getty Images
The start time for the game between Syracuse and Ohio State will be 7:05 Eastern Time on Saturday.
I'm going with the Buckeyes, as I think Sullinger might be too much to handle inside for the Fab Melo-less Orange.
Who do you think will win and represent the East Region in the Final Four?
Deshaun Thomas finishes with 26 points on 10 of 17 shooting and Jared Sullinger scored 23 points on 7 of 13 shooting. He also grabbed 11 rebounds.
It will be interesting to see how those two do against the 2-3 zone defence of Syracuse on Saturday.
The buzzer sounds and Ohio State is moving on!
Final score: 81-66 for Ohio State
The Buckeyes will take on the Orange for the right to go to the Final Four in 2012.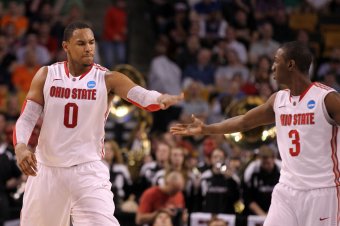 Jim Rogash/Getty Images
Cashmere Wright has now fouled out of the game with 18 points.
It looks like it's all over for Cincinnati. 74-61 Buckeyes with 1:14 to go. The Bearcats are fouling in desperation, but it's not going to matter.
Looks like it will be No. 1 vs. No. 2 in the East Finals.
Interesting that Ohio State has decided to substitute Sam Thompson into the game for the first time with just three minutes remaining........ and now he's back out of the game. That didn't last long.
69-59 for the Buckeyes now.
After starting the second half shooting nearly 80 percent from the field, the Bearcats have cooled off in a big way and Ohio State has now officially taken over.
A nice passing play that led to a Smith Jr. layup, followed by a Sullinger mid-range jumper increases the lead to 12 for the Buckeyes.
65-53 Ohio State with 5:21 left.
Aaron Craft is a stealing machine! He just forced another one that led to a trey by Lenzelle Smith Jr. to give the Buckeyes a 58-53 lead with 7:54 left in the game.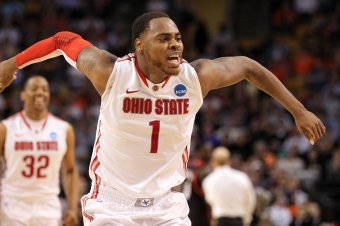 Jim Rogash/Getty Images
Now it's Ohio State forcing the turnovers as they increase the defensive pressure.
After a Craft steal, Jackson blocked a Buford dunk attempt, but Thomas followed that up with a tip-in and the Buckeyes have fought their way back into the lead.
55-52 Ohio State with 9:15 left.
Finally a basket by William Buford and it's a three!
Unfortunately for Ohio State, "soft as" Cashmere Wright (yes, that's his new nickname) hit a trey just before that and Cincinnati still leads 51-48. 11:34 remaining in the game.
Wright with a three ball and Jackson with a breakaway layup off another Buckeyes turnover. It's all Bearcats right now. Incredible!
Cincinnati now leads 46-43 with 13:14 to go.
And-one for Jaquon Parker! The Bearcats can cut the lead to one after the TV timeout.
This is getting intense. Ohio State needs to pick it up. I haven't seen them look this flustered in the entire tournament.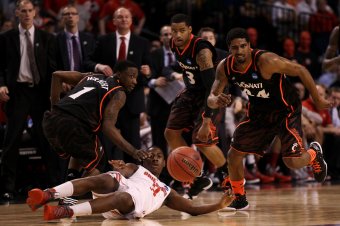 Elsa/Getty Images
Timeout Ohio State!
Cincinnati is on a 12-4 run to start the half and are causing turnovers with the zone defence that they've switched to.
41-37 Buckeyes with 16:06 to go.
A Sullinger dunk is followed by two consecutive Kilpatrick three pointers as Cincinnati tries to claw its way back into this game.
One thing that will help them is the fact that Aaron Craft can't seem to hit anything from the outside. He's missed three outside shots already in the second half.
41-33 Ohio State with 17 minutes left
The second half is underway as Kilpatrick hits a jumper for the Bearcats. They'll need a lot more from him if they want to get back into this game.
37-27 Buckeyes
The tweet of the first half in this game comes from the witty and sarcastic Lori Schmidt, who summarizes the dominance of Deshaun Thomas with this tweet:
Bad news, Buckeye fans. Deshaun Thomas trails Cincinnati 25-20.

— Lori Schmidt (@LoriSchmidt) March 23, 2012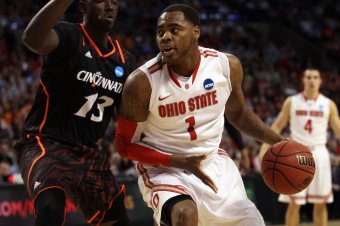 Elsa/Getty Images
Halftime at the TD Garden between the Buckeyes and the Bearcats.
The usual suspects are leading the way for Ohio State. Thomas with 20 points and Sullinger with 10 points.
37-25 Ohio State at the half
As soft as Cashmere!
Cashmere Wright is keeping the Bearcats in it with seven points, including an NBA-range three pointer just moments ago.
37-25 Buckeyes with less than a minute to go in the half.
Deshaun Thomas continues to be close to unstoppable for the Buckeyes!
Two more baskets by him makes it a 33-22 game.
Thomas has 20 points already! Insane!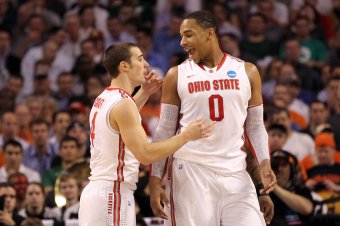 Jim Rogash/Getty Images
Both of these teams are so tough defensively. Aaron Craft just forced another steal for the Buckeyes, and they still lead by seven, even though they haven't scored in the last couple minutes.
27-20 Ohio State with 3:19 to go in the first half.
Craft has three steals.
Justin Jackson with another chase-down block! This time it was on Deshaun Thomas. However, Thomas got his revenge with another bucket just seconds later.
27-18 Ohio State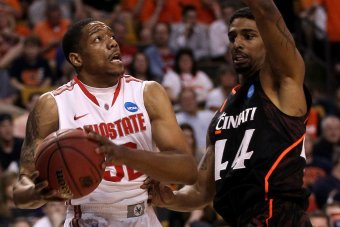 Elsa/Getty Images
Lots of field goals in the paint in this game for both teams, which is a complete contrast to the Syracuse/Wisconsin game, where both teams were relying heavily on the three pointer.
23-17 Buckeyes at the TV timeout. 7:20 left in the half.
The Buckeyes are working extremely hard for their buckets, as it's getting very physical underneath the Cincinnati basket.
Sullinger with a tip-in and Thomas with yet another layup.
19-15 Ohio State
Cincinnati standout guard Sean Kilpatrick with a sweet crossover for a nice layup.
Kilpatrick averaged 14.3 points-per-game in the regular season and he's going to need to do a lot of that if the Bearcats want to pull off the upset tonight.
15-11 Ohio State with 11:26 remaining in the first half.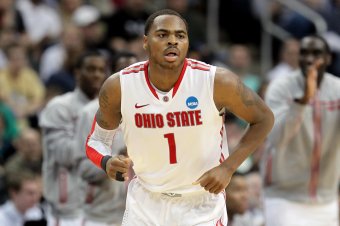 Gregory Shamus/Getty Images
Thomas with the three for the Buckeyes, followed by another layup.
He's been great all tournament long and he continues to score early in this game.
15-9 Buckeyes with 12 minutes left in the half.
This article is
What is the duplicate article?
Why is this article offensive?
Where is this article plagiarized from?
Why is this article poorly edited?