Bountygate: Why Anyone Has Empathy for the Saints Is a Great Question
March 24, 2012

Thearon W. Henderson/Getty Images
It's now been well over 24 hours since the commissioner of the NFL levied some stiff penalties against the Saints in response to the "Bountygate" scandal. 
The reaction has spanned the range from total approval to near outrage. Count me among those that approve. 
In fact, count me among those that just doesn't get why anyone would defend the Saints. I can understand not always liking or agreeing with Roger Goodell on everything; I count myself among that camp. Just because I don't like him or agree with him on numerous issues doesn't mean I don't think he got this one right, however. 
The system of bounties has been an unspoken of behind-the-scenes issue in the NFL for years. Since 2007, the league has been sending out memos to all teams before every season, which informs the teams that a system of bounties is illegal. 
Simply put, it wasn't a secret that a bounty system was wrong. In addition, according to the NFL's own investigation, the Saints knew it was wrong, were informed that they were suspected of participating in such a program, and then intentionally covered it up and continued the program. Text of the NFL's statement on Bountygate:
The violations were compounded by the failure of Coach Payton to supervise the players and coaches and his affirmative decision starting in 2010 (a) not to inquire into the facts concerning the pay-for-performance/bounty program even though he was aware of the league's inquiries both in 2010 and 2012; (b) to falsely deny that the program existed; (c) to encourage the false denials by instructing assistants to "make sure our ducks are in a row;" and (d) to ignore instructions from the league office and club ownership to ensure that no such program existed.
Quite frankly, everyone—even NFL players, coaches and front-office personnel—have bosses. There are times when you will agree or disagree with rules set forth by your boss. Very few can claim to have always done exactly what they were told, in exactly the manner directed, by their superior. 
Yet within that extraordinarily common dynamic, isn't everyone aware that if you lie to your boss and go behind his or her back, that the eventual punishment will be magnified in its severity?
"Bounties have been around in the National Football League since the dawn of the chin strap. Certainly not seeking to excuse their brutality in any way, simply to state fact," Ed Berliner of Sports Media Masters wrote.
So, even if you agree with Berliner, that above statement has zero bearing on this. None, nothing. It doesn't matter if bounties have existed, did exist, were approved or were not approved. The Saints and every other team in the league have received a memo since the beginning of the 2007 season that states that bounties are now prohibited. 
The Saints knew of this, and when the league questioned them on their suspicions, the coaches conspired in a cover-up. In this case, as in so many cases, it's not the crime, it's the cover-up.
If the Saints had owned up to the system when the league first inquired about the issue in early 2010, does anyone think the punishment would have been as heavy? 
The Saints didn't come forward though, and they didn't admit to anything, according to the NFL's statement:
Saints owner Tom Benson notified Mr. Loomis in January 2012 prior to the team's participation in the playoffs that the league's investigation had been reopened. Mr. Benson reiterated his position that a bounty program was unacceptable and instructed Mr. Loomis to ensure that if a bounty program existed at the Saints it would stop immediately. By his own admission, Mr. Loomis responded to this direction by making only cursory inquiries of Coaches Payton and Williams. He never issued instructions to end the bounty program to either the coaching staff or the players.
That's a full two years after being first informed of the issue, and a full five years after the league started sending out the annual memos regarding bounties. Yet the Saints general manager seemed fairly apathetic toward taking any sort of action. 
So what exactly is the commissioner supposed to do in this case? Another memo? Maybe a memo is bold face? Larger font? Was he supposed to type in all capital letters or maybe change to a multi-colored print?
Even if you are of the opinion that NFL football is a brutal sport in which bounties are unlikely to have a dramatic impact on the litany of long term health problems NFL players encounter, there's more to the system than just the potential for increased injury risk.
The NFL has a league wide salary cap. With reports of payouts that stretched into the five-figure range, the bounty system was a violation of the salary cap. Would consistent violations of the salary cap result in an unfair advantage to a team? The NFL is a league that exists without guaranteed contracts and with very short careers. There's a strong case to be made that the salary-cap violations represent a more significant competitive edge than the hits that may or may not have been made due to the bounties.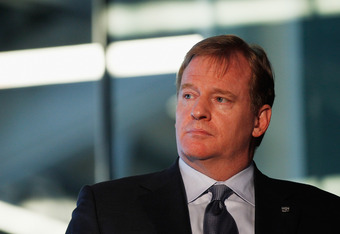 Mike Stobe/Getty Images
Saints fans have a right to be upset, and they have a right to be angry. But, unfortunately, their anger should be directed towards the very coach who some fans seem determined to turn into a martyr. It was after all Sean Payton, along with his coaching staff, who concocted the system and then continued it after being told to put a halt to it.
The Saints are in a very tough spot. The loss of their coach and their second-round picks in both the 2012 and 2013 drafts is quite severe. There will be player punishments handed down as well, at some point.
Yes, the Saints are being made an example. It didn't have to be that way, though, and it's not righteous indignation, a double standard or bias to suggest that the punishment is appropriate. It's common sense, and the Saints coaching staff failed to exercise it. That's not Roger Goodell's fault.