David Wright, Johan Santana and the 2012 New York Mets vs. the 1962 Mets
March 22, 2012
Patrick McDermott/Getty Images
While it's unlikely that the 2012 Mets will be as brutal as the expansion Mets of 1962, here's a rundown of both teams as the Mets prepare to celebrate their 50th anniversary season.
Catcher
1962: Seven different players caught, mostly Chris Cannizzaro, Sammy Taylor and Choo Choo Coleman. Coleman had the most impressive offensive numbers (.250/6 HRs/17 RBIs).
2012: Josh Thole doesn't have a lot of pop in his bat, and his batting average has decreased as his number of at-bats have increased.
Advantage: 2012. At least Thole is young (25) and his .268 batting average in 2011 is acceptable.
First Base
1962: Marvelous Marv Throneberry played about 2/3 of the games, Gil Hodges about 1/3. Throneberry was second on the team with 16 home runs.
2012: Ike Davis was hitting .302 with seven home runs and 25 RBIs when a collision with David Wright ended his season in early May.
Advantage: 2012. If Davis can recover and shed the rust, the 25-year-old could contribute in a big way. The Mets will need it.
Second Base
1962: Charlie Neal and Hot Rod Kanehl split time at second. Neal, a two-time All-Star with the Dodgers, hit .260 in 1962. Kanehl, a 28-year-old rookie, hit .248.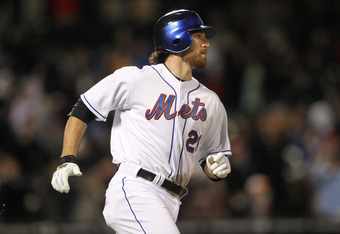 Nick Laham/Getty Images
2012 Daniel Murphy, like Davis, has suffered injuries. But he hit .320 with 49 RBIS last year in 391 ABs.
Advantage: 2012. Murphy can put the ball in play and turns 27 the week the season starts.
Shortstop
1962: Elio Chacon played the majority of games at short, committing 22 errors in 110 games there.
2012: Ruben Tejada replaces Jose Reyes, in terms of standing in the same spot on the field.
Advantage: 2012. Tejada's 2011 numbers and Chacon's 1962 numbers have similarities, but Tejada wins on batting average (.284 to .236).
Third Base
1962: Nine different Mets played 3B, but Felix Mantilla saw the majority of action at the hot corner. Overall, he hit a respectable .275 with 11 home runs and 59 RBIs.
2012: David Wright's average has fallen the past three seasons from .307 to .283 to .254. Injuries limited him to 14 home runs and 61 RBIs in 2011.
 Advantage: 2012. If Wright can stay healthy, he could return to the 30 home run/100 RBI hitter he was at the beginning of his career. Having the Citi Field fences moved in should help.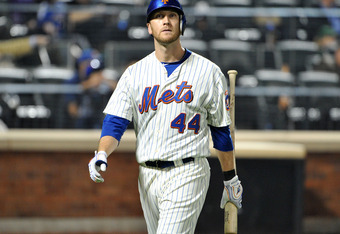 Christopher Pasatieri/Getty Images
Left Field
1962: Frank Thomas started the majority of games in left. He was the offensive star of the team, belting 34 home runs, driving in 94 and collecting 152 hits. Not bad for a 33-year-old in the pre-steroid era.
2012: From 2004-2009, Jason Bay averaged 30 homers a year. Last year he hit 12. His average has decreased each of the past three seasons. The Mets must hope he bottomed out in 2011 when he hit .245.
Advantage: 1962. Thomas had a great season on a dreadful team. The Mets are paying Bay $18,125,000, the most of their position players. That's a lot for a 33-year-old. In fact, it's $111,882.72 per game.
Center Field
1962: 25-year-old rookie Jim Hickman hit 13 homers, 18 doubles and 46 RBIs, but just .245.
2012: 34-year-old Andres Torres hit four homers, 24 doubles, collected 19 RBIs and stole 19 bases in 2011, while batting just .221.
Advantage: 1962. Hickman had better numbers and was nearly a decade younger than Torres will be in 2012.
Right Field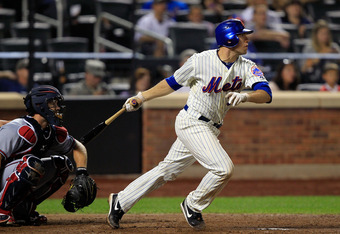 Chris Trotman/Getty Images
1962: 35-year-old Richie Ashburn led baseball in hits in the '50s. In his final season, Whitey got 119 hits in 135 games and walked 81 times. He batted .306 with a remarkable .424 on-base percentage.
2012: In only 301 at-bats, Lucas Duda hit 21 doubles, 10 homers, 50 RBIs and walked 33 times. He batted .292 with a .370 on-base percentage. He's only 26. 
Advantage: 1962. Duda has potential, but Ashburn was a proven commodity.
Starting rotation
1962: The Mets nearly had the inverse of the 1971 Orioles, who had four 20-game winners. Roger Craig (10-24), Al Jackson (8-20), Jay Hook (8-19), and Craig Anderson (3-17, despite only starting 14 games) became familiar with the right side of the Win-Loss column. In addition, No. 4 starter Bob Miller went 1-12.
On the plus side, Mets pitchers recorded 43 complete games, including 13 apiece by Craig and Hook, and 12 by Jackson. Jackson even notched all four of the team's shutouts.
2012: When healthy, Johan Santana is one of the game's best pitchers. The two-time Cy Young Award winner appears ready to come back to form after missing 2011 due to shoulder surgery.
Mike Pelfrey was a disappointing 7-13 in 2011 with a 4.74 ERA and is sub-.500 for his career. Jonathan Niese is average. R.A. Dickey is a decent fourth starter, compiling a 2.84 and 3.28 ERA, respectively, in 2010 and 2011. Dillon Gee, in his rookie season, went 13-6 in 2011 with a less-than-stellar 4.43 ERA. But he's young (26 in late April).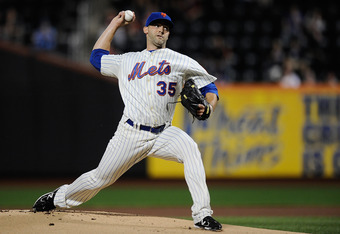 Patrick McDermott/Getty Images
Manager
1962: Casey Stengel led the Yankees to ten American League pennants and seven World Series titles.
2012: Terry Collins won 77 games last year despite the pall of the Bernie Madoff scandal and the distraction of what to do with Jose Reyes (now a Marlin) and Carlos Beltran (now a Cardinal). He had winning records in his first five seasons with the Astros and Angels.
Advantage: 1962. Stengel was more of a figurehead by that point, but it's hard to argue with his track record.
Ballpark
1962: The Mets put a fresh coat of paint on the dreary, dilapidated Polo Grounds, but cosmetics could only hide so much.
2012: Citi Field features all the modern amenities.
Advantage: 2012. The Polo Grounds dated to 1911. Citi Field, opened in 2009, still has that new park smell.
Owner
1962: Joan Payson helped bring the National League back to the country's largest city. She donated to medical research and the arts.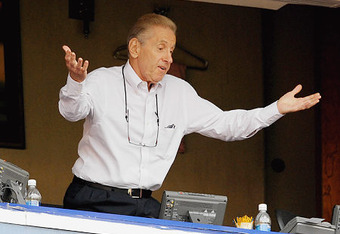 2012: Fred Wilpon and Saul Katz should have sold the team a long time ago. Yes, they've settled the Bernie Madoff litigation, which has stained the team and caused the owners to shed $50 million in payroll since last season. The owners recently sold a dozen shares of the club to pay off the more than $65 million they borrowed from Bank of America and Major League Baseball.
Advantage: 1962. Payson suffered through a lot of awful baseball and was rewarded with a World Series championship in 1969. Wilpon and Katz will forever be synonymous with looking the other way while Bernie Madoff bilked his investors.
Vibe
1962: National League baseball is back in New York! Feel the optimism of postwar America before we become further entangled in Vietnam and feel the shock of our handsome young president assassinated!
2012: Despite cutting payroll, we're still the seventh-most expensive team as 45 percent of our payroll goes to Santana, Bay, and Wright! The more we lose, the less likely we are to draw, exacerbating our fiscal problems!
Advantage: 1962. The expansion Mets were more about the past than the future, with Stengel and several Brooklyn Dodgers the fans could recognize, such as Hodges, Craig, Zimmer, Neal and Ralph Branca (who must've laughed at the irony of calling the Polo Grounds home). There were aging Senior Circuit All-Stars from the black-and-white Eisenhower era, like Gus Bell, Ashburn and Thomas. The fans supported the woeful team, happy to have National League baseball back in New York.
While there are four playoff spots for the 16-team league in 2012—as opposed to one postseason berth for the 10-team league of 1962—it is highly unlikely the Mets will come close to competing. Even if they're in contention, the 2012 Mets don't have the pockets to add a veteran down the stretch. A black cloud will hang over the Mets for years to come.
Final observation
The only members of the 1962 Mets to play for the 1969 World Champion Mets were Al Jackson, who was sold to Cincinnati in June, thus missing out on the celebration, and Ed Kranepool, who had six at-bats as a September call-up in 1962. In other words, by the time the Mets are ready to compete for another title, it's likely that the players from 2012 will be all but a memory.