NBA Rumors: Ryan Hollins Better Than Nothing for the Boston Celtics
March 23, 2012

Chris Chambers/Getty Images
In the last week, the Boston Celtics have lost Chris Wilcox and Jermaine O'Neal for the season.
Now, the team is scrambling to find some frontcourt depth, and it appears the Cleveland Cavaliers' Ryan Hollins is in favor.
Marc Spears of Yahoo! Sports tweeted on Thursday:
Center Ryan Hollins expected to clear waivers and is waiting to sign with Celtics, agent Todd Ramasar said. Hollins close with KG & Pierce.

— Marc J. Spears (@SpearsNBAYahoo) March 22, 2012
Hollins can essentially do two things well: dunk the basketball on the break and defend.
On the other hand, the 27 year old is a horrendous rebounder, even at 7'0" 240 pounds, and he's a poor shooter with virtually no post game.
In that regard, Hollins is simply an injury replacement. He's not all of a sudden going to turn the Celtics' season around.
Not the greatest news for a team in need of a savior, a team that is starting natural power forward Kevin Garnett at center because no one else is good enough (although rookie Greg Stiemsma has shown improvement).
Will the Celtics make the playoffs this season with Hollins on board?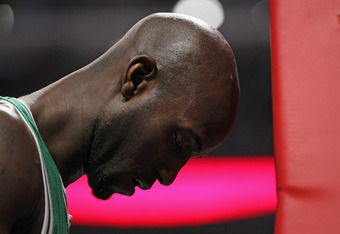 Jonathan Daniel/Getty Images
Well, they do play in the Eastern Conference, where 24-21 is good enough for the seventh seed.
So, yes, they still have a shot.
But the days of the Celtics being a powerhouse are over, and they are left with an injury-riddled, aging team that's stuck in the past.
Obviously, the Celtics had to make a move with Wilcox and O'Neal going down. Perhaps Hollins can inject some energy into the squad.
But, the reality is, the Celtics aren't going anywhere this season, as much as Danny Ainge wants to believe the Big Four will play like the 2008 championship team when the playoffs come around. The team is currently grasping for a solution, and what they came up with is Ryan Hollins.
That's all you need to know.
Follow me on Twitter. We can talk about Ryan Hollins and the Boston Celtics.