Cream of the Crop: Six Sensational Incoming Playmakers To Watch in 2009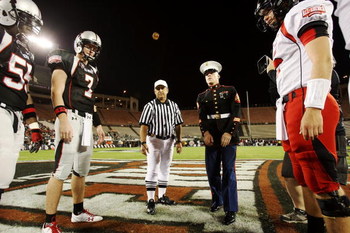 In the past few weeks, the best high school football players in the world have been displaying their talents. First there were skill challenges, and then there were the All-American games.
The future of college football is as great as it has ever been, with athletes playing numerous positions and helping their teams win any way possible.
You have defensive linemen performing one swim move and ending up in the backfield, yet you have offensive linemen pancaking 300 plus pound nose tackles.
You have running backs making so many east-west cuts that doctors' offices are busy with broken ankles.
You have special players laying it all on the line to show what they can do for their school-to-be.
It's becoming more for a habit, just like college basketball, that freshmen and sophomores lead teams and perform at the highest levels against top competition.
Buckeye quarterback Terrelle Pryor even stated how the college level and high school level aren't that much different when it comes to how much harder college is.
Like taking candy from a baby, eh, Terrelle?
Along with Pryor, players like Julio Jones, A.J. Green, Michael Floyd, DeQuan Bowers, Jeff Demps, and Mike Brewster have already made impacts on their respective teams.
This year's class isn't much different.
These are just a few of the offensive players to watch, as they will one day have their names in the headlines.
—The defensive version of this to come this weekend.
Matt Barkley, USC Quarterback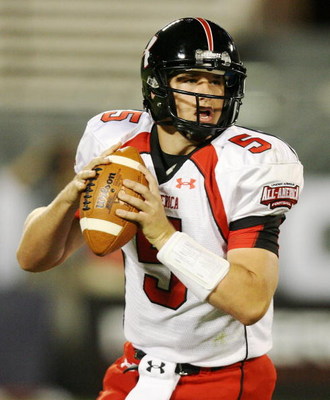 Barkley is the top-rated quarterback in the in 2009 class and is ESPN's top overall recruit. Barkley is a six-foot, three-inch, 222-pound MAN who is the quintessential pocket passer. He has even been compared to the New England Patriots' Tom Brady.
Strengths: Mechanics, footwork, precision, size, strong with and without the ball, balance, poise in the pocket, concentration, a GREAT arm, and has played against good high school teams.
Weaknesses: If anything, the "Golden Boy" is not a dual-threat quarterback.
Where he stands in '09: With the departure of junior quarterback Mark Sanchez, Barkley will be in competition for the starting job with Arkansas transfer Mitch Mustain and Aaron Corp.
If Pete Carroll's tradition of not starting new players continues, the nod would go to Mustain or Corp, but probably Mustain.
Russell Shepard, LSU Athlete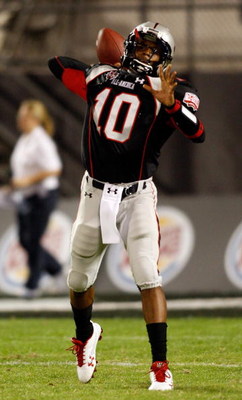 Possibly the best all-around player in the class, Shepard is the number one Athlete and heads LSU's top recruiting class.
His size, 6'1", 183 pounds, is a little bit of a problem for him playing quarterback, but his playmaking ability makes up for all of that. He's been compared to such stars as Pat White, Percy Harvin, and Terrelle Pryor.
Strengths: Extremely good with his feet, cannot be brought down in the open field, good vision and cutback ability, has that special burst you can't teach, has a very smooth release, strong arm, good touch, can throw on the run and when losing his balance, and is a very smart and dangerous player.
Weaknesses: May scramble when unnecessary, all skills may not be displayed at quarterback all the time, small for a quarterback.
Where he stands in '09: If Shepard is destined to be the next Tiger signal-caller, he will have to battle with Jordan Jefferson, who showed great leadership at the end of the year. I expect him to play a lot as a freshman while splitting time between quarterback, wide receiver, and running back.
Garrett Gilbert, Texas Quarterback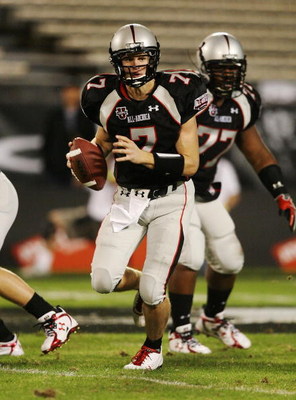 Predicted by some ESPN analysts to be a future Heisman winner, Gilbert will, but doesn't really have to learn a lot from Colt McCoy in McCoy's final season.
He has good height for a quarterback (6'4"), but needs to bulk up from 195 pounds to about 200-205 pounds. He's been compared to former Utah quarterback Alex Smith and USC backup Aaron Corp.
Strengths: Great arm strength, plays well in either spread offense or regular system, sneaky athlete, changes velocity with ease and has great pocket poise, knows where everyone has to be for the play, makes great reads, and hits receivers in stride.
Weaknesses: Not the most patient guy in the world and will force things, and doesn't have the greatest mechanics.
Where he stands in '09: Unless McCoy gets injured and backup Josh Chiles gets hurt or doesn't perform well, Gilbert will be an understudy, possibly for two years if Chiles gets the nod in '10.
The way I see it, Gilbert will enter the season as third string, move up to second by the end of the season, and fight for the position after this coming season.
Jaamal Berry, Ohio State Running Back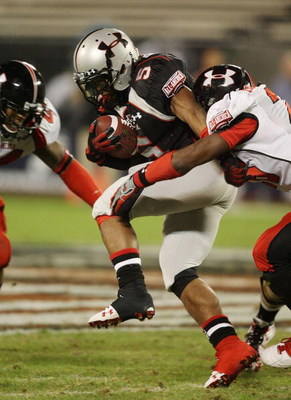 Berry, while put as the third-best running back this year, is tops in the country in many eyes. He's more of a Dan Herron than Chris Wells, but at 5'11" and 185 pounds, Berry is still hard to bring down like Wells and is great between the tackles. He possesses skills like Thomas Jones, LaDainian Tomlinson, and Chris Johnson.
Strengths: Great acceleration and speed combination, at his best when changing speeds, strong build, takes big hits and keeps on going, has great vision and balance, can go through small openings with ease, can stop on a dime, power is shockingly impressive for a speed back, and loves to lower the shoulder.
Weaknesses: Needs to bulk up more and polish receiving game.
Where he stands in '09: Although Wells left early for the draft, the Buckeyes still have great depth at running back. Berry will mainly compete with Herron, Brandon Saine, and recruit Carlos Hyde for carries. Herron will probably start the year as the front-runner, but expect Berry to get his fair share of carries and be second on the depth chart. It won't be long until starts.
Marlon Brown, Undecided Wide Receiver
Considering: Ohio State, Ole Miss, Florida, Tennessee, and Georgia.
Brown creates mismatches wherever he is on the field. At 6'5", Brown is a go and get it type of receiver who had many NFL qualities and has been compared to the NFL's greats. He is being heavily recruited, especially by his hometown team, Tennessee.
Strengths: Very versatile, can line up at receiver, running back, slot back, quarterback, or somewhere on defense. He makes great reads, he has great upper body strength to fight for the ball in the air, and is such a threat in the red zone.
Weaknesses: Not the best initial burst or direction-changing ability.
Where he stands in '09: Wherever he goes, Brown will definitely make an immediate impact. He would most likely be the top receiver at Ohio State, Tennessee, or Ole Miss, and at Florida he would add to their amazing depth. If he is Georgia-bound, he and A.J. Green could set up a very deadly tandem where one of them is always single-covered.
Tate Forcier, Michigan Quarterback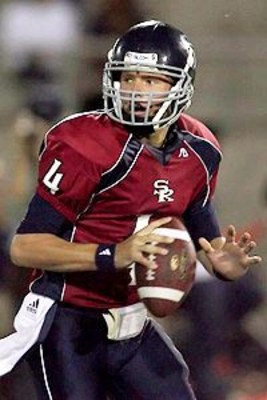 Dubbed Michigan's "Savior," or just the start to coach Rich Rodriguez's plans, Forcier is Rodriguez's type of quarterback. He's a dual threat who, while not being the tallest (6'1"), still is an extremely efficient passer. He's the number 14-ranked quarterback in this class and has a lot of experience in a good area of California where talent is aplenty. His NFL comparison is Jeff Garcia, a risk taker who can make plays and buy time with his feet.
Strengths: Dual-threat, arm strength, productive, elusive, fits into Michigan system, quick release, and good at throwing on the run.
Weaknesses: Vision is a problem with his reads sometimes, makes mistakes sometimes when taking risks, and some unnecessary scrambles.
Where he stands in '09: Forcier will enter the season as the favorite to be the starting quarterback. His main competition, if you want to call it that, is Steven Threet. Justin Feagin will take a few snaps, mostly in trick plays, but expect him to move to receiver, and look for Forcier to be the next Wolverine signal caller.
Keep Reading