MLB Power Rankings 2012: Atlanta Braves and Sleeper Division Winners
March 22, 2012

Sarah Glenn/Getty Images
Spring training is in full swing with teams like the Atlanta Braves getting great performances from key players. These great starts to their season will continue into April and May, resulting in shocking new division champions. 
Atlanta Braves
Atlanta came within a game from being the National League's wild-card representative last year. This spring, the Braves have started out slow going 6-13, but they're getting a strong performance from second baseman Dan Uggla.
His four home runs and nine RBI leads the Braves, and he's showing signs of being able to hit for average with a .270 BA in 15 games. 
Uggla struggled in his first year with the club after signing a large contract extension, batting only .233 for the season. However, he put up a solid 36 home runs and 82 RBI. 
To go with Uggla's strong spring, pitcher Tommy Hanson is playing great with a 2.57 ERA through two games. Hanson will be a big help to the Braves' rotation in April, when other pitching staffs have yet to hit their strides. 
Uggla and Hanson will continue their strong spring into Opening Day, which will carry the Braves to a great 2012 record.
Toronto Blue Jays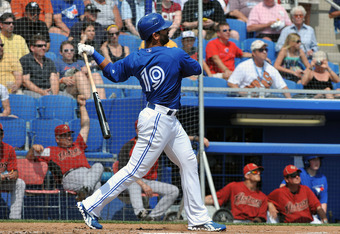 Al Messerschmidt/Getty Images
For the last two to three years the Blue Jays have been like the college football version of the Arkansas Razor Backs in the South Eastern Conference. They are a really talented team that in any other division could be contending for the division lead. 
This year may be the year that the Blue Jays finally overtake the New York Yankees, Boston Red Sox and Tampa Bay Rays for the AL East lead. 
The Jays have had a great spring, leading the Grapefruit League Division with a 16-4 record. That league includes the teams in the AL East that have been overshadowing the Jays. 
Jose Bautista has been on fire this spring belting three home runs while driving in eight RBI in 10 games. He's also batting a solid .296 with 27 hits in those 10 games. 
While Bautista has been carrying the offense, Ricky Romero looks ready to have one of his best seasons. In three starts and only nine innings, Romero has eight strikeouts while only giving up two hits and an ERA of 0.00. 
Bautista and Romero will continue their hot springs into April and beyond, which will lead the Jays to win the AL East. 
These two teams will shock the baseball world by overtaking division favorites and making a deep playoff run.