J'Covan Brown: Texas Guard Makes Wrong Decision to Enter NBA Draft
March 22, 2012

Ed Zurga/Getty Images
Junior Texas Longhorns guard J'Covan Brown will skip his senior season and enter the 2012 NBA Draft, according to the American-Statesman.
Brown led the Longhorns in scoring this season with 20.1 points per game, almost two times the amount of the team's second-leading scorer, Sheldon McClellan.
Even though Brown is coming off his best season at Texas and is a quality player, the decision to turn pro is the wrong one.
As a point guard, he's not much of a playmaker and doesn't have the passing skills needed to run an offense efficiently at the NBA level.
Point guards do score in the NBA, but the position doesn't carry the same offensive responsibility in the pros as it does in college.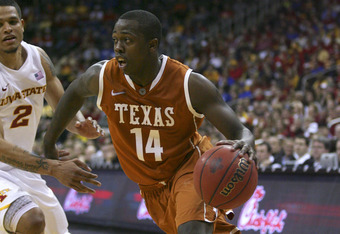 Ed Zurga/Getty Images
Brown is probably better suited to play the shooting-guard position in the NBA, with his score-first style of play, but at 6'1", he doesn't have the size needed to play shooting guard well at either end of the floor in the pros.
With few skills other than scoring, it's likely that Brown could be a late second-round pick. Is it worth it to enter the draft and be selected in the late second round, and not receive a guaranteed contract or a place on the roster?
No, it's not worth it at all.
Brown is a good player, but he could really use the experience of playing another year at Texas and further developing his game.