NFL Free Agents 2012: 5 Defensive Demons Still on the Market
March 22, 2012

At the end of the day, defense will always win championships. Will your team be able to get a stop when it matters most? When Peyton Manning, Tom Brady, Aaron Rodgers or any of the other elite quarterbacks in the game today are marching up the field for a game-winning touchdown, it comes down to whether or not the defense has enough speed, power, and passion to get a stop.
This offseason there has been a lot of talk about the young and talented offensive players entering the NFL, as well as the free agents available able to make big play after big play on the offensive end. That being said, the best way to counteract a great offense is to employ a great defense. There are still some game-changing talents available on the market and if teams hope to compete with these improving offenses around the NFL, they would be smart to sign these guys.
Lardarius Webb
Webb is one of (if not the best) cornerbacks in the NFL today. While signs point to Webb returning to the Ravens, he is currently a free agent and as they say, money talks. He did not allow one touchdown last season, intercepted five passes and even ran one back for a touchdown. Webb is a premier DB who also began to excel on the special team's side of the ball last season. If the Ravens do not snatch him up quick, look for other teams to come at Webb hard and fast, just like the way he hits.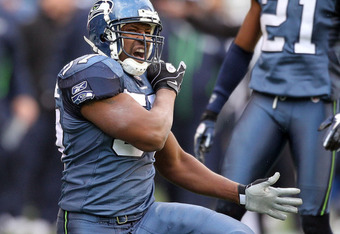 David Hawthorne 
Hawthorne has been simply dominant for the last three seasons with the Seahawks. Now he is a free agent and looking to get paid. However, the market for a linebacker is nowhere near as strong as what it used to be. He is arguably the biggest name left in free agency and it will be interesting to see where he ends up. 
Erin Henderson
Henderson is still a relatively young talent in the NFL. Signed by the Vikings in 2008, Henderson continues to improve. He is not asking for big money, yet Minnesota has yet to offer him another contract, which has upset Henderson. I could see him walk away from the Vikings for the right price. He could definitely serve as an upgrade at the linebacker position for many teams throughout the league.
Manny Lawson
According to Phil Richards of The Indianapolis Star, there are four teams currently interested in Lawson. However, he has managed to fly under the radar as of late. He could be a solid pickup and have an immediate impact on the defensive end. His statistics don't tell the whole story, there is much more than what meets the eye with Lawson and the team that takes a chance on him will likely reap the benefits.
William Middleton
Middleton is a taller corner with a lot of upside to his game. He has not really had an opportunity to shine since entering the NFL straight out of high school, but he is loaded with potential. Teams that miss out on some of the more quote on quote "elite" DB's on the market would be smart to take a chance on Middleton.