NCAA Tournament 2012: Live Reaction, Scores and Highlights for West Region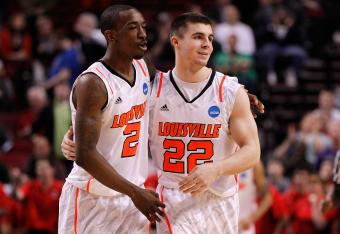 Jonathan Ferrey/Getty Images
Today was the first day any region experienced all upset wins during the 2012 NCAA Tournament.
Ah, it must be the Sweet 16. Read on for a transcript of Thursday's live blog:
Welcome to Phoenix, Arizona and the West Region for today's Sweet 16 games.
Featuring two competitive and highly touted games, Thursday's West Region action from the US Airways Center will play out entirely on TBS. Park your browser on this page for live scores, highlights and analysis for all the West Region has to offer for the Sweet 16 round.
Today's games included:
Game 1: No. 4 Louisville has upset No. 1 Michigan State, 57-44
Game 2: No. 7 Florida has upset No. 3 Marquette, 68-58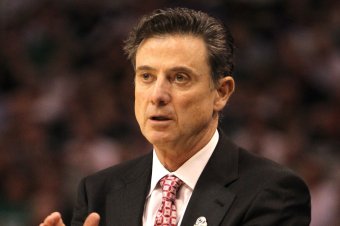 Jamie Squire/Getty Images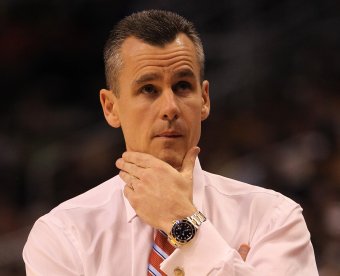 Jamie Squire/Getty Images
West Region Elite Eight: Florida Gators vs. Louisville Cardinals
The No. 4 Louisville Cardinals will be the favorite to win the West now that seeds Nos. 1-3 have all been defeated, a match-up that sees the Cardinals and Gators face off for the first time since Dec. 11, 2004, when the Cardinals defeated the Gators 74-70.
The Louisville-Florida Elite Eight match-up will also feature Rick Pitino and former student Billy Donovan, both men having met up at Providence when Pitino coached while Donovan played there in 1987.
How about that for a reunion?
As for the raw data, here is how the Cardinals and Gators match up using their season averages:
| | | |
| --- | --- | --- |
| | Florida Gators | Louisville Cardinals |
| Points per Game | 76.3 | 68.8 |
| Rebounds per Game | 35.2 | 38.2 |
| Assists per Game | 15.0 | 13.8 |
| Field Goal Pct | .461 | .425 |
| Three-Pt Pct | .383 | .313 |
| Steals per Game | Six | Nine |
| Blocks per Game | Three | Five |
Advantages:
Offense: Florida Gators
Defense: Louisville Cardinals
Take your pick. It's been a blast following all the West Region action Thursday.
Good night!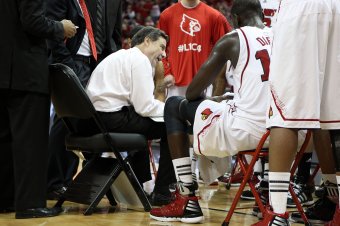 Andy Lyons/Getty Images
After several more minutes to digest that analysis, stay tuned for a little preview of Florida vs. Louisville in the West Region's Elite Eight.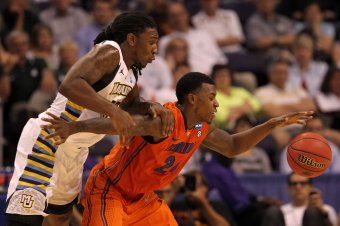 Jamie Squire/Getty Images
I told you it wouldn't be pretty, and it isn't.
Marquette had built their team around the ability and superior performance of Jae Crowder: Unfortunately, Crowder did not deliver Thursday evening.
Though he led the Golden Eagles with 15 points, Crowder was just five-for-15 (33 percent) from the line and just one-of-seven from three-point land.
To Crowder's credit, he led his team with three steals and committed zero turnovers, though he came alive way too late and that can be said for practically the entire Marquette squad.
After hanging around the 29 percent mark in field goal percentage, Marquette ended Thursday's game 20-of-65 from the field for a 30.7 percent performance.
Florida, on the other hand, shot 24-of-59 (40.7 percent) from the field.
What doomed Marquette tonight was the field goal percentage disparity and Florida's quickness: The Gators committed two more turnovers (11-9) and Marquette came up with three more steals (8-5)—those were not factors.
Instead, Florida's 15 assists to Marquette's 10 while boarding 39 rebounds to Marquette's 34 played into a 10.0 percent better shooting performance that spelled the end for the Golden Eagles.
If Crowder, Darius Johnson-Odom (5-15) and especially Vander Blue (1-8) and Junior Cadougan (0-5) performed better from the field, the Golden Eagles might have stood a chance.
Bradley Beal (8-of-10, 3-of-5 three-point shooting) was terrific for the Gators, though he wouldn't have been a huge factor had Marquette taken care of business.
Marquette never really got into the game and in the end, that opened the door for Florida to come in and lead for practically the entire 40 minutes of play.
Florida Gators 68 - 58 Marquette Golden Eagles, End of Game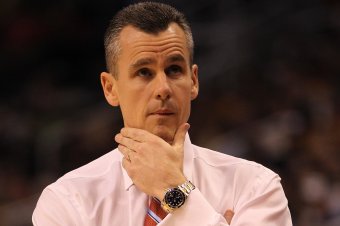 Jamie Squire/Getty Images
Marquette has backed off, the clock has struck zero and the Florida Gators have upset the Marquette Golden Eagles.
This places the Gators into a surprise, upset-filled Elite Eight face-off with Rick Pitino's Louisville Cardinals, who beat No. 1 Michigan State earlier this evening.
I'll be back with a breakdown in just a few minutes—stay tuned for the analysis and expect more criticism levied at Jae Crowder—sorry, but it's unavoidable.
Florida Gators 68 - 58 Marquette Golden Eagles, End of Game
It's come down to foul time with under a minute to go in the ball game and Florida up by three possessions.
The Gators are 13-of-15 from the line. If they continue to sink their charity shots, this game is over.
Florida Gators 66 - 58 Marquette Golden Eagles, 35.0 2nd Half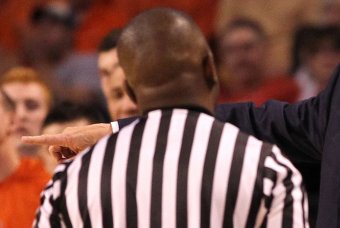 Jim Rogash/Getty Images
After instant replay review, the officials have decided not to call a flagrant foul on the incidental contact, meaning play will resume with Kenny Boynton free throws.
It's getting chippy in here.
Florida Gators 63 - 55 Marquette Golden Eagles, 1:04 2nd Half
Some fans (generally of the Golden Eagle variety) may not like that last call, but referee Ted Valentine was correct to make it: contact to the head has been a point of emphasis at various points over the past decades.
Florida hits a huge three to get the game back to nine points before Crowder rebounds a Mayo brick.
Crowder finally comes alive, draining a big three before a missed inadvertent elbow from Florida struck a Marquette player.
The officials will now convene around the instant replay monitor to determine if the uncalled foul should be ruled a flagrant.
Referees are back in the spotlight late in this game. Whether the elbow is intentional or not, it may be deemed a flagrant.
Florida Gators 61 - 55 Marquette Golden Eagles, 1:15 2nd Half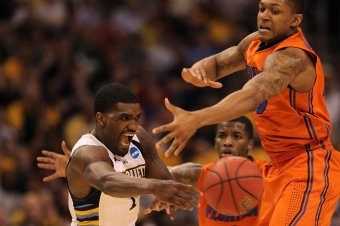 Jamie Squire/Getty Images
Down to a two-possession game, Marquette commits an aggression foul to send this game into its last media timeout.
After many fans (especially on the East Coast) might have gone to bed, assured that the Gators had secured an upset win, Marquette has come storming back, as if to say: "We will never surrender."
Florida Gators 58 - 52 Marquette Golden Eagles, 3:08 2nd Half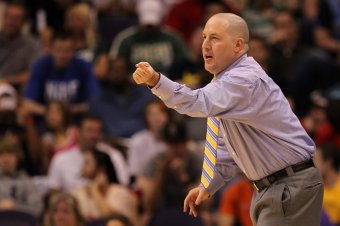 Jamie Squire/Getty Images
Marquette's shooting woes continue, this time at the free throw line.
Todd Mayo makes one-of-two while Florida's Erving Walker scores a wide open jumper at the other end.
After Crowder goes two-for-two at the line, Mayo hits a fast-break layup.
On the sidelines, coach Billy Donovan rallies his troops before a Marquette steal and quick timeout call.
The Golden Eagles are showing some late hustle, but is it too late?
Florida Gators 58 - 49 Marquette Golden Eagles, 3:28 2nd Half
Jae Crowder can't buy a bucket now, missing consecutive threes and dropping his field goal percentage below 32 percent.
Marquette continues to take timeouts, though those brief intermissions are running out.
The countdown is on—the Gators are on the cusp.
Florida Gators 54 - 44 Marquette Golden Eagles, 5:34 2nd Half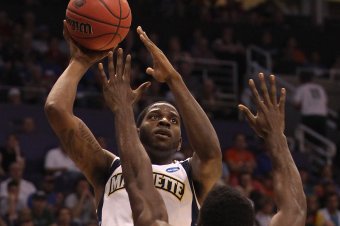 Christian Petersen/Getty Images
As Florida's Erik Murphy picks up his third personal foul, Marquette's Davante Gardner makes two-of-two from the free throw line, uncharacteristic for the Golden Eagles this evening.
Marquette has now begun double- and triple-teaming any Gator who has the ball inside, setting themselves up for that end-of-game desperation foul situation.
Florida is taking advantage, finding the open man and getting that free path to the hoop.
All that's missing for Florida is that little oomph that will finally separate themselves from Marquette. Let 'em hang around too long, they might just come back and beat you. Eight points, seven minutes.
It's very do-able—Marquette just needs to hit some shots, it's not as if they haven't had the opportunities. The Golden Eagles are 16-of-53. That's barely 30 percent.
Florida Gators 52 - 44 Marquette Golden Eagles, 6:53 2nd Half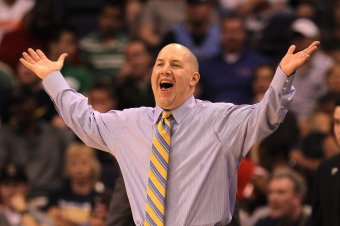 Jamie Squire/Getty Images
College basketball is a sport full of momentum.
Florida is in jeopardy of letting some of that 'mo go, though Jae Crowder failed to capitalize with a missed three.
It really looks like Marquette might have to rely on Darius Johnson-Odom—not Jae Crowder—to provide points and leadership down the stretch.
Got to hit those free throws, though. Marquette is just six-for-11 from the line.
Florida Gators 50 - 40 Marquette Golden Eagles, 8:58 2nd Half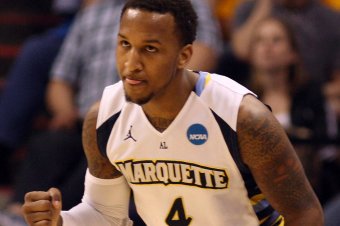 Christian Petersen/Getty Images
If nothing else, Marquette's Todd Mayo is showing some much-needed fight for the Golden Eagles.
After scoring a hustle-two, Mayo dove after a ball Florida's Kenny Boynton was juggling, resulting in a held ball—possession arrow, Marquette.
After being down by 14, Marquette has scored five straight to narrow the gap to nine.
This game is not over just yet.
Florida Gators 48 - 39 Marquette Golden Eagles, 11:34 2nd Half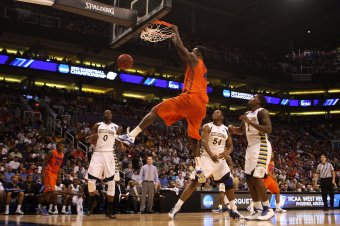 Christian Petersen/Getty Images
As Clippers broadcaster Ralph Lawler would say, "Bingo!"
Florida has hit six-of-18 three-point attempts and has improved to 45 percent field goal shooting. They are on a 19-4 run dating back to the first half and seem to be getting every single roll or bounce.
Marquette has missed 24 of its last 30 field goals. If the Golden Eagles want to come back, it's now or never.
Time out, Marquette.
Florida Gators 48 - 34 Marquette Golden Eagles, 13:24 2nd Half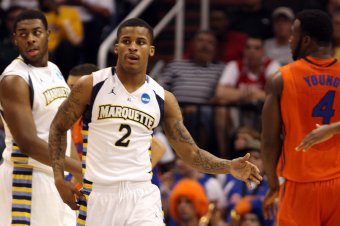 Christian Petersen/Getty Images
The Golden Eagles have come back from double-digit deficits six times during the 2011-12 season, and with a field goal percentage of just 31 to Florida's 42 percent, Marquette will have to step up their shooting game.
Though it was implied in the first half, the teams truly appear to have fully switched roles, strategies and playing styles in the second half: Florida is hitting from inside, outside and everywhere in-between while Marquette looks lost.
If Marquette's goal is to add that seventh double-digit deficit-turned victory, they'll only need to allow Florida one more score before turning it on and powering up that comeback.
Florida Gators 43 - 34 Marquette Golden Eagles, 14:41 2nd Half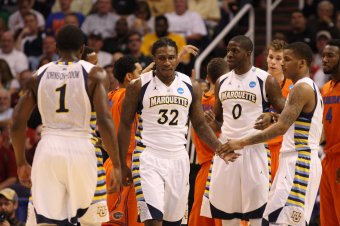 Christian Petersen/Getty Images
Crowder earns his first two points of the second half—and first score since 13 minutes+ left in the first half—in technical fashion—basket interference due to the Gators grasping the basket's netting while the ball was in the imaginary cylinder above the basket.
Crowder's first FG attempt following the interference call was an attempt that rimmed out.
So far, Marquette simply hasn't shown that extra intensity they will need if they want to climb back and on top by game's end.
Florida Gators 40 - 34 Marquette Golden Eagles, 15:33 2nd Half
Marquette's Junior Cadougan has picked up his fourth personal foul early in the half, meaning Cadougan is now on the bench. Though this is a blow for Marquette, they again need Crowder to step up—Cadougan wouldn't even be an issue if Crowder's last field goal had come any sooner than with over 13 minutes remaining in the first half.
Marquette has put up some misses early after scoring a quick deuce, while Florida has extended their half-time lead to eight points.
Florida Gators 40 - 32 Marquette Golden Eagles, 17:05 2nd Half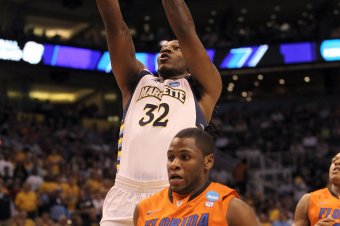 Jamie Squire/Getty Images
As Marquette and Florida begin the second half in Phoenix, a glimpse at the out-of-town scoreboard shows Ohio State pulling out to a double-digit lead over Cincinnati with just four minutes to play in that all-Ohio match-up.
Back in Arizona, the Gators' six-point lead hangs in the balance with a revitalized Golden Eagles squad ready to eat into that two-possession deficit of theirs.
Marquette's Jae Crowder has just six points and one board in the first half. If he puts up comparable numbers in the second half, Marquette will lose.
Florida Gators 36 - 32 Marquette Golden Eagles, 19:00 2nd Half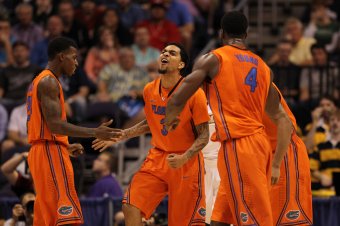 Jamie Squire/Getty Images
The final few minutes of the first half belonged to the Florida Gators, who have taken a lead into the break, thanks in part to Junior Cadougan's two missed free throws with just two seconds remaining in the period.
The Gators take a six-point lead into the locker room after closing out a hard-fought battle of a first half.
Marquette, meanwhile, has gone cold: If the Golden Eagles are planning to come back anytime soon, Jae Crowder, playing with two fouls, will have to step up his game.
Crowder has been dominant and Marquette's star attraction the entire season—though the one-man show concept is exciting, if your stud doesn't have a good game, it means your team will lose. That's the pitfall of the scheme.
Florida, meanwhile, has been very team-oriented, though Bradley Beal has really stepped up and taken on a Crowder-esque role in this game: Beal leads all scorers with 10 points, is tied with Marquette's Wilson in rebounds (four) and leads Florida in steals (two) and blocks (one).
With this kind of a roles-reversed first half, could we be looking at yet another West Region upset?
Florida Gators 36 - 30 Marquette Golden Eagles, Half
Ever since basketball purists agreed to adopt the three-point arc decades ago, the game changed dramatically.
The Florida Gators are taking full advantage—though not always beneficial for the team—by firing off three-point attempt after attempt. The Gators are now four-of-14 from the arc while the Golden Eagles are four-of-nine.
We've had another lead change, this time it's Florida on top.
And again, I'll repeat that message for Marquette: Don't goaltend those crazy lay-ups! It's a 7-0 run for the Gators.
Florida Gators 34 - 30 Marquette Golden Eagles, 1:25 1st Half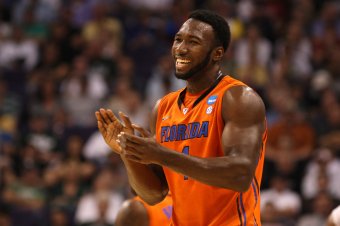 Christian Petersen/Getty Images
Anyone else notice that whenever TBS puts up one of theirs "no field goals in X minutes" graphics, the team in a drought hits their next shot attempt?
It just happened to Marquette, who have taken a one point lead as we head to the final media timeout before the half.
Florida Gators 27 - 28 Marquette Golden Eagles, 3:53 1st Half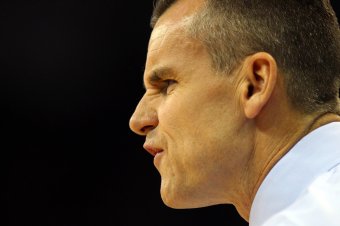 Doug Pensinger/Getty Images
TBS is really plugging Conan. Just like they did during last year's March Madness ... and during the MLB playoffs ... and during NBA games... Darn that Leno!
Florida put up some wild shots as Billy Donovan has found his newest referee-argument-bait: substitutions. Evidently, Donovan didn't approve of officials allowing a Marquette substitution before an inbounds play.
If I was him, I'd be more concerned about Walker's carrying violation than about the substitution allowances afforded to Marquette.
Florida Gators 25 - 25 Marquette Golden Eagles, 4:49 1st Half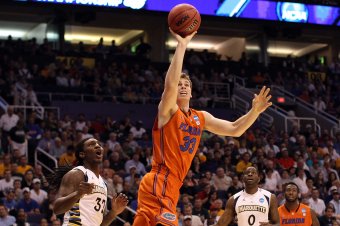 Christian Petersen/Getty Images
After starting out at over 50 percent shooting from the field, Marquette had missed seven-of-eight before knocking down three-pointer No. 3.
Crowder is back on the bench as a foul charged to Marquette's Davante Gardner sends us to an official timeout exactly 60 seconds after the last commercial break.
Florida Gators 24 - 23 Marquette Golden Eagles, 6:25 1st Half
Florida is distributing very well and they are three-for-11 from three point territory (Marquette is two-of-seven).
The teams are playing at a very similar level right now, though Florida appears to be much more spread out and handling the ball better than Marquette.
It's not Crowder and Boynton, but Johnson-Odom and Beal that lead the scoring half-way through the opening half.
Florida Gators 24 - 20 Marquette Golden Eagles, 7:25 1st Half
And as soon as Crowder sat down, he gets back up—Crowder is the heart and soul of the Marquette Golden Eagles and they cannot afford to see him on the bench.
Upon returning from his very brief rest, Crowder makes something happen, drawing a foul and sinking one-of-two free throws.
It's a one point game and with over eight to play in the half, the Gators are already in the bonus.
Florida Gators 21 - 20 Marquette Golden Eagles, 7: 1st Half
This article is
What is the duplicate article?
Why is this article offensive?
Where is this article plagiarized from?
Why is this article poorly edited?