Lamar Odom: 3 Reasons Aging Forward Will Return to LA in 2012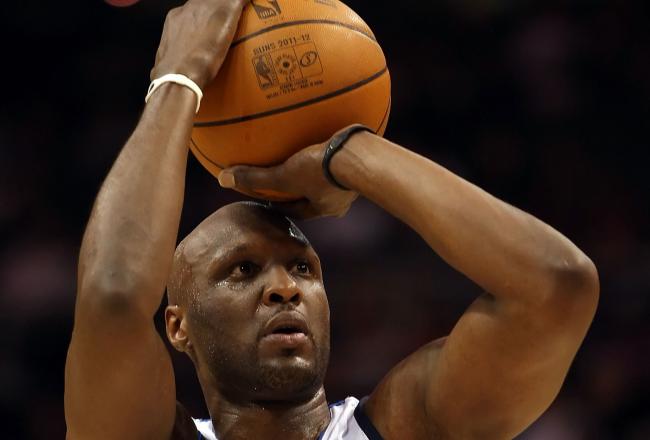 Christian Petersen/Getty Images
Lamar Odom is having a bad, horrible, awful and disappointing season in Dallas.
Too harsh? Maybe it's not harsh enough. There's a reason he's not playing well, though. He's unhappy.
You can argue that he's a professional. You can argue that he should be able to work through that. You can argue that he was the one who asked for the trade in the first place. I'm not going to argue with any of those things.
None of that really is pertinent, though.
Whether he should be unhappy or not, he is. Because he is, I believe you'll see him returning to the Lakers at the first chance he gets. There are three reasons that I think Odom will be back with the Lakers next year.
The first reason is Khole Kardashian, his wife. I wouldn't say that every unhappy man is unhappy because of his wife. I will tell you that I haven't seen a happy man with an unhappy wife, though, and I don't think Khole is happy with the situation.
Wives have power that way. If she wants to go back and he has a choice, they'll go back.
The question then comes down to whether or not he can go back. For that to happen, there are two things that have to happen: Dallas has to let him go, and Los Angeles has to want him back.
Will Odom be back with the Lakers next year?
Which brings up reason No. 2. Odom is slated to make $8.2 million next year, and the Mavericks are looking to try and free up money to sign Deron Williams. They have a team option on Odom's contract. So they can either chose to keep Odom for that 7.0 points, 4.4 rebounds and 1.8 assists per game, or they can not exercise the option and let him go.
So, now, the third question becomes: Would the Lakers take him back? I believe they would.
Kelly Dwyer (who incidentally has an awesome first name) writes a bit of an apology for Odom and his play, as well as of Kobe Bryant's defense of him.
The thing is that relationship between Odom and the management was scarred, but not irreparably, and the relationship with his teammates wasn't hurt at all. The Lakers would be happy to take him back. Perhaps not for $8 million, but no one is going to give him that much. He'll go back to LA, and he'll take what they offer because that's where he wants to be. And more importantly, that's where Khloe seems to want to be.
This article is
What is the duplicate article?
Why is this article offensive?
Where is this article plagiarized from?
Why is this article poorly edited?

Los Angeles Lakers: Like this team?