Saints Suspensions: Jonathan Vilma and Players in Trouble with the NFL
March 22, 2012

Dilip Vishwanat/Getty Images
Now that NFL commissioner Roger Goodell has gone through his first round of decisions to the people that were involved in "Bounty Gate," his attention will turn to the players. The focal point of Goodell's punishments will be Saints linebacker, Jonathan Vilma.  
He proved with his year-long suspension of Saints head coach, Sean Payton, and indefinite suspension of former Saints defensive coordinator, Greg Williams, that he was not going to light on the Saints. 
From NOLA.com, Goodell said in a statement that he will "continue to pursue actions" against those who were involved with this. He went onto say: 
"My focus here initially was on the team and management and coaches," Goodell told the NFL Network. "But certainly I'm disappointed that players would identify opposing players and intentionally try to injure them. And that's something we're going to continue to pursue, and that's next up."
He hasn't said who exactly he will go after, but the league has evidence that there were 22 of 27 players who were involved with bounties against opposing players. 
That same article from NOLA.com goes onto say about Vilma: 
The only player identified by name was linebacker Jonathan Vilma, who allegedly offered $10,000 to anyone who knocked Minnesota Vikings quarterback Brett Favre out of the NFC championship game following the '09 season.
If this is true, and Vilma did in fact offer up $10 thousand to hurt Favre, then Saints fans can expect to see Vilma miss a number of games during the 2012 season.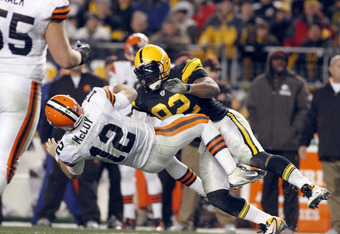 Justin K. Aller/Getty Images
Goodell has a history of multiple game suspensions for hits that were determined to be "dirty."
The one player who has felt the wrath of Goodell the most has been Pittsburgh Steelers' linebacker, James Harrison. Since Goodell has taken over as the league's commissioner,  Harrison has been suspended once for an illegal hit; however, he has been fined a number of times for his style of play. 
Goodell is trying to move the NFL from violent hits that end players careers to a game where the play is still physical but people aren't suffering life altering injuries. 
There isn't a timetable as to when Goodell may-or-may not comedown on the players who were alleged to have participated in these bounties. 
However, whenever he does, the fines and suspensions will be large, just like the rulings he handed down to the Saints' personnel.