UNC Basketball: Why Kendall Marshall's Injury Isn't a Big Deal for the Tar Heels
March 22, 2012

Streeter Lecka/Getty Images
North Carolina rolled into the Sweet 16 with a win over Creighton, but the Tar Heels' star point guard Kendall Marshall injured his non-shooting wrist while driving to the basket and his status remains in question for Friday's game against Ohio.
With Marshall, the driving force of North Carolina's dynamic offense, in jeopardy for the rest of the Tournament, the Tar Heels are doomed, right?
Well, not exactly.
As it turns out, Marshall's broken wrist is healing just fine. The point guard had his cast removed yesterday and is now wearing a removable splint to aid the recovery process.
Even if Marshall isn't good to go on Friday, the Tar Heels will still have more-than-enough firepower to get past upstart Ohio.
All five of Carolina's starters were in double-digit figures against Creighton in the Round of 32. That includes John Henson, who appears to have recovered nicely from a wrist injury of his own that he suffered in the ACC Tournament.
The 6'11" junior posted a double-double against the Jays in his first game back, registering 13 points and 10 rebounds.
Henson and fellow big man Tyler Zeller form a formidable frontcourt duo that should be able to have its way with the 13th seeded Bobcats.
And let's not forget about Harrison Barnes, the Tar Heels' leading scorer at 17.5 points per game. The sophomore has been stellar in the Tournament thus far and don't expect that to change heading into the Regionals in St. Louis.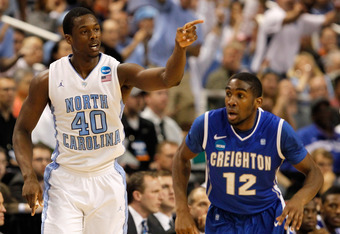 Streeter Lecka/Getty Images
North Carolina has dealt with adversity before during a stint by Henson on the bench. Roy Williams' team managed to still beat Maryland and fellow Sweet 16 team North Carolina State in Henson's absence. With Marshall limited, you can bet on the Tar Heels handling this loss in similar fashion with similar success.
Although Williams noted that he doesn't see Marshall being available on Friday, it could simply be gamesmanship on the part of the two-time National Champion.
Look for the Tar Heels to rally their troops and ease past Ohio on Friday. That will allow Marshall a few more precious days to recover before hopefully suiting up for an Elite Eight matchup with either Kansas or N.C. State.