Michael Bush's Chicago Bears Payday Casts Storm Clouds Over Matt Forte
March 22, 2012
Ezra Shaw/Getty Images
According to Pro Football Talk at NBC Sports, the Chicago Bears and running back Michael Bush have agreed to terms on a four-year contract:
Michael Bush agrees to terms with the Bears, per league source.Four years, $14 million.

— ProFootballTalk (@ProFootballTalk) March 22, 2012
This is an interesting signing for the Bears, but nonetheless important, as current running back Matt Forte looks like he's going to hold out in 2012.
According to Brad Biggs of the Chicago Tribune last week, there has not been any movement between the Bears and Forte on contract talks:
The Bears remain in communication with running back Matt Forte, but general manager Phil Emery couldn't offer a signal Friday [March 16] that the sides have made progress on a long-term contract.

As for Forte, Emery said: "We continue to work with Matt and his agent in that effort. I'm not going to get into details, but we continue to work with each other to find common ground."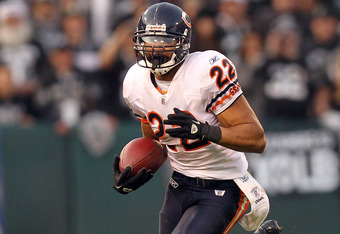 Ezra Shaw/Getty Images
Now it appears that Chicago is preparing for the worst-case scenario, which would be Forte holding out and then ultimately departing the Windy City.
The good news to come out of Bush's signing, though, is that maybe this sparks Forte's interest in trying to get a deal done with the Bears.
Chicago, with Forte and Bush, would have one of the league's best two-back tandems. Combined with the acquisition of receiver Brandon Marshall from Miami, the Bears offense has excellent potential for 2012.
Without Forte, however, the Bears won't miss a beat having Bush in the backfield as the No. 1 Brahma Bull. Before the 2011 season began, Michael Bush was a solid No. 2 back behind Darren McFadden in Oakland.
From 2008-2010, Bush averaged 708 total yards per season and scored 14 rushing touchdowns. Then, when McFadden went down almost halfway through the 2011 campaign, Bush took over and dominated.
Only gaining 237 total yards through the first six games, Bush's playing time increased against Kansas City in Week 7. From that point on, Bush blasted through defenses and also acted as a solid receiving back.
In the final 10 games, Bush compiled 1,158 total yards, scored five touchdowns and averaged over 115 yards per game. Considering that Forte is also a dual-threat back, the Bears won't miss him at all if Bush end up taking over the No. 1 role.
Include a much-improved passing game, and Chicago's rushing offense will keep rolling with or without Forte. All that remains to be seen now is whether the Bears and Forte want to continue together with next season's increased expectations.
John Rozum on Twitter.