Michael Bush to Chicago Bears: Deal Analysis, Grade and Twitter Reaction
March 22, 2012

Thearon W. Henderson/Getty Images
For the third straight offseason, the Chicago Bears have invested a good chunk of money in a backup running back. 
Thursday morning, the Bears announced a four-year agreement with former Oakland Raiders running back Michael Bush. Pro Football Talk reports the deal is worth $14 million with $7 million guaranteed.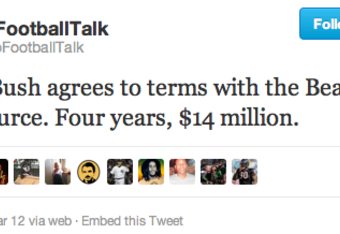 Bush is just the latest running back signing in Chicago to back up Matt Forte, joining Chester Taylor in 2010 and Marion Barber III in 2011. Taylor signed a four-year, $12.5 million deal to leave Minnesota, and Barber signed a two-year, $4.6 million contract after Taylor flamed out after just one year.
Bush is likely the best of the three. 
Over four years in Oakland as a backup and injury fill-in, Bush ran for 2,642 yards and 21 touchdowns and caught 91 passes for 879 yards. In 2011, Bush started nine games after Darren McFadden went down and rushed for over 800 yards in the lead role. He had a career-high 977 rushing yards in total over 16 games.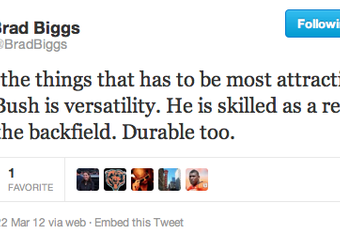 Bush will be in the backup role behind Forte, who is scheduled to play the 2012 season under the franchise tag. The Bears and Forte have failed to iron out a long-term deal, so signing Bush could push leverage back Chicago's way. They now have a capable, starting-quality player signed to a multi-year deal in case Forte isn't interested in what the Bears offer. 
Regardless of any contract haggling, the Bears offense is likely to have a much different look in 2012. 
In the span of a week and a half, Chicago has traded for receiver Brandon Marshall, signed backup quarterback Jason Campbell and added Bush, a 6'1", 245-pound bruising back who adds toughness and versatility to the Chicago backfield. 
The move likely means that Barber is on his way out.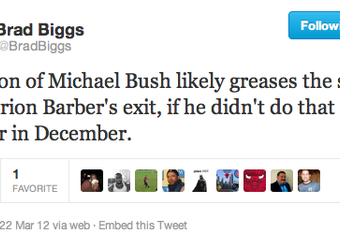 While the Bears didn't immediately cut Taylor last season after signing Barber—they actually kept him around through training camp—Chicago didn't give Barber the kind of money they just gave Bush. As an aging, worn-down back, Barber doesn't offer much as the No. 3 guy on the depth chart. 
If the Bears can add an offensive lineman or two in the early rounds of April's NFL draft, the offense in Chicago should be capable of becoming one of the league's top units next season. But with three offseason additions on the offensive side of the ball, it may be more likely that GM Phil Emery looks towards defense early in the draft to balance the changes.
Chicago has been attempting to fill the backup role behind Forte for several years, wasting millions of dollars in the process. In Bush, they may finally have the guy to hold down that role.
At a little over $3 million a year with just $7 million guaranteed, Bush-to-the Bears looks like a great move for both sides.
Grade: A-