Sweet 16 Schedule: Breaking Down Friday's Best Matchups
March 22, 2012

Jonathan Ferrey/Getty Images
With the Sweet 16 tipping off today and continuing Friday, there is not only a slate of exciting games but also intriguing player matchups that will take place. 
While Thursday's player matchups are good, the most compelling individual player matchups will take place during Friday's games. 
The following three player matchups will likely be a key determining factor in which teams on Friday will be continuing on to the Elite Eight.
Anthony Davis vs. Cody Zeller
Not only does Friday's matchup between Kentucky and Indiana give basketball fans a chance to see a rematch between the two teams that played arguably the best game of the year, but it will showcase a matchup between two marquee freshmen post players. 
Despite both of these players being freshmen, their respective teams are heavily reliant on them for different reasons. 
Zeller is undoubtedly the Hoosiers' best offensive weapon, as he is putting up a team-leading 15.5 PPG on a sizzling 62.6 shooting percentage from the field.  In addition, Zeller is also the leading rebounder (6.2 RPG) and shot blocker (1.2 BPG).
While Davis isn't a slouch on offense either (14.2 PPG), his real impact for the Wildcats is on defense.  Davis, the likely No. 1 selection in this year's NBA Draft if he declares, anchors the Wildcats defense with his shot blocking (4.6 BPG) and rebounding (10.1 RPG).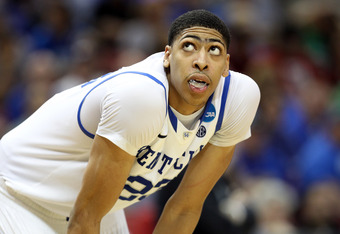 Andy Lyons/Getty Images
In the first matchup between these two teams, both Davis and Zeller played relatively disappointing games, which should give them added incentive for Friday's matchup. 
If the Hoosiers want to win this game and derail the tournament favorite Wildcats, they will need Zeller to prevail in his matchup with Davis.
Thomas Robinson vs. C.J. Leslie
Another marquee matchup that will take place in the post on Friday night is the matchup between North Carolina State's C.J. Leslie and Kansas' Thomas Robinson. 
The sheer strength and scoring ability (17.7 PPG) of Robinson on the interior will likely lead to multiple Wolfpack defenders checking him, but Leslie will likely be called upon to guard Robinson for a large part of the game.
Robinson should be able to take advantage of this individual matchup on offense due to his size and weight advantage, but guarding Leslie on defense could prove to be a tough matchup for the Kansas big man. 
At 6'8" and 206 pounds, Leslie is a little bit of a tweener who lacks the strength to play in the post and the perimeter ability to play up top.  Despite not having a true position, Leslie has used his quickness and length to lead the Wolfpack in scoring this season with 14.6 PPG.
For North Carolina State to pull their third consecutive upset in March Madness, they will need Leslie to play Robinson to a standstill.  Leslie can do this by playing active defense against Robinson and then offensively exploit this matchup against the larger Robinson with his quickness.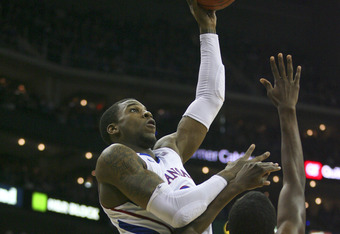 Ed Zurga/Getty Images
Pierre Jackson vs. Tu Holloway
In contrast to the previous matchups discussed, this matchup between Pierre Jackson and Tu Holloway in the Xavier vs. Baylor game will be between two diminutive guards. 
Despite standing at a generously listed 6'0", Holloway is undoubtedly one of the more potent scorers in the nation.  In leading the Musketeers to their fourth Sweet 16 in five years, the senior Holloway put up 25 points in their opening-round victory over Notre Dame and 21 points in their subsequent victory over Lehigh. 
Matching up with Holloway for the Baylor Bears will be junior Pierre Jackson.  In Jackson's first season in Waco—he was a junior college transfer—he has complemented the play of big men Quincy Acy and Perry Jones III nicely.  With a lightning-quick first step and deep range on his jump shot, Jackson is the Bears' second leading scorer (13.5 PPG) in addition to leading the team in assists (5.8 PPG).
While Xavier does have solid talent surrounding Holloway, there is no question that the team will go only as far as Holloway can take them.  With the Musketeers' front line likely to be overmatched by the size and quickness of the Bears' front line, they will need another huge scoring game from Holloway.
If Jackson can hold Holloway down offensively while also continuing his all-around offensive performance, the Bears will likely be heading to the Elite Eight and a potential matchup with the No. 1-ranked Kentucky Wildcats.