Are Rory McIlroy, Luke Donald & Tiger Woods Golf's New "Big Three"?
March 22, 2012

Andrew Redington/Getty Images
Have Rory McIlroy and Luke Donald done enough to put themselves in the conversation to be mentioned with Tiger Woods as the most dominating golfers in the world right now?
Tiger's lack of domination on the PGA Tour for the last few years has opened the door for some other players to take a big step into the winner's circle.
Some of the beneficiaries of Tiger's absence from trophy presentations have been Luke Donald, Rory McIlroy, and Lee Westwood the world's first-, second-, and third-ranked players.
In 1960, an aging Ben Hogan provided a link to the great "American Triumvirate" of Hogan, Byron Nelson and Sam Snead at the U. S. Open at Cherry Hills.  Arnold Palmer, after overcoming a seven-shot deficit heading into the final round, orchestrated one of the greatest comebacks of all time. 
Arnold won the 1960 U.S. Open over Hogan and a young, unknown 20-year-old amateur by the name of Jack Nicklaus.
Palmer and Nicklaus, in addition to Gary Player, became the "Big 3" of golf in the 60's and 70's. 
Are we seeing the onset of a new "Big 3" in golf?
Luke Donald has been the most consistent golfer on both the PGA and European Tours over the past two-and-a-half years.  He won the money titles on both tours in 2011, is ranked No. 1 on the Official World Golf Rankings, and has won five times in the last year. 
Rory McIlroy dominated the 2011 Masters for 63 holes before losing it on the Back 9 on Sunday in magnificent fashion.  Two months later, he blew away the field with an eight shot win for the ages in the U.S. Open at Congressional. 
Still only 22 years old, Rory spent a couple of weeks at No. 1 in the world and is rapidly becoming the most intriguing golfer on the planet.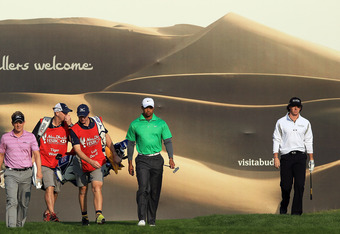 David Cannon/Getty Images
Tiger Woods has won 14 major championships, and is striving to win five more to break Jack Nicklaus' record of 18 major titles in his career.  Tiger's struggles over the past three years are well chronicled, but he is showing signs of recapturing some of his world-class form and a return to his winning ways.
Luke needs major titles to validate his world No. 1 ranking.  Rory is the natural talent that seems to rise to the occasion in big events, and will be a factor in majors for years to come.
Tiger, at 36 years old, is racing time, faulty legs, and Jack Nicklaus.  Rory and Luke are the perfect actors to add some spice to this drama, especially when it comes to the majors.
Some golf fans will argue for Phil Mickelson and Lee Westwood to be added to this mix. 
World Golf Hall of Famer Mickelson has had an outstanding start to 2012 and will continue to show flashes of brilliance.  He had his chance over the past three years while Woods was on the mend and could not reach the pinnacle.  Age and an arthritis condition will prevent Phil from attaining dominance now.
Westwood is 38 years old and has been a steady performer over the past several years.  Even though he has had 21 European Tour wins, he only has two wins on the PGA Tour. 
He has finished runner-up or third in all four majors over the past three years, but does not have a major win.  Lee's window is closing fast.   
The stars seem to be aligning to place Luke Donald, Rory McIlroy and Tiger Woods on a collision course to win major championships, compete for domination in the golf world, and become the new "Big 3."