2012 NBA Free Agency: A Player from Each Team That Will Be Moved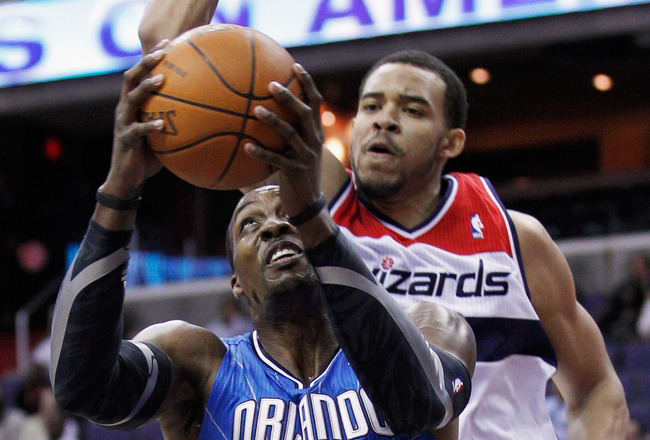 Rob Carr/Getty Images
Getting rid of dead weight was something a lot of teams failed to do by the March 15 NBA trade deadline. Most are just going to make their playoff pushes and wait for those expiring contracts to go to work.
Everyone thought the league took on a totally different look post-trade deadline. The real changes have yet to transpire. The postseason and those who make it or not will be the primary telltales of who stays and whose time is up.
Deron Williams, New Jersey Nets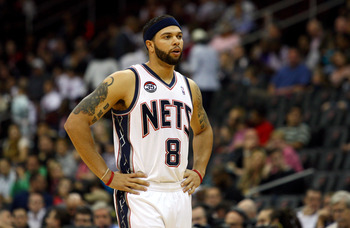 Chris Chambers/Getty Images
Deron Williams has made no bones about keeping his options in the league wide open. Loyalty and things of that nature do not apply to Williams' decision to being a part of a franchise. He does not want to retire without the chance of winning a championship.
Williams does not want to be a part of a rebuilding project, and that is exactly what owner Mikhail Prokhorov is spearheading.
Williams is going to test free agency and most likely end up in the Western Conference.
Chauncey Billups, Los Angeles Clippers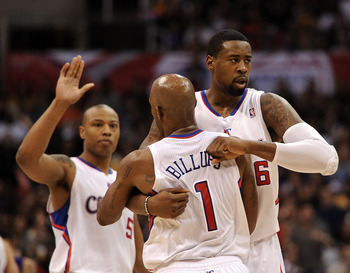 Harry How/Getty Images
Chauncey Billups was a bit rattled after being released by the Knicks. Not only did he voice his opinion on being taken for granted, but he also stated his disdain for landing with a team he had no desire to join. Billups' message was clear.
Maybe the basketball gods heard him or maybe they did not. Either way, Billups became a starter in Vinny Del Negro's system and became Mr. Big Shot once again.
However, Billups finds himself in a dilemma. The Clippers are making a playoff push and bolstered their backcourt with the addition of shooting guard Nick Young.
The franchise is moving at a fast pace and it seems Billups may not be able to keep up.
Tracy McGrady, Atlanta Hawks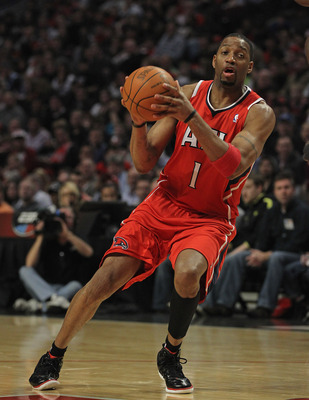 Jonathan Daniel/Getty Images
Tracy McGrady's Daily Deals website launch is probably the only thing McGrady has to smile about this season. After voicing his concerns about his lack of playing time with Atlanta earlier this year, nothing has changed.
Right after complaining about his diminished minutes with the Hawks, McGrady logged 21 minutes and managed six points and three blocked shots. The problem is that McGrady's physical limitations do not allow him to play at the level he, or the rest of the league, is used to.
Eddy Curry, Miami Heat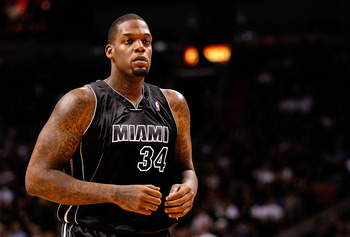 Mike Ehrmann/Getty Images
The Miami Heat are not pressed for production off the bench. However, watching the Chicago Bulls, who have incredible depth, makes you wonder why South Beach's front office has yet to push for more talent off the bench.
Eddy Curry was a good story, and watching him come off the bench for a couple of minutes made everyone smile. The sad logic is that the NBA is a business. Curry is not great for Miami's business.
Jermaine O'Neal, Boston Celtics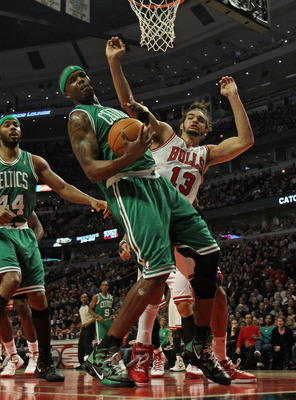 Jonathan Daniel/Getty Images
Jermaine O'Neal has only played 40-plus games in two seasons as a Celtic. O'Neal has been missing in action due to injuries and will likely miss the rest of this season as he recovers from surgery.
Danny Ainge is realizing the veterans comprising the Celtics roster are no longer in the team's best interests.
Bill Walker, New York Knicks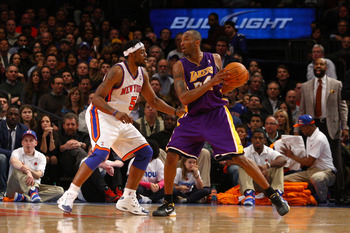 Chris Chambers/Getty Images
Bill Walker was pushed out of the rotation when Carmelo Anthony returned and his minutes all but disappeared after the emergence of sharpshooter Steve Novak. Walker now finds himself sidelined for four to six weeks after a surgery that removed damaged tissue from his left elbow.
Royal Ivey, OKC Thunder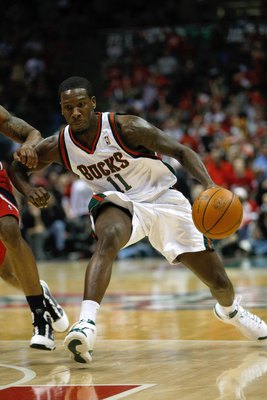 Scott Boehm/Getty Images
Royal Ivey's biggest and most important role in OKC has nothing to do with his game and everything to do with his relationship with OKC's cash cow, Kevin Durant.
Nevertheless, Ivey does not do much for the Thunder. Being third on the depth chart means he rarely sees playing time. Next season, when Eric Maynor returns, Ivey's role will be diminished further.
However, n reality, he won't have a role on the team anyhow.
Ryan Anderson, Orlando Magic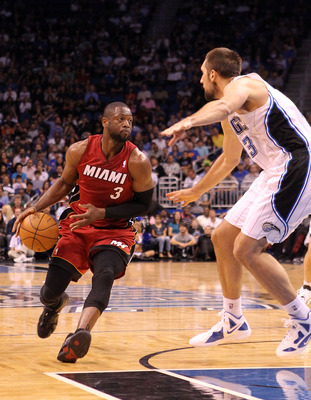 Sam Greenwood/Getty Images
For a while now, Ryan Anderson has been the second-best player with the Orlando Magic. The problem being that Anderson's level of skill does not warrant that title. It is the lack thereof on Orlando's roster that has boosted him into that position.
The Orlando Magic need to look for more explosive role players to surround Dwight Howard with as he has decided to stick around coach Stan Van Gundy for at least another season. While he may be looking to be the ringleader of another trade circus in 2013, GM Otis Smith will do everything to lure his signature onto an extension.
Anderson is a decent role player, but the Magic are in kind of a state of panic right now. Nothing they have, with the exception of Howard, seems to be working so everyone can go. Being a primarily three-ball offensive squad is not working when you don't have men who play hard defense on the other end of the court.
Those missed three-pointers give transition-heavy teams an advantage, and Orlando needs to start looking in another direction. Anderson would be a great addition to any team because when he gets in a rhythm, he can drop an easy 20-plus.
Anderson is in an auditioning season for the 29 other teams of the league.
Ronnie Price, Phoenix Suns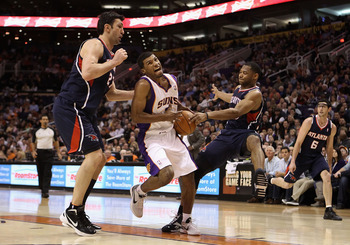 Christian Petersen/Getty Images
Ronnie Price is coach Al Gentry's odd man out of the guard rotation in Phoenix. He and Sebastian Telfair were duking it out in the preseason for who was going to be the backup guard behind Steve Nash after the Suns waived guard Zabian Dowdell.
Telfair has obviously won this battle, pulling the starting position from a resting Nash a few games ago. Where does Price fit in this equation? He really does not. Price has not really adjusted to the up-and-down offense the Suns employ each game, which is why Telfair's quickness trumps his defensive calling card.
Prince, as an unrestricted free agent, could find a suitor this summer who could use his defense-first nature accompanied with a high dose of intensity.
Raymond Felton, Portland Trailblazers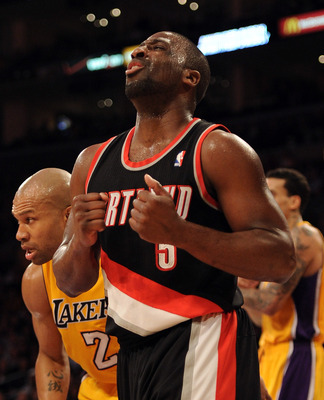 Harry How/Getty Images
Kaleb Canales has taken over and Raymond Felton is happy again. Too bad for Portland fans he had to come on board overweight and belligerent with the former head coach, Nat McMillan. McMillan may have lost the battle, but Felton is ultimately going to lose the war.
Felton is not the man Portland expects or is giving him time to be. The brief emergence of his talent seems to be fueled by the replacement of a man Trail Blazers' fans loved and he just did not get along with. How long before he falls flat on his face again or the new coach says something Felton cannot vibe with?
Felton is still wildly conflicting and has a turnover problem that promises to push him out the door by the end of the season. There is a reason Portland was trying to push him out of the door before the trade deadline. Letting him go as a free agent seems more amicable.
Jason Kidd, Dallas Mavericks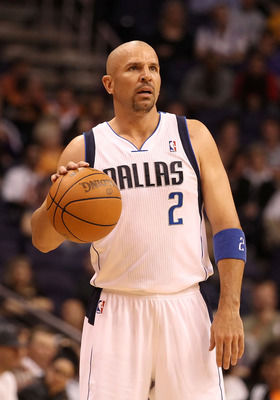 Christian Petersen/Getty Images
Apparently, saying things like "He didn't foul him" warrants a fine for criticizing officials. And they say basketball players are sensitive. Sheesh!
Jason Kidd may be on the losing side of that $25,000 transaction. However, when it comes to other teams coveting the point guard with a scroll for a birth certificate, Kidd is winning.
He has made mention he feels as if he is auditioning for only a handful of teams after fellow guard Jason Terry spoke about auditioning for 29 teams every game he plays (via ESPN):
Kidd understands Terry's point about feeling like he's auditioning for 29 other teams every night, but that isn't quite the case for Kidd.

"Nah, I've just got a handful of teams," Kidd deadpanned, dropping a pretty strong hint that he'll only consider contenders as a 39-year-old free agent this summer.

The simple fact is that there's only one Maverick who has job security past this summer. That, however, is not a concern to Kidd.
He may make his exit by way of retirement or by realizing that Dallas is not going to return to the Finals anytime soon. Either conclusion will lead him out of Mark Cuban's grip.
John Lucas, Chicago Bulls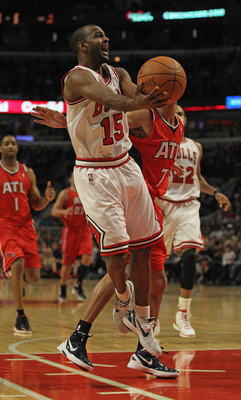 Jonathan Daniel/Getty Images
John Lucas has his foot on the pedal and he is not braking until he feels like it—or at least until Derrick Rose is firmly located back into Chicago Bulls' rotation. He is questionably for Wednesday's meeting against the Raptors and it is a little saddening if his shine dulls Lucas'.
Lucas' rising has been a long time in the making and free agency could come at no better time than the present. Although, he sits firmly in Chicago's rotation as a reserve, things could change immensely during the postseason or even in the several games left in the regular season.
If Chicago falls flat in this year's playoffs, changes will be made. While Lucas may not be a casualty, he will be desired by contenders looking to deepen their rosters. He could even make noise with an up-and-coming team that is only one piece from snatching a seed in next year's playoffs.
Maurice Evans, Washington Wizards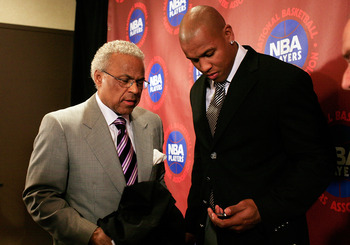 Patrick McDermott/Getty Images
The Washington Wizards' players-only meeting back in January did not work. Maurice Evans saw exactly what the Wizards problem was and he went after it early on so the issue could be nixed, finally (via FOX Sports):
Having sat and watched the Wizards train-wreck their way through an 0-6 start - not just losing, but embarrassing themselves along the way - Evans decided to take action Thursday. Even though he's yet to play this season because of an ailing right knee, he called a players-only meeting just before practice.

''We have to be real with ourselves,'' Evans said. ''The sense of entitlement that's here sometimes, I've never seen before.''
Nothing changed. The Washington Wizards are still the most aimless organization in the league—not the most futile, because the Charlotte Bobcats retain that title. However, they are undergoing an overhaul, after the trades of Nick Young and JaVale McGee, after one of the most potential-ridden teams in the country could not seem to realize it itself.
Evans would be a great addition to a team filled with youth, but not one in as much disarray as the Wizards are. Acquiring Nene Hilario by the trade deadline brought in a veteran that is coachable. It also escorted youth and energy right out of the door.
The Wizards are going to be looking to load their roster up with strong, young players to fill the gaps and Evans' and his injuries do not fit the criteria. Washington has a lot of time to evaluate their future and I just do not see Evans as a long-term option.
Marcus Camby, Houston Rockets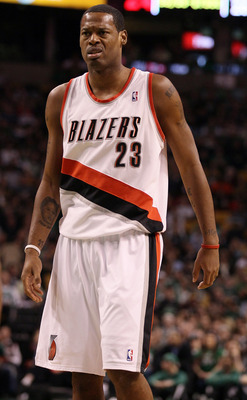 Elsa/Getty Images
Marcus Camby has a different element to provide the Houston Rockets. They lacked the depth they needed for a playoff push and Camby's addition gives them the defensive unit they so desperately needed. What is troubling about Camby is what troubles any franchise about any professional athlete and what also makes him so valuable for the short-term.
He's an aging veteran with an expiring contract.
Camby's moment with the Rockets is right now, and with the Western Conference more open than it will ever be, his future there relies on how the Rockets finish.
Everything has become so right now in professional sports. Houston added Camby to its roster to grab a seed in the playoffs and give any contender a run for its money. The Rockets are the perfect storm to any franchise's postseason hopes and they hope to become a deeper threat than anyone expects them to be.
If not, expect Camby to be out the door quicker than he was shuffled in.
Kwame Brown, Milwaukee Bucks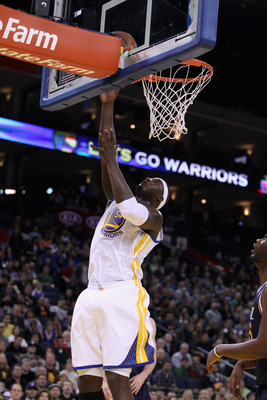 Ezra Shaw/Getty Images
We will not be seeing much of Kwame Brown for a while—next season, to be a tad more specific. After a chest surgery that's sidelining Brown, he will not be playing again unless Milwaukee manages to make the playoffs.
With the addition of Monta Ellis to the Bucks' lineup, a trip to the playoffs does not seem too far-fetched. The Bucks are not far behind the New York Knicks with only two fewer wins than the surging MSG gang. Milwaukee still has a chance of grabbing a seed in the postseason and ruining any Eastern Conference foe's chance at a title berth.
Brown's expiring contract gives him a short amount of time to work his way into Milwaukee's rotation and make a home there. It has been made perfectly clear that Milwaukee is looking to make huge strides in this year's and next year's playoffs with a tandem like Monta Ellis and Brandon Jennings in the backcourt.
Brown has been labeled a great post-up defender, but the truth of the matter is that he is simply average. Shipping away Andrew Bogut makes Milwaukee a more athletic squad and the Bucks will rely heavily on Brown's ability to be a presence in the low post when he returns, if they are in the playoffs.
The Bucks have cleared room to sign a big-name free agent via trade and Brown may become a casualty of rebuilding.
Josh Howard, Utah Jazz
Ezra Shaw/Getty Images
Miami Heat, NY Knicks (Carmelo Anthony, specifically), San Antonio Spurs and a plethora of other contending options have expressed interest in Josh Howard. Staying healthy this season would have made him a sure-fire free-agent pickup this offseason.
However, with a second opinion that has him recovering quicker than predicted, he could still rattle a few cages in free agency this summer. When you have that type of opportunity gleaming, what's so great about Utah?
Michael Beasley, Minnesota Timberwolves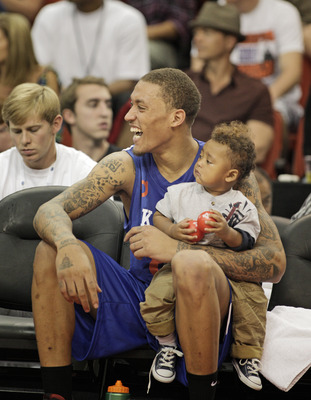 Brett Deering/Getty Images
Michael Beasley has seemed to be ready for a change of scenery for a long time. A deal that would have landed him with the Los Angeles Lakers was all but done when everything busted at the seams.
Minnesota is looking to go in a different direction and Beasley is hitting free agency this summer to explore his options elsewhere. Beasley could be a big-time scoring threat off the bench for any franchise as he has developed his three-point efficiency over the seasons.
A move to the Los Angeles Lakers would have given Beasley a clean slate. He would have been afforded a chance to rebuild himself with a contending organization. The LA Lakers definitely could have used the boost. However, the deal did not happen and there are a plethora of franchises that would take Beasley on if he showed the dedication necessary to remain consistent.
Lance Thomas, New Orleans Hornets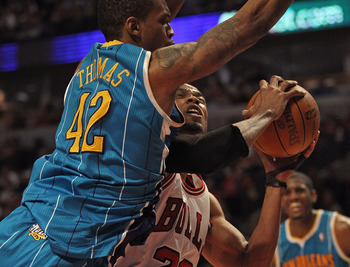 Jonathan Daniel/Getty Images
The New Orleans Hornets have a hell of a frontcourt. Well, maybe not "hell of a." Maybe it is just the fact that it is extremely crowded that makes it seem affluent. Lance Thomas only adds to the cluster.
He was brought along from the D-League because of Carl Landry's injury and has not done much to solidify his position long term. You often forget he is even on the floor.
My guess is his exit will come by waiver or his own accord at the season's end. Thomas seems to have the tools to succeed in the league, but the right system makes all the difference in a player's success and demise.
Antwan Jamison, Cleveland Cavaliers
Chris Chambers/Getty Images
The Antwan Jamison experiment has got to be over by now. How long are the Cleveland Cavaliers going to stand by and allow this to continue? The thought was that Jamison would be ousted before J.J. Hickson, but obviously that premonition did not come to fruition.
Jamison was dawning upon retirement because of how unbearable the Cavaliers' losing had become (via AOL News):
"I know the window of opportunity is closing in … for my career," said Jamison, averaging 16.5 points this season for the woeful Cavaliers. "Physically, I can play the game for another five or six years. Mentally, I got another one or two years in me. I can live with that. I've enjoyed my career and done a lot of things. The only thing I got to do is to win a championship. But I got one more year left on my contract. If nothing happens by then, I can be happy with it being a career unless an opportunity comes up to play for one year after that."
Becoming a free agent this summer may just give him the chance he needs to make a grab for the championship every player in the league is dying for. Of course Cleveland is moving in the right direction, but it will be long before it's able to rival the better franchises in the East for a shot at the NBA title.
Ben Wallace, Detroit Pistons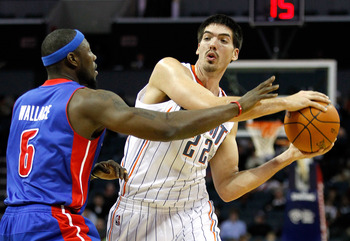 Streeter Lecka/Getty Images
Wallace has already announced he will be retiring after this season and the bribes from his teammates and the Detroit Pistons staff will do nothing to change his mind (via ESPN):
After considering retirement, the 37-year-old Wallace decided to come back for 2011-12, his 16th season in the NBA. He confirmed Monday it will definitely be his last, and he's looking forward to spending time with his family.

"No consideration to coming back," he said. "This is definitely my last year."
Darius Morris, Los Angeles Lakers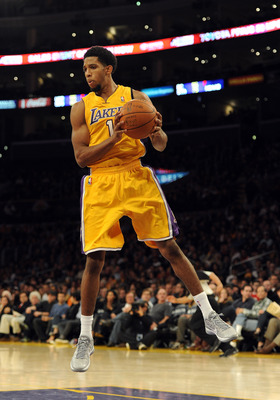 Harry How/Getty Images
Darius Morris was slated to be the Lakers' point guard of the future by the season's end. He was a steal in the 2011 NBA draft that the Lakers were lucky to come by with aging guards Derek Fisher and Steve Blake riding the Lakers' coattails.
Morris was youthful and would bring exuberance to a franchise that had just lost big in a deal that would have brought Chris Paul to an ailing roster. It's upsetting to some Lakers fans that their big bet on Morris has yet to pay off. Of course, it would be good to be patient in his case.
Morris lacked experience when he entered the draft. Although he is a pure point guard, Morris does not have the fluid jumper that accompanies most elite guards in the league. Fans must apply patience. It can be developed over time.
However, the Lakers do not have too much time. Getting Derek Fisher out of the way to bring in Ramon Sessions shows the sense of urgency the Lakers are experiencing when it comes to making the playoffs count over the next few seasons. Morris may just be getting in the way.
Chris Wright, Golden State Warriors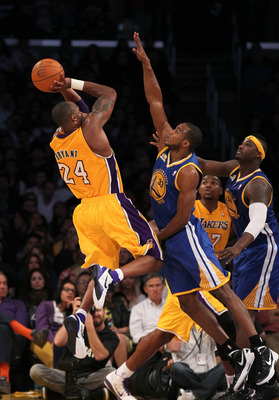 Stephen Dunn/Getty Images
Let's see what we have here. Golden State Warriors have been through a carousel of big men this season, and Chris Wright is one of the many they have experimented with. Sadly enough, his time with the Warriors seems short.
Golden State has made moves to bring more solid men into the fold by trading for Andrew Bogut and recruiting J.J. Hickson. Besides these two men, the Warriors already have David Lee firm in the rotation.
There is simply no room for Wright in the rotation and it will not be long before management realizes it and boots him or he gets the hint and removes himself from the situation. Forget the latter. There are not many teams that covet Wright at the moment so he may ride this train until the wheels fall off.
Kirk Hinrich, Atlanta Hawks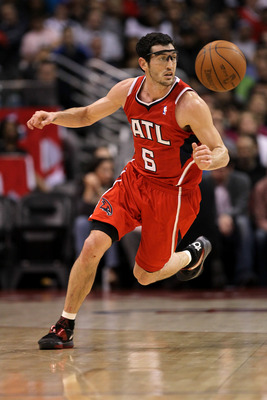 Stephen Dunn/Getty Images
There is a reason Kirk Hinrich is averaging a career-low number in minutes this season. A shoulder surgery forced backups into Hinrich's position and easily worked into a deeper spot in the rotation even in his return. The general consensus appears that Atlanta may not really need him anymore.
Of course, he remained a Hawk after the deadline, but this says nothing about his future. There are a bunch of players that franchises refused or failed to move due to a late-season playoff push.
At the end of the season, the Hawks will look to find a younger guard to develop beside Jeff Teague.
Dahntay Jones, Indiana Pacers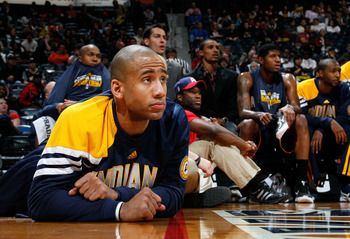 Kevin C. Cox/Getty Images
Dahntay Jones could be on the move but not for a shortage of what he has been able to produce in Indiana's second unit. Alongside George Hill and Leandro Barbosa, Jones struck a nerve when the Pacers' first unit failed to against the Clippers and a recruiting team should expect nothing different.
Title contending teams need strong veteran defenders like Jones and this summer's free agency should be the time to explore those options. The Pacers are a great team in development, but how much longer does Jones have on his timetable in the league?
Just like a lot of the league's free agents this year, his move will depend on what Indiana can do in the postseason or if it drops the ball and do not make it at all.
Rasual Butler, Toronto Raptors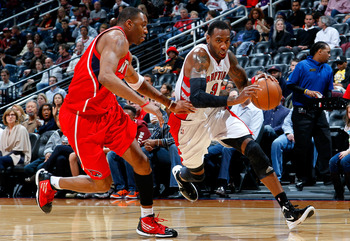 Kevin C. Cox/Getty Images
Is it too early to call Rasual Butler a bust?
The fact that he has accrued more than three rebounds in a game once since December of 2009 depreciates his value. Not only that, but within a franchise attempting to tweak its rotation, Butler has only played two minutes in the month of March.
Need I say more?
Matt Carroll, Charlotte Bobcats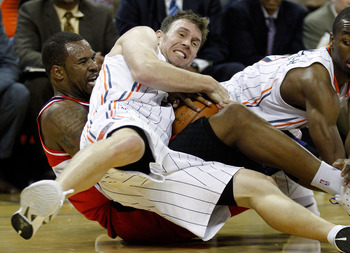 Streeter Lecka/Getty Images
The Charlotte Bobcats are possibly the worst team in the history of the league. I'm not even joking. The Bobcats are flirting with a worse winning percentage than the 1972-73 Sixers. Matt Carroll, for one, has made it clear these are not the records he is looking to set.
''Everybody wants to make history but you don't want to make history that way,'' Carroll said. ''You don't want to be that team.''
Moving forward, Carroll may not be what Charlotte is looking for when it gets to rebuild its future either. Carroll does not play hard defense, nor is he a perimeter-savvy player.
The Bobcats need to focus on productive fractions of their roster to move forward with.
Nothing personal, Carroll.
James Anderson, San Antonio Spurs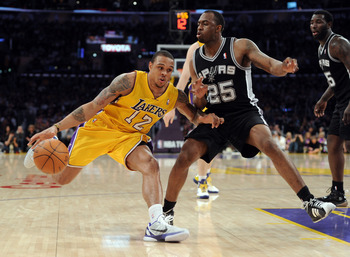 Harry How/Getty Images
James Anderson, in light of Manu Ginobili's absence, received heightened playing time. Unlike Danny Green, he did not make the best of it. There is no lasting impression he made on the fans or on the organization. Anderson was just taking up everyone's time.
It doesn't seem like it mattered much to Anderson, anyway. His agent encouraged a trade from the San Antonio Spurs, obviously with no avail. While Anderson has become a forgotten man on the Spurs' roster, they do not seem prone to be relinquishing him anytime soon.
The reason probably being that Anderson would not have warranted much of a trade option. However, it is apparent the Spurs are not looking to continue a relationship with the player because they refused to pick up his third-year option.
O.J. Mayo, Memphis Grizzlies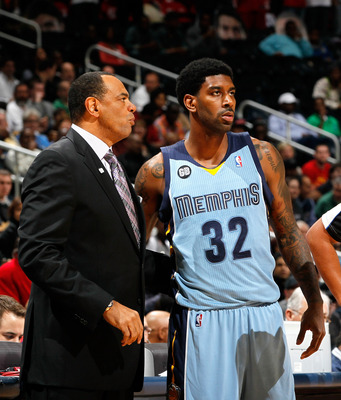 Kevin C. Cox/Getty Images
O.J. Mayo's reason for giving up on the Grizzlies is simple.
The Memphis Grizzlies continue to give up on him.
Constantly trying to move the shooter has been a long, drawn-out process and no doubt emotionally taxing on Mayo. What does he have to do to make his position secure with Memphis?
In the playoffs last year, one would assume Memphis' front office would stop trying to pawn him off on another team. Why would they continue to? He was a huge reason as to why the Grizzlies pushed past the San Antonio Spurs and gave the OKC Thunder a run for their money.
I guess all that doesn't matter anymore. Memphis is dying to watch Mayo succeed elsewhere.
Donte Greene, Sacramento Kings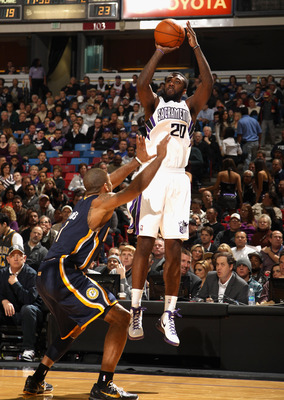 Ezra Shaw/Getty Images
I cannot tell a lie. Donte Greene was not on my radar much until the fight with he and DeMarcus Cousins surfaced. Most of you did not know who he was either, and digging around for a few highlights or a bit of information on him is not an easy task.
However, there are a few things about Greene that scouts may find more impressive than his franchise's track record. Greene is an incredibly athletic, seven-footer (or at least 6'11") that is hard to find in this league. Another thing that makes him very attainable is that no one likes to be King right now.
With so many bright spots on their roster, it only seems feasible that a piece of Greene would want to stay and see how things work out. Another inch of him wants to figure out where else he would matter. In Sacramento, where the Kings rely heavily on the health of Tyreke Evans, Greene would never get solid minutes.
That may be a huge selling point for teams looking for an athletic role player.
JaVale McGee, Denver Nuggets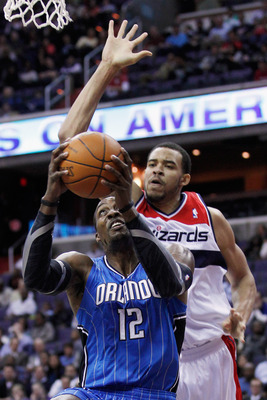 Rob Carr/Getty Images
Washington Wizards would be crazy to deal JaVale McGee. Washington Wizards would be crazy not to deal JaVale McGee. Washington doesn't know what the hell to do with the kid. Bench him!
There are a slew of things that Washington fans and those outside looking in said about McGee's situation in the Wizards' camp. Running up the court to hop on defense when his team still had the ball on offense probably did not help make up anyone's mind either.
Washington's front office was just tired of sucking so bad and needed to move someone fast. Moving McGee to the Denver Nuggets and getting Nene Hilario in return did great things for both sides.
Denver was sick of the ringer Nene was putting the team through and needed a dose of youth on its side. The Nuggets may feel the sting of the veteran loss, however.
McGee lacks the fundamentals it takes to make game-changing plays in the postseason as Hilario would have been able to do. Heck, McGee has never played a playoff series in his life. The Nuggets took a huge gamble and the immediate payoff seems better than anyone expected.
The Detroit Pistons win must have done wonders for McGee's confidence, but it has given Denver fans a false sense of security.
Keep Reading