WrestleMania 28: Which Superstar Has Most to Gain/Lose at the Show?
March 22, 2012

Gallo Images/Getty Images
WrestleMania next week could be a make-or-break event for some WWE superstars.
A few WWE superstars could be cemented with impressive showings on the wrestling industry's biggest stage.
Others could possibly be permanently damaged with a sub-par performance with 60 million-plus watching in Miami and millions more watching at home.
Superstar with the most to gain: Cody Rhodes
Cody Rhodes has come a long way from being Randy Orton's lackey in Legacy. He's the Intercontinental Champion and will defend (a rare title defense I might add) against the Big Show at WrestleMania.
Rhodes has built this feud to be an intriguing one and essentially the only way possible: by poking fun at the Big Show.
No one thinks that Rhodes has snowball's chance in hell of legitimately beating the Big Show, but he has showed in recent weeks that he can out-smart the 7", 400-pounder.
Rhodes will more than likely get his comeuppance at WrestleMania, but there's a glimmer of hope for the son of the American Dream. That glimmer of hope is that what does Big Show need with the Intercontinental title?
Does he really need to pick up a win at WrestleMania to cement his legacy? I don't think so. I believe his legacy is firmly in tact as one of the best big men that ever laced up the boots.
This leaves a window of opportunity for Rhodes to pull off an upset as big as Big Show and retain the Intercontinental championship. Rhodes had big win at last year's WrestleMania over Rey Mysterio, but a win over the Big Show would go a lot further into making Rhodes a legit star.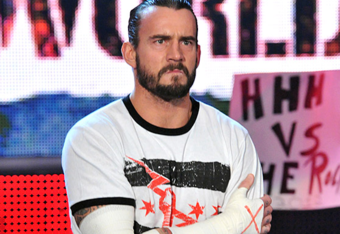 Superstar with the most to lose: CM Punk
I am as big a CM Punk fan as anyone, but if he does the job to Chris Jericho at WrestleMania, it would halt all the momentum Punk has built for almost a year now.
Punk has sort of been lost in the shuffle with the WWE focusing on The Rock and John Cena. That is something you can't blame neither Punk nor the WWE for doing. They're trying to build hype for the biggest main event at WrestleMania in years.
But Punk would be even more lost if he has to drop the belt to Jericho.
The best possible situation is for Punk to retain the belt and have him step back into the spotlight in WWE story lines in the aftermath of the Cena and Rock match.