Calgary Flames' Cory Sarich Keeping the Pace
March 22, 2012

Gregory Shamus/Getty Images
Closing in on 1,000 NHL games, defenceman Cory Sarich has learned several key lessons throughout his big-league career, including a valuable one in his very first shift over a dozen years ago.
Whether the advice came from his minor-league coaches, a trusted veteran, a respected player-turned coach or his own father, Sarich, who was selected 27th overall in the 1996 NHL Entry Draft by the Buffalo Sabres, making his debut in the 1998-99 campaign, isn't the type to forget good guidance.
In fact, in his first NHL game, Sarich even gave himself something to remember.
"I was playing for Buffalo and we were facing the Ottawa Senators," recalled the Saskatchewan native, who played for his hometown Saskatoon Blades of the Western Hockey League (WHL) for 156 career games before appearing in 13 contests for the Seattle Thunderbirds.
"I remember getting out there and a guy comes down on me one-on-one and then gets a step on me. He's by me and I reach out and give the most blatant hook possible. Luckily, the referee didn't call it."
The lesson learned?
"Once you make it to the NHL, you better learn to keep pace with everyone because if not, you're going to be in big trouble," offered the defenceman, who was a 1997-98 WHL West Second Team All-Star and a 1998-99 American Hockey League All-Rookie Team member with the Rochester Americans. "It's extremely tough to make it to the NHL and once you do make it, you work hard to establish yourself."
Sarich, who was traded along with Wayne Primeau and Brian Holzinger from Buffalo to Tampa Bay for Chris Gratton on March 9, 2000, still has vivid memories of his early days in the game and what it took for him to become a dependable defender.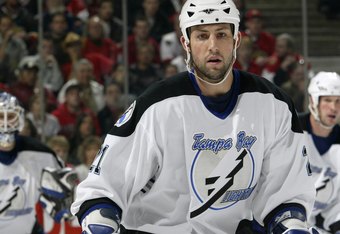 Phillip MacCallum/Getty Images
"I played in those four games with Buffalo, but I spent the majority of the 1998-99 season in Rochester," noted Sarich, who had 29 points in 77 games with the Americans, accompanied by six points in 20 playoff games.
"The next year, I played in more NHL games than in the AHL, with Buffalo and Tampa, but it was the following season where I really felt that I had established myself and had a full-time spot in the lineup. Once that happens, when they want you there, it takes away a lot of the worry," he continued.
"It instills that confidence and it shows in your game. You always hope to get the opportunity to play every night and when it does, you work even harder to keep it that way."
Sarich, part of the Tampa Bay Lightning squad that won the 2004 Stanley Cup, points to former NHL forward and former Tampa coach Craig Ramsay as a major influence in his development.
"He gave me some unbelievable tips," said Sarich, who signed a five-year free agent contract with the Calgary Flames on July 1, 2007. "He told me when you go in the corner, to keep your stick on the puck. Don't leave your stick at your waist or anywhere else. He also told me don't hit on the penalty kill, to never take yourself out of the play. There was probably five or 10 things he taught me that I've used over the years."
Sarich, who became the NHL's iron-man leader on December 12, 2007 when Brendan Morrison was forced to miss a game with wrist complications, skating in his 419th consecutive game the day before in a game against Tampa Bay, also credits his dad with some sage advice.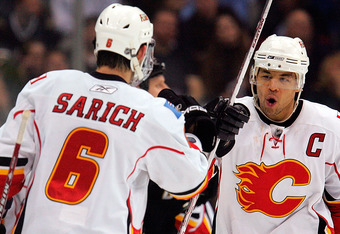 Ronald Martinez/Getty Images
"My dad said that if you work hard, you won't get hurt," said Sarich, whose streak came to an end on March 1, 2008. "If you're out there trying to tiptoe around, you will get hurt. If you constantly work hard and play that way, things will fall into place."
It certainly has for the 33-year-old Sarich, who has now played in over 880 NHL regular season games.
"I've tried to play my game, a bump and grind game, throughout my career," offered Sarich, who has appeared in 57 NHL playoff contests. "There have been ups and downs, but I'm proud of being consistent and working to contribute every night."
Sarich can also take great pride in knowing an obvious first-game hook didn't prevent him from keeping up with the competition.
Related Content
Video: Meet the World's Toughest Directors, Player's Playbook
CBC Hockey Night in Canada/NHLPA Player Poll Results
Curtis Glencross: With Expectation Comes Production
500 Reasons To Smile for Iginla