Heat vs Pistons: TV Schedule, Live Stream, Spread Info and More
March 22, 2012

Sam Greenwood/Getty Images
LeBron James and the Miami Heat get back at it Friday night when the Heat travel to the Motor City to take on the Detroit Pistons.
After back-to-back losses last week to the Orlando Magic and Chicago Bulls, the Heat are once again rolling, winners of three consecutive games.
James vowed to play in this Eastern Conference matchup after feeling the effects from a violent collision with Grant Hill in Miami's latest win over the Phoenix Suns.
While this isn't much of a matchup on paper, the Pistons will put up a fight against the second-best team in the east right now. Detroit has lost three straight and four of their last five, but before that won three straight and was showing signs of turning the corner.
The two clubs have met only once this season, a 101-98 Heat win on Jan. 25, when the Pistons erased a double-digit fourth quarter lead before ultimately falling. James finished with 32 points in the Miami victory that came without the services of Dwyane Wade, who sat out the game nursing an injury.
Here's a look at everything you need to know about Friday night's Eastern Conference tilt.
Where: The Palace of Auburn Hills in Detroit, Mich.
When: Friday, March 23, at 7:30 p.m. EST
Watch: SUN, Fox Sports Detroit
Live Stream: NBA League Pass
Betting Line: Not available until tomorrow.
Heat Key Injuries
Day-to Day: Mike Miller (ankle) Dexter Pittman (ankle), LeBron James (elbow), Joel Anthony (ankle).
Pistons Key Injuries
Questionable: Rodney Stuckey (left big toe)
What They're Saying
While the Heat don't typically look for production from the center position, that's not to say they wouldn't mind getting some.
Anthony's a key defender, but ranks 37th in scoring (3.2) and 36th in rebounding (4.2) among centers who have started at least 10 games. Miami's other centers, Pittman and Eddy Curry, have combined to score 62 points in 36 appearances.
They won't get much in terms of production from newly signed Ronny Turiaf, but his energy and hustle could give them a little more then they are getting at the moment. If anything, Turiaf is excited about the opportunity, telling the Associated Press, after James and Wade actively recruited him to Miami:
"To put it into words would be a disservice to those guys," Turiaf told The Associated Press. "This is awesome, to be surrounded by future Hall of Famers, by guys that know how to play basketball, by guys that have been successful everywhere they went. It's a definite pleasure. It makes it very, very easy for a guy like me to step into this situation. I've always prided myself on making life easy for everybody else and that's what I will try to do here."
Most Important Player to Watch: Greg Monroe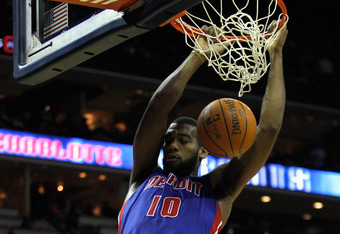 Streeter Lecka/Getty Images
For the Pistons to have a chance, Monroe has to be outstanding in the paint, not only on the offensive end, but he's got to make things tough defensively.
Monroe's shown glimpses of being a future star in the NBA, but has experienced some inconsistencies as of late. He's averaging only 15.2 points per game this month, after averaging 18.7 in February.
He's had games of 32 and 23 points among his last four, but has also had games of eight and 13 points in that span as well. For the Pistons to win, Monroe is going to have to be big.
Key Matchup: Pistons Defense vs. Miami's Big 3
The Pistons aren't a very good offensive team, ranking 27th in the NBA in scoring (90.8 PPG) and 28th in rebounding (38.7 RPG). To win, they are going to have to slow down the third highest scoring offense (101.8) in the NBA.
If there is a strength on the Pistons, it's at the defensive end of the floor, where they allow only 96.3 PPG on average.
The pressure will be on the likes of Ben Gordon, Tayshaun Prince and Jason Maxiell to slow down James, Wade and Chris Bosh. If the Big Three are all clicking, it could be a long night for the Pistons in Detroit.
Prediction
Heat 103, Pistons 88